The 26-year-old victim of the First World War
An encounter with an unexploded RAF bomb changed Maité Roël's life for ever. Robert Fisk finds out what the Great War means to her
Friday 20 November 2009 01:00 Comments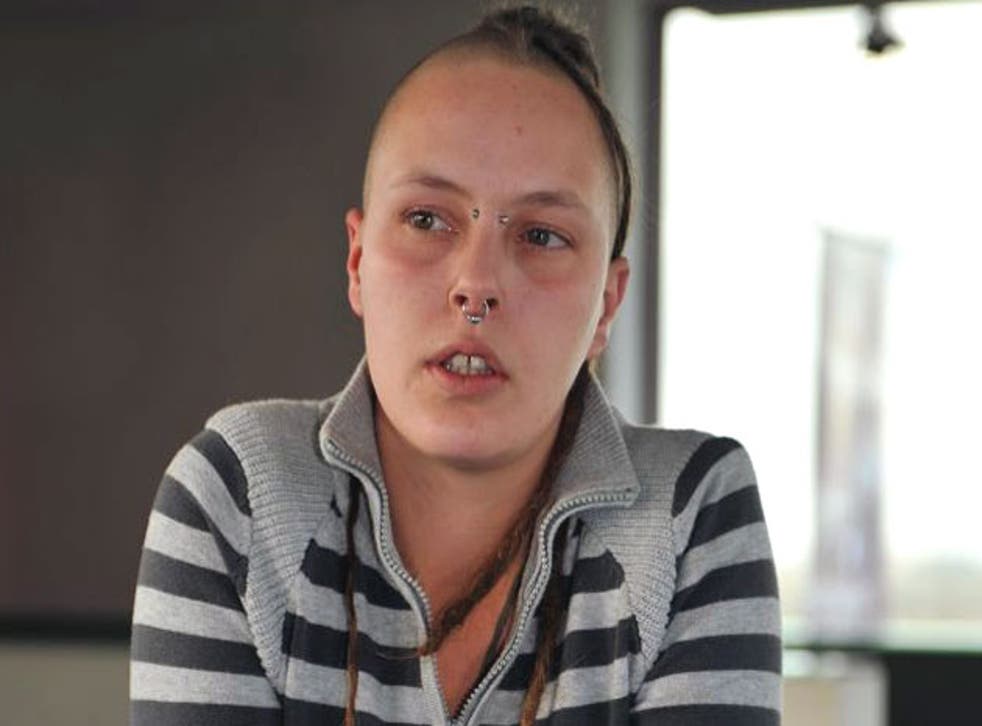 Maité Roël is just 26 and she is the youngest victim of the First World War. And when she walks to meet me past the old churchyard in her village of Bovekerke, she limps, ever so slightly, on her left leg, the living ghost of all those mutilated, long-dead men whose memory the world honoured on Armistice Day earlier this month. She even holds a First World War veteran's card – "mutilée dans la guerre" – and when she shows it to the local railway ticket inspectors for reduced fare train trips, they suspect her – with awful inevitability – of stealing it from dead grandfather or great-grandfather.
But it's all true. After shaking off – so far – a 10-year addiction to the morphine which Belgian doctors gave her during 29 excruciatingly painful operations on her leg, Maité is now a young mother with a year and a half old baby and, incredibly, a total disinterest in the war that almost killed her. Only an hour before I met Maité, I was listening to the "Last Post" at the Menin Gate, 15 miles away in Ypres. "I know nothing about it," she says to me with indifference. "I've read nothing about it. This month was the first time they ever took me to show me the preserved trenches of the war."
They are all around her. Bovekerke was in German-occupied Belgium during the First World War, on the very edge of the Allied-held Ypres salient, and so was the military camp at Wetteren near Ghent when a bomber of the newly created RAF, successor to the Royal Flying Corps, dropped a bomb there in 1918. The Germans were already in retreat across France and Belgium, abandoning the terrible battlefields of Ypres and the Somme, pursued by British, French, Empire and newly-arrived American troops, harried by RAF bi-plane fighters and bombers. Those critical last months of the "War to End All Wars" almost did for Maité 17 years ago.
"We went on a scout camping expedition to Wetteren and I remember now that it was an old military camp," Maité recalls very slowly. She has tiny dreadlocks that hang down her slim face and a silver ring in her nose – not the usual face of a First World War victim. "It was July 6th, 1992. I knew nothing about war. I remember we all built a fire using bricks round the outside and the other kids starting throwing logs on it. I was tired and so I went a few metres from the fire so I could sleep. Then there was a sudden explosion – I woke up and saw sparks from the explosion. Everyone was running and shouting and I tried to get up and I couldn't. Everyone was looking at me and I looked down – and I saw that my left leg was hanging by a piece of skin."
A million British soldiers had experienced this same terror in this same land more than 60 years earlier. But Maité could not understand. She was rushed to the local hospital at Wetteren where there were no specialist surgeons and she had to be rushed by air to Ghent University Hospital. For three hours, she wept and cried in pain before doctors could give her a sedative because the doctors were not sure which medication to administer. "I only started feeling the pain when I saw my leg – and then it never stopped," she said.
Nor has it stopped now. The doctors took skin and muscles and arteries from thighs and back and ribs to reconstruct her left leg – and saved it after 29 operations in which Maité spent two years in hospital, all of them on morphine. For the next 10 years she was addicted, desperate to detoxicate but still finding the pain unbearable. Maité now has only one artery in each leg. The birth of her child, Damon, and the love of his father, Kurt, helped her, she says, admitting with a smile that she still needs cannabis and alcohol to survive the pain but has been without morphine for a year and five months.
She is now cared for by the Belgian Institute for Veterans' Affairs and War Victims. The Institute, along with doctors and police officials, quickly realised that the scouts must have picked up the cylindrical RAF bomb, thinking it was a mouldy log – and thrown it on the fire. The explosion blasted the bricks into pieces, one of which almost severed Maité's left leg. Belgian explosives officers later identified the fragments as those of an RAF bomb – typical of many found over battlefields in the decades that followed the 1918 Armistice – manufactured in 1918 and used during the German retreat. The Wetteren camp was used by the Reichswehr during this period because the town was a major rail centre for German military traffic to the front.
With one of those bitter ironies that war alone can produce, the RAF's youngest victim – long after both the pilot and his intended targets must have died – turns out to be partly British. Maité's grandmother, Janette Matthieson, is Scottish and now lives in Ostend, making Maité's French-speaking mother half-British. Maité now lives on £700 a month, a stipend available to her since she was 16. When she was so grievously hurt, not a single newspaper outside Belgium mentioned her fate.
Belgian authorities are still paying monthly allowances to much older victims of First World War munitions as well as survivors of the Second World War – including Belgian Jewish survivors of the Holocaust – and newly-arrived wounded from Afghanistan. Maité wants to go on a clothes-making course and open a boutique – "I don't want to work for a boss," she says as cheerfully as any 1914-18 British soldier with a "Blighty" wound, though she may be more successful than the men who came home in 1918 and found that theirs was not a land fit for heroes.
"I have an '051'-coded card from the First World War veterans' department and when I buy train tickets, they often question me about it," Maité says. "They think I've taken it from an ancestor but it's completely real. I'm just the youngest victim of that war."
I ask her why she shows no interest in this terrible period of history which struck her so mercilessly – and so literally – when she was younger. She shrugs her shoulders. So much for the Somme and Verdun and Gallipoli and the nine million military dead of the Great War and the Last Post just down the road in Ypres. But I rather suspect Maité is right. Her boutique and her home-made clothes sound a far better future than an examination of the awful mud upon which her village of Bovekerke was rebuilt after the War to End All Wars.
Register for free to continue reading
Registration is a free and easy way to support our truly independent journalism
By registering, you will also enjoy limited access to Premium articles, exclusive newsletters, commenting, and virtual events with our leading journalists
Already have an account? sign in
Join our new commenting forum
Join thought-provoking conversations, follow other Independent readers and see their replies