The assassination of former KGB agent Alexander Litvinenko was shrouded in mystery. Six years on, his widow is still waiting for answers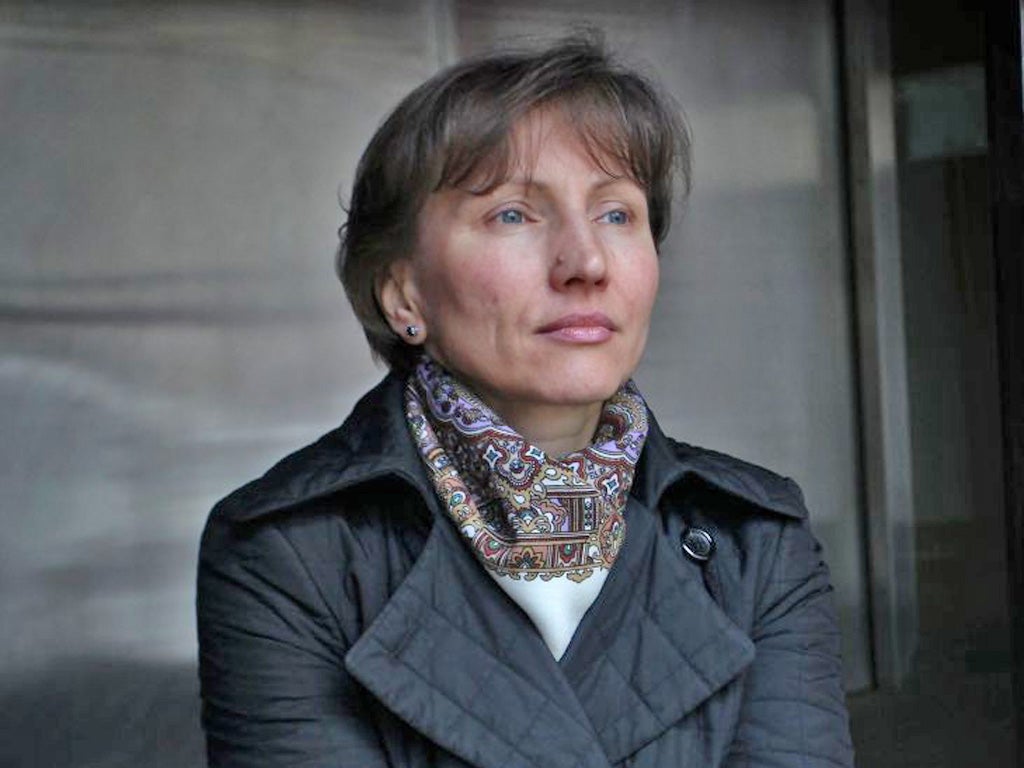 Last month Marina Litvinenko went to the Russian embassy, not far from her home in south-west London, to vote against Vladimir Putin.
It was the first time she'd exercised that right since she and her late husband claimed political asylum in the UK 12 years ago. She knew full well that Putin would be re-elected president, but she was inspired to participate by the tens of thousands of protesters who took to the streets of Moscow in the lead-up to the ballot. In the opposition movement, she says, "I see Sasha. I know how passionate he would have been about it, and how helpful his knowledge could have been."
"Sasha" is the name by which she called her husband, Alexander, the ex- KGB agent and dissident émigré, who died in London in November 2006, after being poisoned with radioactive polonium-210. Scotland Yard's prime suspect was Andrei Lugovoi, another ex-KGB man, whom Alexander met on the day he fell ill; polonium traces were found in Lugovoi's hotel rooms, and in two planes he'd travelled on between Moscow and London. Lugovoi (who accused MI6, and later Litvinenko himself, of the poisoning) is now an MP in Russia with parliamentary immunity from extradition; but Alexander put the ultimate blame on Putin. "You may succeed in silencing one man," he wrote in a deathbed statement, "but the howl of protest from around the world will reverberate, Mr Putin, in your ears for the rest of your life."
In October 2011, St Pancras coroner Dr Andrew Reid agreed to an inquest into the poisoning, which he recommended be wide-ranging, and encompass "the wider circumstances" of the incident. A criminal probe would focus solely on murder charges against Lugovoi, while a narrow inquest might deal with how Alexander died. What he seemed to propose was an assessment of its political motivations, too.
In February this year, Dr Reid was suspended for appointing his under-qualified wife to preside over inquiries – including that into Amy Winehouse's death. Meanwhile, government plans for secret hearings in cases involving intelligence may bar Ms Litvinenko from attending her husband's inquest.
When the inquest was announced, she says, "I was enthusiastic and happy, because a date was supposed to be set soon. I liked [Reid]; he took Sasha's murder very seriously. But now it looks unlikely that an inquest will start this year, suddenly everything is less clear than it was, and I feel more insecure again."
For some time, she resisted the temptation to lobby for an inquest. The close contacts she had made at Scotland Yard counselled against it, convinced they could still bring Lugovoi to justice in a criminal court. In 2008 David Miliband, then the Foreign Secretary, advised her to wait and see if UK-Russian relations improved sufficiently under President, Dmitry Medvedev, to smooth Lugovoi's extradition. She was hopeful, she admits, "but of course, Medvedev was just keeping Putin's chair warm."
Two years after Alexander's death, friends began to tell her to give up on the criminal investigation. "They said there would never be justice, that there was no chance of getting Lugovoi. I was caught between the investigators, who didn't want an inquest, and my friends, who did." Her lawyer, Ben Emmerson QC, persuaded her this was the best course of action. "But having a nice team of lawyers is expensive. Depending on how long the inquest takes, it could cost £100,000, or £200,000. In one way I want it to start as quickly as possible, but on the other hand I need to be sure I can pay for it."
Whatever her chances of success, Litvinenko is a brave and quietly determined woman, trapped by the need for a resolution that may never come. Before Alexander's death, she taught dance. "But a teacher has to be reliable; you have to be in class at the same time every week. And while there's still the chance I might have to attend an inquest, or give an interview, I can't go back to it."
Since 2006 she has been consumed with the case, with the Litvinenko Justice Foundation – which she runs with friend Alex Goldfarb – and with raising her son, Anatoly, now 17. The loss of his father was a great shock, she says, but he is coping much better now, and plans to take a gap year – "Not very Russian!" – before studying English Literature at university. Has she considered remarrying? "All my focus was on my son, but two years ago he said: 'Mummy, I'm old enough now! Could you find somebody else?' It was a signal; he agreed that if something changed in my life, he would not complain."
Prior to Alexander's death, the Litvinenkos' life in London was largely funded by self-exiled oligarch and Kremlin critic Boris Berezovsky, who still pays Anatoly's school fees. When they first arrived, most Russians in Britain were either super-rich, or working class. But in recent years, Litvinenko says, "Russian social life in London has become more intellectual. The Moscow State Theatre has visited. There's a monthly Russian movie club at the Apollo in Piccadilly Circus. Even Waterstones has a Russian section. I have a multicultural set of friends, and I try to take my English friends to Russian activities."
She has never risked returning to Russia, where there is still a concerted media campaign to discredit Alexander, so she sees little of her elderly parents. Last year, however, she and Anatoly went to meet them in Ukraine. "The last time they both stayed with us was just before Sasha's poisoning, and I had not seen my father for five years. So I saw them, and they saw their grandchild. It was the best thing that happened to me last year."
The Russian community in London may be more cultured, but it is not always entirely safe. In March the former banker German Gorbuntsov, who fled to the UK in 2010, was gunned down on the Isle of Dogs. He survived six bullets.
The case marks the first incidence of cooperation between Scotland Yard and Russian investigators since Alexander's poisoning. Litvinenko's close family friends include Chechen separatist leader Akhmed Zakayev, who was with her during her husband's last days. Zakayev is thought to be on a hit list issued by the Chechen President (and Kremlin ally) Ramzan Kadyrov, and remains under 24-hour police protection. "Sasha was very conscious of how criminals from Russia could pass through British borders," Litvinenko says. "He tried to say it should be more restricted, that these people don't just bring money, they bring criminality, too. Only after his death did people come to understand that."
Alexander was never fond of staying quiet. In 1998, he claimed in a televised press conference that his FSB bosses had ordered him to kill Berezovsky, and were using their power for private ends. The FSB director at the time was Vladimir Putin. Alexander was arrested, acquitted and then re-arrested.
In 2000, after Putin became President, the Litvinenkos fled to the UK, where they claimed political asylum and, later, British citizenship. During his time in London, Alexander consulted for MI5 and MI6, worked at a corporate security agency, and wrote two books, including Blowing Up Russia, which alleged that the Russian apartment bombings of 1999 were organised by the FSB, to justify war with Chechnya and sweep Putin into power.
"Of course, many times I said, 'Sasha, maybe you should not say this' but I couldn't change him. Sometimes it was hard, but that was his personality. I took him how he was. When he held that press conference in Moscow, I was so scared. My friends said, 'Why is he doing this? Why doesn't he think of you and his family?' I said, 'He does think, but he can't help it.'"
Now it is Marina's turn to be outspoken, to remind people of her cause – and to raise money and support. She and Goldfarb wrote a book about the affair, Death of a Dissident. Director Michael Mann is developing a film adaptation, which would place Alexander's poisoning at the heart of a narrative featuring Putin, Berezovsky and Chelsea football club owner Roman Abramovich. Litvinenko says she has also been approached to approve an opera, and composer Anthony Pitts has written a requiem for Alexander. "I really appreciate," she says, "how many people still feel very sorry about what happened to me."
She will be 50 this year as would be Alexander, were he now alive. Will she celebrate? "It's so difficult," she says, with visible emotion. In his writings, her husband recalled one birthday in prison. "And in prison, it's very important not to have your sleep interrupted. One day, to his irritation, he was woken up. But when he opened his eyes, he found the people in his cell had gathered to say happy birthday. Once a month, prisoners' relatives could bring them extra food, and they'd made a birthday cake ... And Sasha wrote: 'When I'm 50, I'll ask to be made the same cake'."
Defiant to the end
Litvinenko's last words
"As I lie here I can distinctly hear the beating of wings of the angel of death. I may be able to give him the slip but I have to say my legs do not run as fast as I would like. I think, therefore, that this may be the time to say one or two things to the person responsible for my present condition.
"You may succeed in silencing one man but the howl of protest from around the world will reverberate, Mr Putin, in your ears for the rest of your life. May God forgive you for what you have done, not only to me but to beloved Russia and its people."
Alexander Litvinenko
21 November 2006
A spy story: Litvinenko
1998 – While working for the Russian federal security service (FSB), Alexander Litvinenko organises a press conference to claim that he had been ordered to kill the oligarch Boris Berezovsky, the year before.
Litvinenko is arrested and acquitted twice on charges of abusing his office before fleeing to Britain. He is convicted in his absence in 2002 and handed a three-and-a-half-year prison term.
2000 – Appeals for, and is granted, asylum in Britain with his family. Writes a book, The FSB Blows up Russia in 2001, implicating the security services in a series of apartment block bombings in 1999 that were blamed on Chechen rebels.
2006 – Apparently drinks tea poisoned with radioactive polonium-210 at a hotel in London on 1 November. After being admitted to hospital on 4 November, Litvinenko, above, eventually dies on 23 November.
2007 – In May, the Foreign Office submits a request to the Russian government for the extradition of Andrei Lugovoi, one of two men Litvinenko met on 1 November, to face criminal charges over his murder.
Russia rejects the request, citing their constitution, leading to the mutual exclusion of diplomats from both Britain and Russia.
2010 – In December, a diplomatic cable from Daniel Fried, a senior US official, released as part of the WikiLeaks cache, says the idea that the Kremlin was unaware of a Litvinenko plot was far-fetched "given Putin's attention to detail".
2011 – David Cameron visits Moscow in September and, after years of stalemate, it is clear Britain and Russia are no closer to an agreement over the extradition of Andrei Lugovoi. President Dmitry Medvedev, below, tells Britain, "You have to learn to respect our legal framework."
2012 – In February, Dmitry Kovtun, the second man who met Litvinenko at the hotel, tells the Financial Times that Russian prosecutors have received a letter from the Crown Prosecution Service (CPS) seeking his extradition from Russia. The CPS does not confirm or deny the report.
Join our commenting forum
Join thought-provoking conversations, follow other Independent readers and see their replies