The stork sticking its beak into the German far right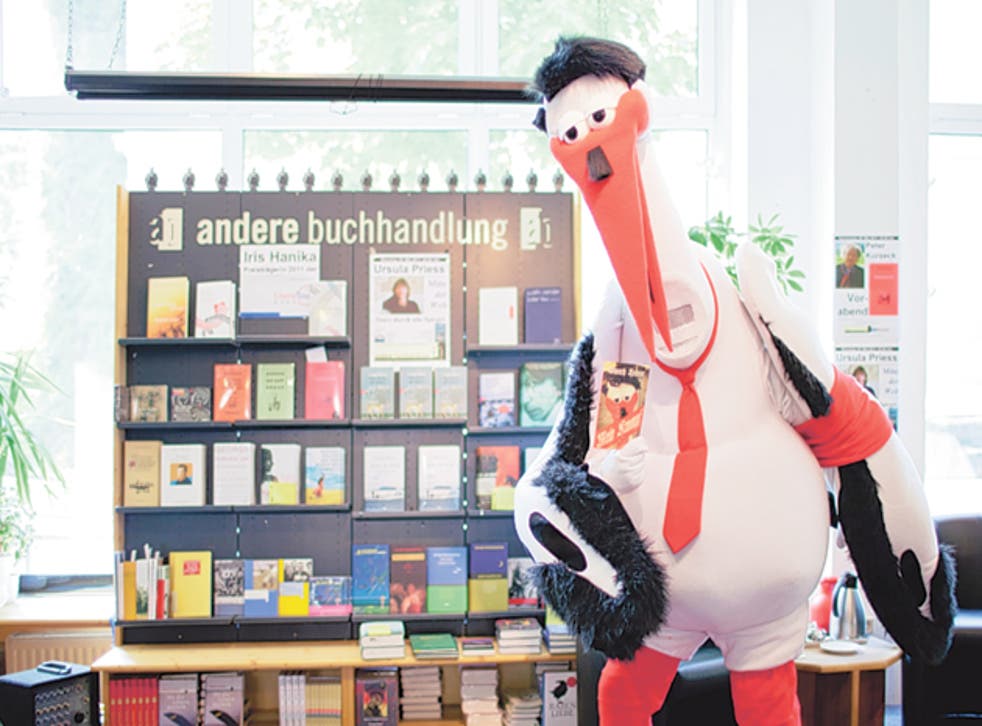 He wrote a book called Mein Krampf (My Cramp), sports a toothbrush moustache and a rigid side parting and infuriates members of Germany's main neo-Nazi party with his satirical take on the Teutonic far-right.
The character in question is Storch Heinar, an anti-Nazi cartoon stork, whose image has appeared more than 5,000 times on anti far-right campaign posters in north-eastern Germany where state elections will be held on Sunday. The stork posters proclaiming "Stork Power instead of Nazis" have been deliberately placed beside the campaign placards of Germany's neo-Nazi National Democratic Party (NPD).
The lampooned NPD is furious. Party workers have made frenzied efforts to rid the region's big cities of stork posters to avoid further ridicule. Hundreds of Stork Power placards have been ripped from lampposts in the port of Rostock. "We are on the home stretch. The stork is giving his all to keep out the extremist idiots," says creator and Social Democrat politician, Matthias Brodkorb.
Storch Heinar began life as a satirical anti-Nazi figure whose aim was to debunk the "Thor Steiner" clothing frequently worn as a status symbol by members of far-right and skinhead groups. Heinar's Hitler moustache and Mein Krampf biography is complemented by his penchant for steel helmets and egg nogs and a rabid intolerance of frogs.
Mediatex, the company which owns the "Thor Steiner" label, tried to get "Storch Heinar" banned for belittling its products. But last year a court in Bavaria threw out the case after a judge ruled that he could see no reasonable grounds for the complaint. Aping the language of Adolf Hitler, Storch Heinar boasted afterwards: "The enemy has been destructively defeated."
Storch Heinar has since gone from strength to strength. The cartoon character has toured Germany with his own rock band: "Storchkraft" (Stork Power). T-shirts and badges bearing his image are best-sellers. He has even travelled the country promoting Mein Krampf.
The Social Democrats' decision to use the stork for their election campaign in the north east is a new development, but has gained popular local support. Benjamin Weiss, a Rostock hotel owner, grew so irritated by the NPD's xenophobic propaganda in a region that depends heavily on tourism that he joined the "Storch Heinar Division" and organised his own team to put up some 300 stork posters around his hotel. "I am fed up with seeing my guests welcomed to Rostock with slogan such as: 'Tourists welcome – foreigners out,'" he said.
The NPD has parliamentary seats in the east German states of Saxony and Mecklenburg-Pomerania. The government's bid to ban the openly racist organisation was rejected by Germany's constitutional court in 2003 after it emerged that intelligence service moles were the source of incriminating evidence against the party.
The NPD's chances of retaining its north-east seats are considered so narrow it is toughto make an accurate prediction. "The far right gets particularly annoyed by humorous initiatives," said Gudrun Heinrich, a political scientist at Rostock university. "Because it doesn't know how to deal with them."
Register for free to continue reading
Registration is a free and easy way to support our truly independent journalism
By registering, you will also enjoy limited access to Premium articles, exclusive newsletters, commenting, and virtual events with our leading journalists
Already have an account? sign in
Register for free to continue reading
Registration is a free and easy way to support our truly independent journalism
By registering, you will also enjoy limited access to Premium articles, exclusive newsletters, commenting, and virtual events with our leading journalists
Already have an account? sign in
Join our new commenting forum
Join thought-provoking conversations, follow other Independent readers and see their replies