Theresa May's disastrous Brexit meeting with European Commission President Jean-Claude Juncker laid bare
PM's statements appear to expose fundamental misunderstandings about the EU and Britain's withdrawal, with officials reportedly telling her the bloc is 'not a golf club'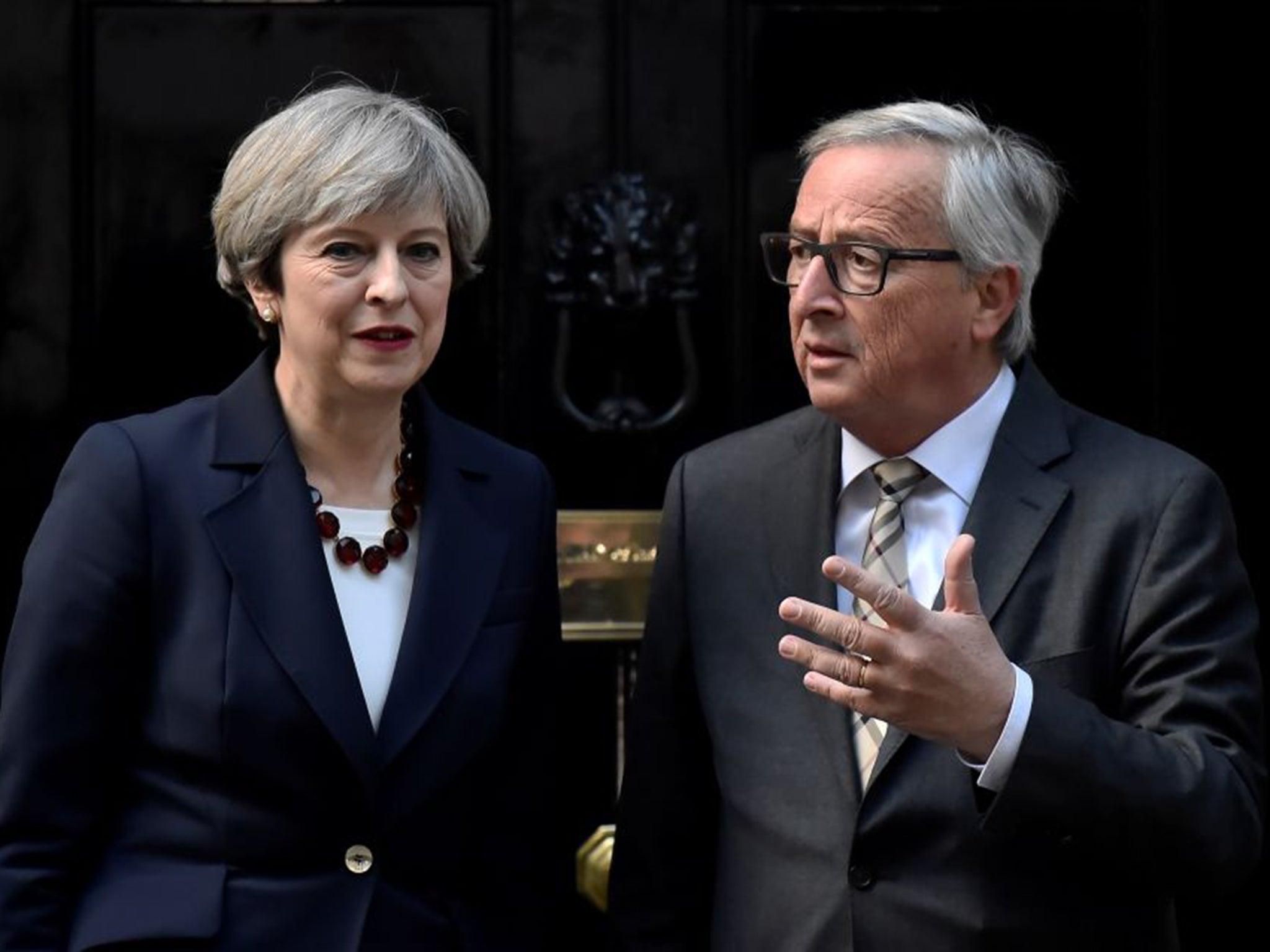 The seemingly disastrous meeting between Theresa May and Jean-Claude Juncker has been laid bare in a report that reveals the European Commission President told her: "I leave Downing Street 10 times more sceptical than I was before."
The UK Government described the meeting on Wednesday as "constructive", saying the pair discussed other international issues in a "useful working dinner".
Yet a very different account emerged in the Frankfurter Allgemeine newspaper's report.
According to the paper, EU officials and Mr Juncker were surprised that Ms May did not appear to be fully briefed for the meeting, claiming she had unrealistic expectations about the length and process of negotiations.
The PM reportedly insisted on discussing other world problems as well as Brexit and refused to accept that the UK owed the EU billions of euros, saying there was no such demand in EU treaties.
She was told in response that the EU was "not a golf club".
If the UK did not pay, said Mr Juncker, there would be no trade deal.
I hope Britain will rejoin EU after Brexit, European Commission chief Jean-Claude Juncker says
According to the report, Ms May told EU officials she expected to be elected Prime Minister next month and wanted to "make Brexit a success".
She was told that would not be possible, because the UK would become worse off in the future as a "third country" - a country outside of the EU and the customs union.
Ms May also informed the officials she wanted to clarify the rights of UK citizens in Europe at the EU Council meeting in June – an idea dismissed by Mr Juncker, given the complex nature of associated issues like healthcare.
She also stated she wanted UK citizens to be treated no differently from other third-country nationals.
The PM then said she wanted to deal with Brexit talks in four-day blocks every month, and keep discussions confidential.
But Mr Juncker reportedly pulled two piles of paper from his bag: Croatia's EU entry deal and Canada's free trade deal, highlighting how complex these talks would be.
The morning after the meeting, Mr Juncker called German Chancellor Angela Merkel and reportedly said Ms May "lived in another galaxy" and was "deluding herself".
It prompted Ms Merkel to quickly amend a passage in her speech to the EU's Brexit summit, a speech that would be described as her toughest yet.
"I have to put it in such clear terms because unfortunately I have the feeling that some in Britain still have illusions," she said.
"But that would be a waste of time."
Merkel derails May's plan for Brexit by rejecting parallel trade talks
She declared the EU would put its own interests first and it would choose how to handle the negotiations. This meant talking about their new relationship first, followed by financial matters, in reverse order to the wishes of Ms May.
A statement issued from the European People's Party echoed this sentiment, saying citizens of the 27 EU member states "will always come first".
"While we aim at maintaining good relations with the UK, the decision of the British people has set an irreversible course," it read.
"We insist that the Brexit process be conducted in an orderly way: there will be no talks on future relations until these exit talks are concluded.
"In this regard, the EPP fully trusts and stands behind EU Chief Negotiator Michel Barnier in his efforts to successfully negotiate on behalf of the EU."
Chancellor Merkel also urged the 27 remaining member states' to speak with "one voice" with the UK when talks start in June.
In pictures: European parliament Brexit discussions
Show all 12
While the EU side speculated that Ms May was causing frustration to break up the talks and win a dominant role in the negotiations, Ms May responded that the EU states were conspiring against the UK and she noted that the talks were going to be "tough".
The negotiations are set to take two years.
More serious negotiations are unlikely to take shape until after the German elections in September.
Join our commenting forum
Join thought-provoking conversations, follow other Independent readers and see their replies