Thousands of Eastern Europeans lead demonstrations against refugees
It is thought that about 10,000 people took part in a rally in Warsaw
Serina Sandhu
Monday 14 September 2015 18:21 Comments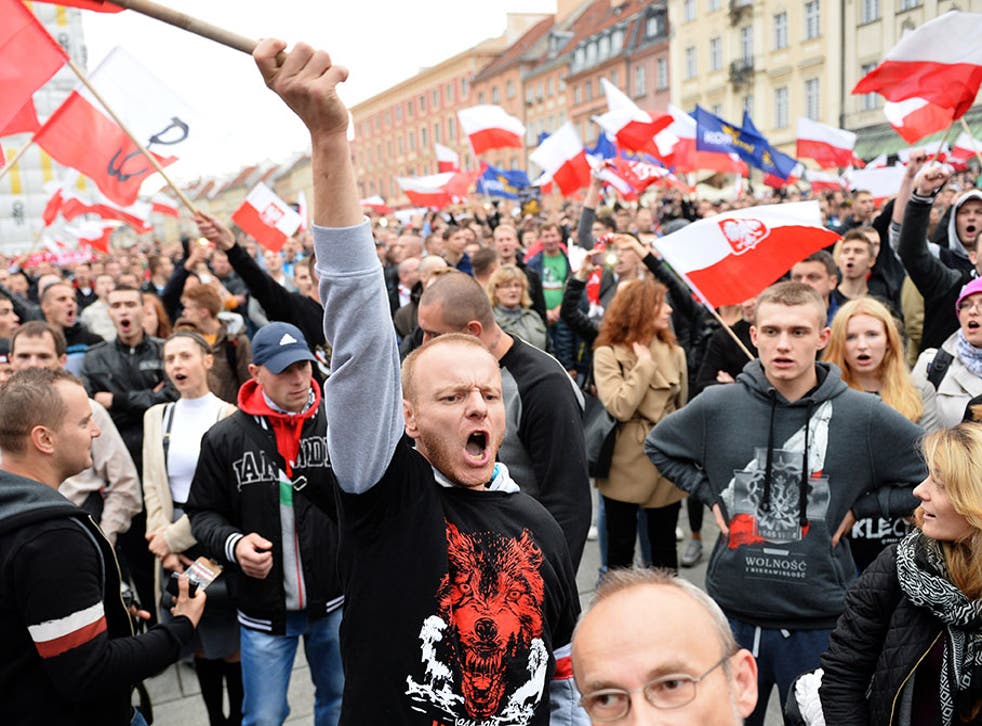 Thousands of people took part in anti-refugee and migrant protests in Eastern Europe on Saturday.
People flocked to the streets of the capital cities in Poland, the Czech Republic and Slovakia to demonstrate against welcoming refugees and migrants.
Around 10,000 people took part in a rally in Warsaw with nationalists and those with right-wing views chanting "Today refugees, tomorrow terrorists!"
Meanwhile, a smaller number of people gathered in Warsaw and other Polish cities to support helping refugees.
The EU wants Poland to accept 12,000 migrants but the capital has agreed to only receive 2,000 within two years, AP reported.
And despite a message from Pope Francis calling on his followers to help refugees in Europe, Poland's prominent Catholic politician Jaroslaw Gowin said before the rallies: "On the question of taking in immigrants, Pope Francis is wrong. In no case should we take in Muslims."
The BBC reported that about 800 people carried banners reading "I do not want refugees and Islam in the Czech Republic" at a demonstration in Prague.
At a similar rally in Bratislava, around 1,500 people participated.
The European Commission proposed sharing out 160,000 asylum seekers between 22 of the European Union's 28 member states.
But Poland, Slovakia, Hungary and the Czech Republic have refused to accept refugees under the fixed quota system.
The BBC reported that Czech Foreign Minister Lubomir Zaoralek said: "We're convinced that as countries we should keep control over the number of those we are able to accept and then offer them support."
Additional reporting by AP
Register for free to continue reading
Registration is a free and easy way to support our truly independent journalism
By registering, you will also enjoy limited access to Premium articles, exclusive newsletters, commenting, and virtual events with our leading journalists
Already have an account? sign in
Join our new commenting forum
Join thought-provoking conversations, follow other Independent readers and see their replies