Thousands of Muslim Bosnians commemorate 1995 Srebrenica massacre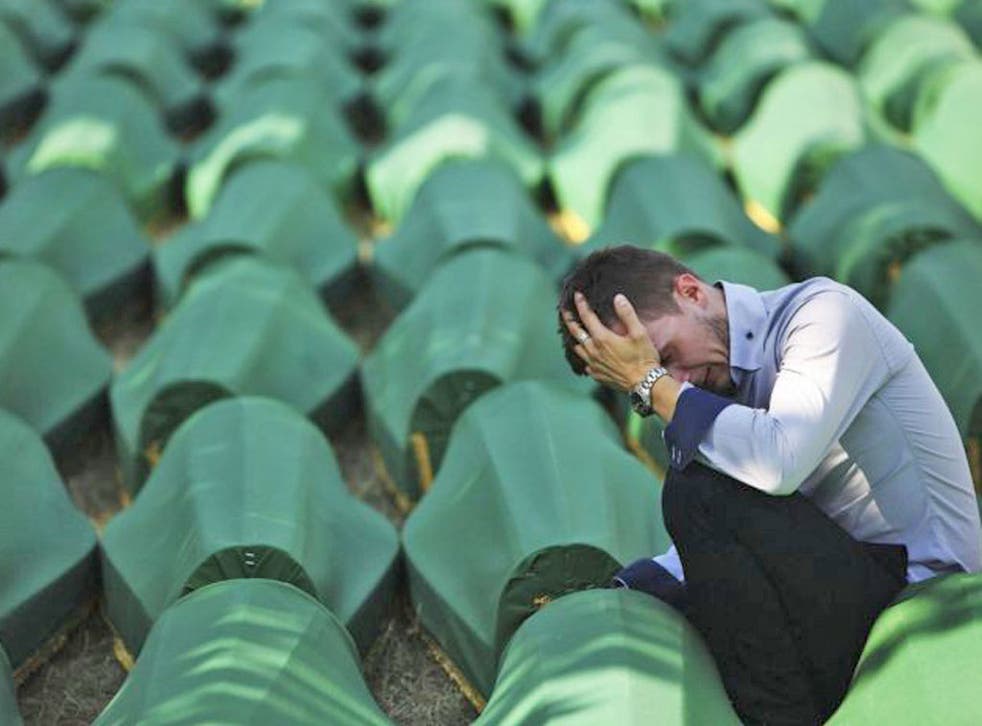 Thousands of Muslim Bosnians commemorated the 1995 Srebrenica massacre in the city today during an annual ceremony that carried special significance this year, with the trial of former Bosnian Serb commander Ratko Mladic - allegedly responsible for Europe's worst atrocity since World War II – finally under way in The Hague.
The remains of 520 newly identified victims of the massacre were buried during a commemoration ceremony at the memorial centre in the nearby town of Potocari. Ambulances were standing by to help those among the tens of thousands for whom the event became too much.
Among the sea of simple green coffins waiting to be buried, Rabija Hrustanovic found the remains of her husband and brother: "I want to lay down next to them and stay here forever," she said before breaking into tears, the Associated Press reported.
An estimated 8,000 Muslim boys and men were killed in Srebrenica 17 years ago in a massacre allegedly orchestrated by Mladic. After years on the run, he and former Bosnian Serb leader Radovan Karadzic face genocide charges in The Hague for their alleged involvement. They are also charged with other crimes committed during the 1992-95 war in Bosnia that left 100,000 dead. Both deny all charges.
The massacre is perhaps the defining symbol of the Bosnian Serb ethnic cleansing campaign that took place during the war. Srebrenica was a supposedly UN-protected enclave. But on July of 1995, Serbian troops led by Mladic captured the Muslim town and separated men from women. UN Dutch troops stationed there failed to intervene as Serbian troops executed their victims in just a few days.
So far, some 5,000 Srebrenica victims have been laid to rest at the memorial centre, but newly identified victims are buried every year.
Jasmin Agovic, from the International Commission on Missing Persons, told The Independent that locating and identifying Srebrenica victims was particularly challenging as initial mass grave sites containing the remains were dug up and buried in several secondary sites throughout Eastern Bosnia in order to conceal evidence.
"In many cases, body parts of one individual have been found in several different mass graves," he explained, adding that families were reluctant to commit to the identification procedure until complete remains had been found.
The commission collected blood samples from relatives of more than 7,500 reported victims and has so far identified over 6,500. "We're still expecting to find more bodies," Mr Agovic added.
Register for free to continue reading
Registration is a free and easy way to support our truly independent journalism
By registering, you will also enjoy limited access to Premium articles, exclusive newsletters, commenting, and virtual events with our leading journalists
Already have an account? sign in
Register for free to continue reading
Registration is a free and easy way to support our truly independent journalism
By registering, you will also enjoy limited access to Premium articles, exclusive newsletters, commenting, and virtual events with our leading journalists
Already have an account? sign in
Join our new commenting forum
Join thought-provoking conversations, follow other Independent readers and see their replies