Thousands pour on to Athens streets in support of deal to keep Greece in eurozone
On Athens's streets, there is no appetite for Grexit, but apprehension about any deal, reports Nathalie Savaricas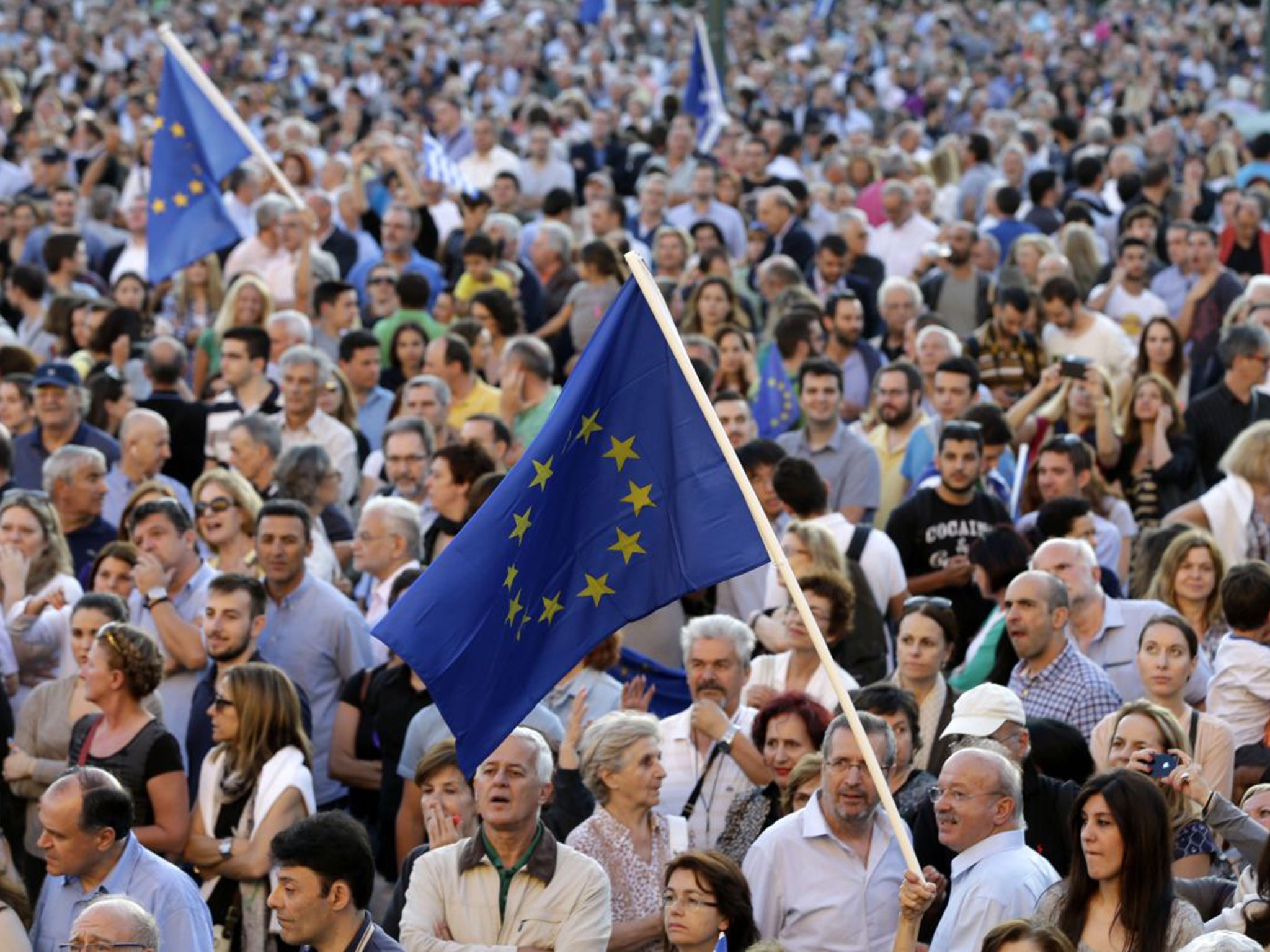 As cautious optimism began to trickle in from Brussels, thousands of Greeks were pouring into the streets of Athens to rally in support of a deal that would keep Greece in the eurozone.
Among the demonstrators waving Greek and European flags was IT consultant Dimitris, 43, and his two-year-old daughter Myrto. He said his presence at the demonstration was not political.
"We belong to the West and have enjoyed 250 years of European enlightenment that I'm not ready to give up on," he said. "We enjoy freedoms and other privileges that the rest of the world can't even imagine… and that's the world I want my child to grow up in."
Retired tour operator Panayiotis Papanikolopiloulos blamed successive administrations for the country's predicament – not the austerity measures imposed by Greece's creditors. "Our country not only belongs to Europe but it's also our second home. We will lose everything if we lose the euro," he said.
The grey, still skies on Monday evening reflected enduring concerns that talks could fail, despite the glad tidings from the government.
At a grocery shop in the neighbourhood of Pangrati earlier on 22 June, owner Ourania said she and her customers were very concerned. "People are scared, they're just worried the country will go back to the national currency," she said. "Whatever happens, I want to stay in the EU because anything else will damage our lives but it feels like we're doomed either way – the measures are killing us."
Nearly 70 per cent of Greeks support a stay in the euro at any cost, even if that is accompanied by austerity measures, according to a poll last week.
In pictures: Solidarity protest for Greece in London
Show all 7
"There should be an agreement whatever, I don't care about the red lines because our priority should be remaining in the EU," pensioner Panagiotis Mavrikos said.
"No one has interest in a failure of negotiations. Nobody can afford not to have a deal, not Athens nor the EU, nobody – which is why Americans are also pushing for an agreement," George Katrougkalos, the Administrative Reform Minister told The Independent shortly after Mr Tsipras held a telephone conversation with US Treasury Secretary Jack Lew.
But he added: "We have made a lot of concessions, so we are also expecting concessions from the other side."
Plenty of Greeks feel caught between their bond to Europe, and the fact they are suffering under successive cuts.
"I want to remain a member of the Euro but with independence and liberty and that's something Merkel won't give us," Angelika Papadopoulou, a PR consultant, said while out shopping. Her income has dropped by 30 per cent in recent years.
Aristides Hatzis, a professor in law and economics at the University of Athens, was optimistic Alexis Tsipras would ensure the country remained in the eurozone.
Leaving the common currency "would be catastrophic for Greece and damaging for the European partners", said Professor Hatzis. But he added: "I don't think this is a good deal. It's full of tax hikes and that is the most damaging component of any austerity measures which only strangle the economy."
Join our commenting forum
Join thought-provoking conversations, follow other Independent readers and see their replies