Three arrested for plot to kill Mohamed cartoonist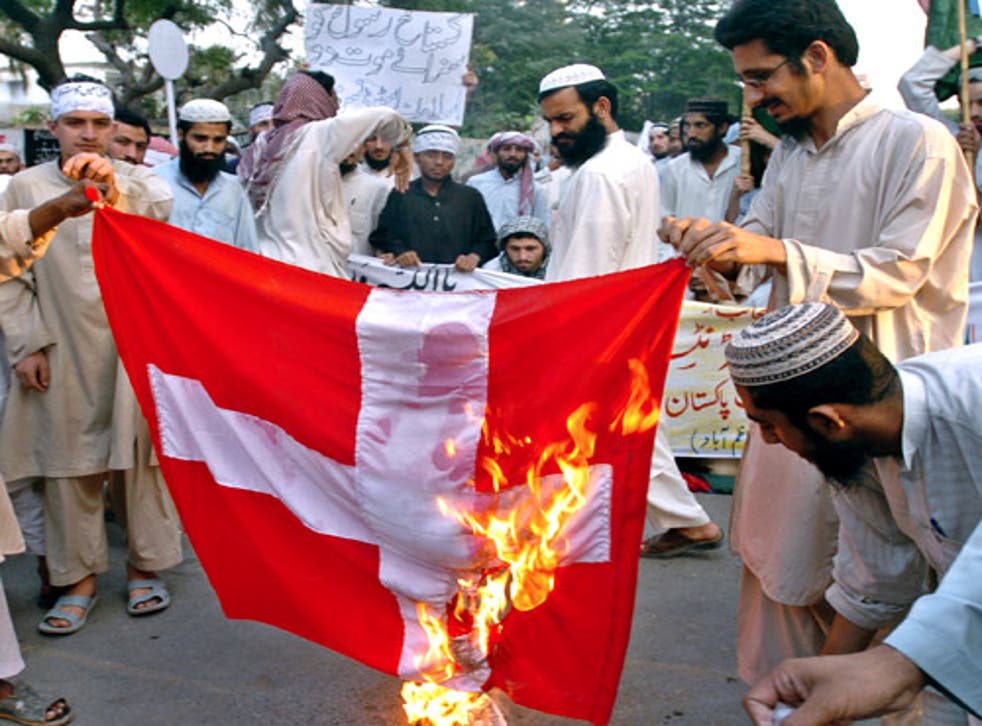 Three men were yesterday arrested in Denmark accused of plotting to murder a cartoonist, two years after a dozen cartoons lampooning Islamic fundamentalism sparked violent demonstrations around the world.
The target was said to be Kurt Westergaard, 73, a staff cartoonist on Jyllands-Posten, the Danish newspaper that first published the cartoons. Westergaard's drawings depicted the Prophet Mohamed with a bomb-shaped turban and a burning fuse.
Two Tunisians and a Danish man were arrested before dawn in Aarhus, Denmark's second city and the home of the newspaper. It also has a large community of Arabs and Turks.
Police said they arrested the men while the plot to kill Westergaard was still in the planning stage. The chief of the Security and Intelligence Service, Jakob Scharf, said the arrests came after a long period of surveillance. They were intended, he said "to prevent a terror-related assassination of one of the cartoonists behind the cartoons of the Prophet Mohamed".
Anders Fogh Rasmussen, the Prime Minister, said: "Unfortunately... there are in Denmark groups of extremists that do not acknowledge and respect the principles on which Danish democracy is built. In Denmark, we have freedom not only to think and talk, but also to draw."
Police said the two Tunisian nationals would be expelled because they were considered a threat to national security. The Danish national was expected to be released after questioning.
The cartoon saga originated in September 2005 when the editor of Jyllands-Posten, Carsten Juste, commissioned a number of cartoons humorously depicting the Prophet Mohamed in what he described as "an attempt to promote freedom of expression". The cartoons attracted scant attention and the affair would probably have ended there, but after they were republished in a Norwegian newspaper there was an explosive reaction to what was taken as a deliberate attempt to insult the Prophet.
Suddenly the liberal West and the Islamic world had found a new issue, following Salman Rushdie's Satanic Verses, around which to polarise and exchange furious denunciations.
In January 2006, Juste tried to defuse the anti-Denmark campaign by saying that he "regretted" the offence caused to Muslims. But defenders of the right to freedom of expression in France, Germany, Italy and Spain continued to reprint the cartoons, a prominent Italian politician went on television wearing a T-shirt printed with Westergaard's turban-bomb drawing, and demonstrations continued across the Muslim world. Scandinavians were warned against travelling to Gaza and the West Bank, effigies of the Danish Prime Minister were burnt in Pakistan, while Danish embassies were attacked. Up to 50 people are said to have died.
The anger died down on both sides, but Jyllands-Posten staff said they had received "countless" death threats. Westergaard has been under police protection for several months. Last month, Denmark's Royal Library said it was in talks to acquire the 12 cartoons because "they have become a part of Danish history".
Join our new commenting forum
Join thought-provoking conversations, follow other Independent readers and see their replies