Three Syrians arrested in Germany over alleged gang rape of two teenage girls on New Year's Eve
A 21-year-old man and two 14-year-old boys are said to have been detained in Weil am Rhein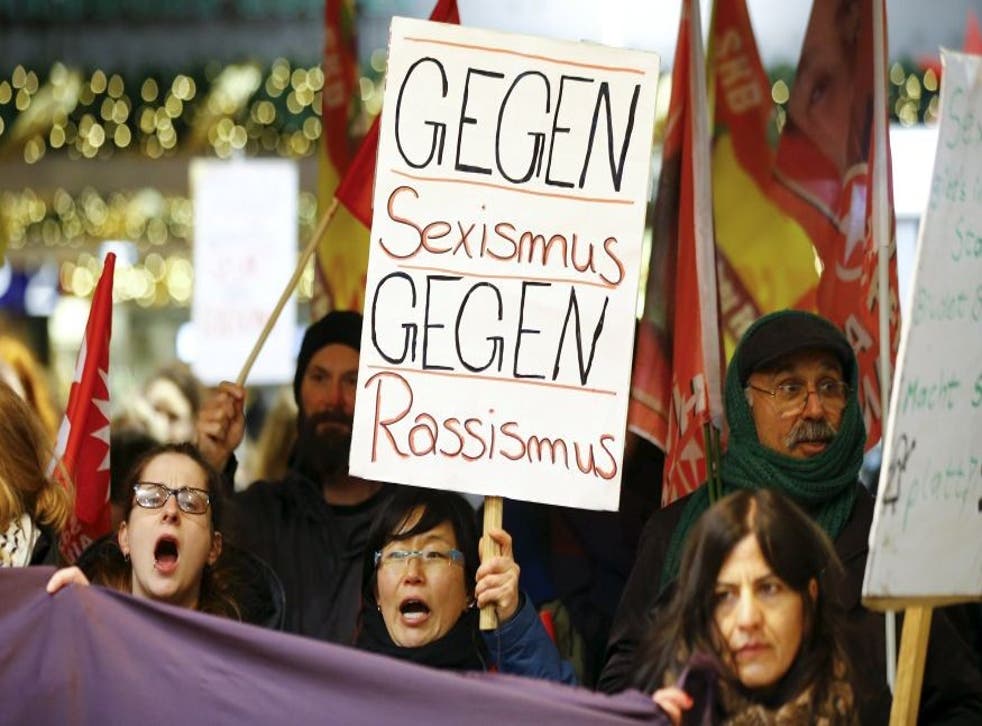 The arrest of three Syrians in Germany over the alleged gang rape of two teenage girls on New Year's Eve has fuelled anti-refugee sentiment after hundreds of women across the country came forward to claim they were sexually assaulted on the same night.
A 21-year-old man and two 14-year-old boys are understood to have been detained in the town of Weil am Rhein on suspicion of taking girls aged 14 and 15 captive and gang raping them in an ordeal that apparently lasted several hours.
Prosecutors say the alleged rapes took place at the home of the oldest suspect in the village of Friedlingen after the girls attended a New Year's Eve party there.
Police are hunting for a fourth alleged rapist, believed to be the 15-year-old brother of the oldest suspect, according to the Telegraph.
The newspaper said the three arrested Syrians are not asylum seekers, citing local police as saying the 21 and 15-year-old suspects are long-term German residents and the 14-year-olds live in Switzerland and the Netherlands respectively.
The three suspects were arrested on Sunday but details of their arrest were kept secret in an attempt to protect the victims' identities, prosecutors claim.
Although the alleged attack took place on New Year's Eve, prosecutors apparently believe it was in no way related to the flood of sexual assault claims from German cities including Cologne, Hamburg, Frankfurt, Stuttgart and Dusseldorf on the same night.
Growing fury in Germany over New Year's Eve assaults on women in Cologne
In total more than 120 criminal complaints were filed in Cologne alone, with a further 50 in Hamburg – many of them alleging that large groups of men were "hunting" female revellers during the New Year's celebrations and subjecting them to sexual assault and robbery.
In many cases police described the alleged perpetrators as being of "southern or Arab" or "North African" appearance. One purportedly leaked police report appeared to claim that some suspects said they were Syrian refugees and demanded to be "treated nicely" as "Mrs Merkel invited me".
Such claims have sparked anger across Germany, where many have been quick to accuse asylum seekers of carrying out the New Year's Eve sexual assaults and robberies, adding that the criminality is the result of German Chancellor Angela Merkel's unpopular "open door" refugee policy.
The policy led to the arrival of 1.1 million asylum seekers - many of them desperate Syrians fleeing their war-ravaged homeland - in 2015.
Germany's justice minister Heiko Maas yesterday warned that "deportations would certainly be conceivable" for any asylum seeker found to have taken part in the New Year's Eve attacks.
Finland also saw a spike in sexual harassment claims on New Year's Eve
The news comes as Finnish police reported an unusually high level of sexual harassment in Helsinki on New Year's Eve and said they had been tipped off about plans by groups of asylum seekers to sexually harass women.
"There hasn't been this kind of harassment on previous New Year's Eves or other occasions for that matter... This is a completely new phenomenon in Helsinki," the Finnish capital's deputy police chief Ilkka Koskimaki told the AFP news agency.
Security guards hired to patrol the city on New Year's Eve told police there had been "widespread sexual harassment" at a central square where around 20,000 people had gathered for celebrations.
Three sexual assaults allegedly took place at Helsinki's central railway station on New Year's Eve, where around 1,000 mostly Iraqi asylum seekers are said to have converged.
"Police have...received information about three cases of sexual assault, of which two have been filed as complaints," Helsinki police said in a statement.
"The suspects were asylum seekers. The three were caught and taken into custody on the spot," Ilkka Koskimaki told reporters.
Police said they had increased their preparedness "to an exceptional level" in Helsinki for New Year's Eve after being tipped off about possible problems.
"Ahead of New Year's Eve, the police caught wind of information that asylum seekers in the capital region possibly had similar plans to what the men gathered in Cologne's railway station have been reported to have had," police said in a statement.
Register for free to continue reading
Registration is a free and easy way to support our truly independent journalism
By registering, you will also enjoy limited access to Premium articles, exclusive newsletters, commenting, and virtual events with our leading journalists
Already have an account? sign in