Tiziana Cantone: Mother so distraught she had to be carried into her daughter's funeral
The authorities have launched an investigation into the death, looking at possible charges of instigating suicide 
Will Worley
Saturday 17 September 2016 16:56 Comments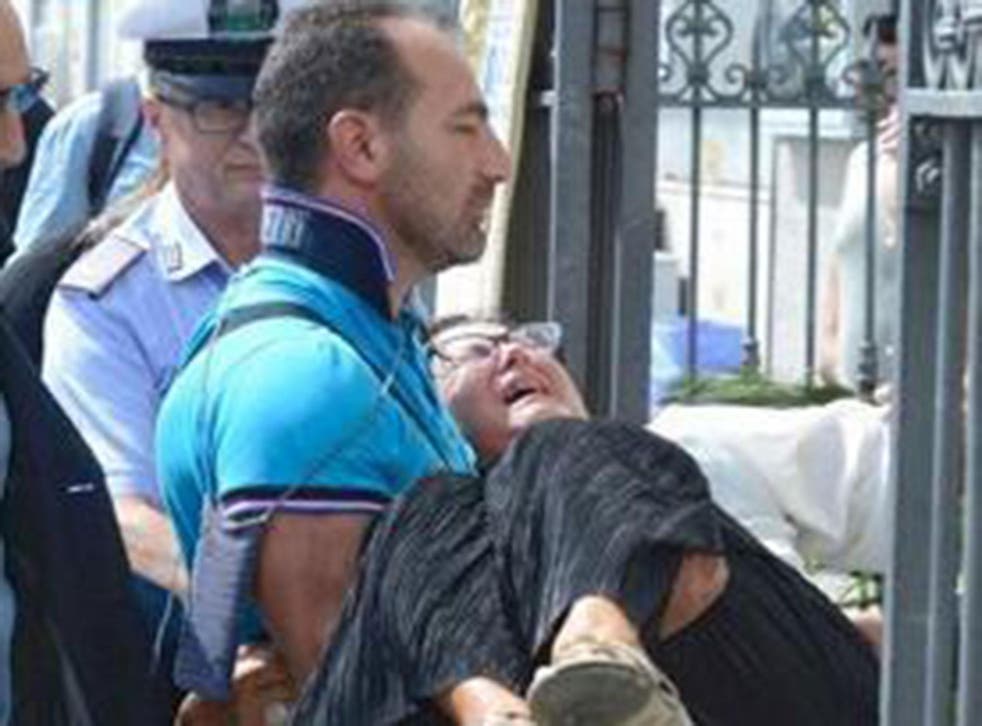 The mother of Tiziana Cantone, an Italian woman who killed herself after her sex tape went viral, was so distraught at her daughter's funeral that she had to be carried into the ceremony.
Maria Teresa Giglio was pictured in the arms of another mourner into church.
Ms Cantone's death has caused shockwaves in Italy and reignited the debate surrounding revenge porn and online shaming.
Her family have expressed their desire for change and pleaded officials "to act so that her death was not in vain."
Four people have now been questioned by the police, according to local media, after a criminal investigation was launched by the Italian authorities.
Chief prosecutor Francesco Greco said on Friday that the investigation into possible charges of instigating suicide was being coordinated with another probe based on a defamation complaint Ms Cantone brought against four individuals last year.
Besides the defamation complaint, Ms Cantone also went to a civil court seeking to have the video removed for violation of privacy, but she won only a partial victory and was ordered to pay court costs of €20,000 (£17,160).
Ms Cantone is said to have sent six different videos, including one of her performing a sex act on a man, to a handful of acquaintances whom she trusted.
Tormented after the footage went viral, she changed her name, moved out of her house, and launched a successful 'right to be forgotten' legal case forcing Facebook to take down the abusive posts.
Countries where sexual violence has become a way of life

Show all 19
Explicit footage of her was first uploaded to the internet in spring 2015.
The images and videos began to appear on porn sites and spread virally on social media, along with jeering comments, edited screenshots and cruel video parodies, many using her full name.
"It is once again a woman who is the target of violence and hate," said Elena Centemero, an MP for the centre right Forza Italia party, according to the ANSA news agency.
Associated Press contributed to this report.
Register for free to continue reading
Registration is a free and easy way to support our truly independent journalism
By registering, you will also enjoy limited access to Premium articles, exclusive newsletters, commenting, and virtual events with our leading journalists
Already have an account? sign in
Join our new commenting forum
Join thought-provoking conversations, follow other Independent readers and see their replies