Topless Christmas Day Femen protest in Cologne Cathedral slammed as 'unnecessary disturbance'
Germany's left-wing Green Party among those criticising anti-Catholic demonstration as 'disrespectful'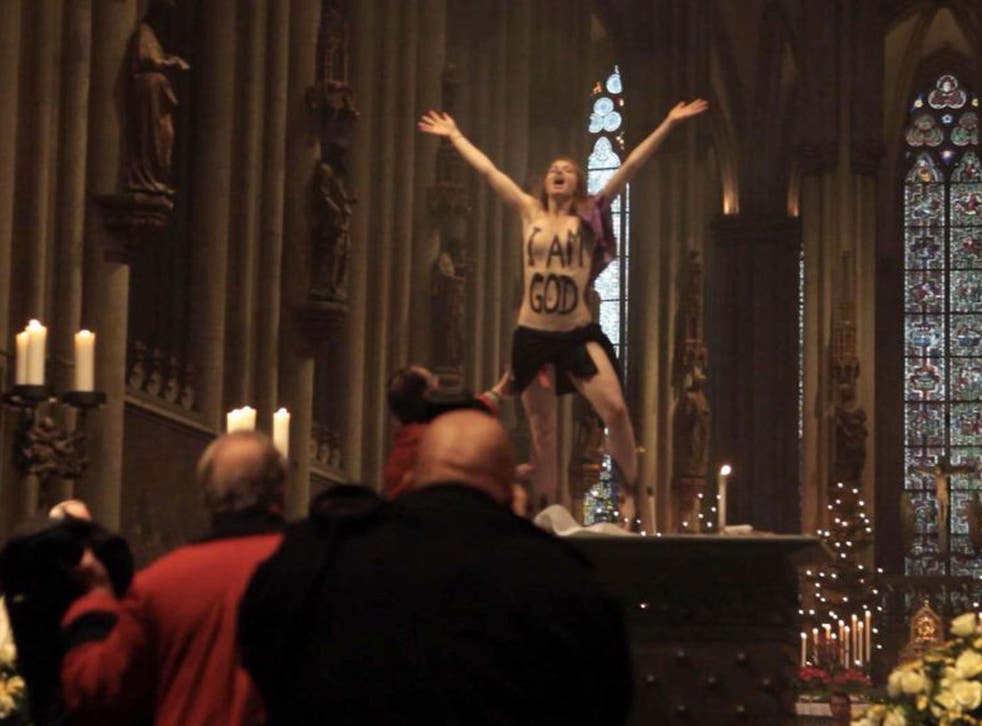 The activist group Femen has come under fire for causing an "unnecessary disturbance" in Germany after a topless protester interrupted the Christmas Day service at Cologne Cathedral.
The demonstrator, who has been identified as Josephine Witt and previously protested against Russian president Vladimir Putin in Hannover, said she wanted to draw attention to the conservative power structures of the Catholic Church.
She was sat in the front row on Christmas Day as Cardinal Joachim Meisner led the service, according to reports in The Local.
Images showed her throwing off her leather jacket, climbing up onto the cathedral's altar and standing topless with the words "I am God" written across her chest.
Ms Witt was quickly led away by security guards, and detained until the end of the service when she was reported to police.
She told journalists she was hit as she was taken away, both by the guards and a member of the congregation. She said: "Cologne is a stronghold for Catholics in Germany and Meisner represents a very conservative strand."
Her actions were roundly criticised in Germany yesterday, however, including by the country's traditionally left wing Green Party. Volker Beck, the party's spokesman for religious affairs, said: "The action by Femen in Cologne cathedral was disrespectful and an unnecessary disturbance of worshippers during a service."
While the Cologne diocese said it would not be making "a big fuss" about the protest, the president of the Central Committee of German Catholics, Alois Glück, told the Kölner Stadt-Anzeiger newspaper: "No argument can justify such actions.
"These are provocations that ultimately only aim to harm other people," he said.
Join our new commenting forum
Join thought-provoking conversations, follow other Independent readers and see their replies