Turkey coal mine explosion: Turkish PM accused of 'slapping protester'
Video footage shows Recep Tayyip Erdogan and his advisor as he is mobbed by angry protesters during a visit to Soma
Heather Saul Comments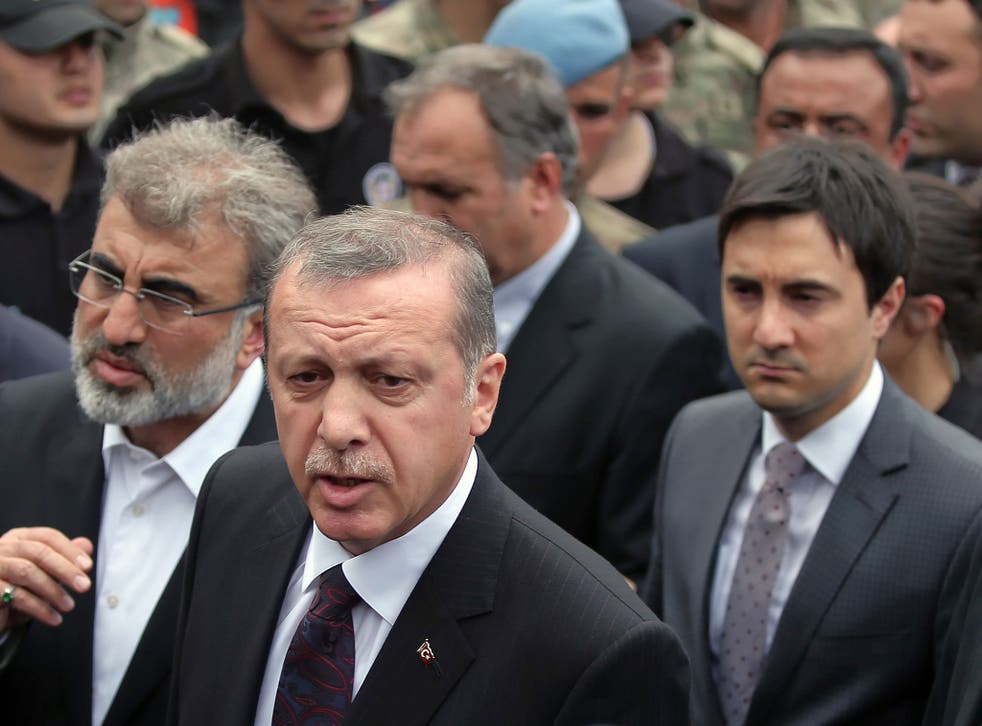 The Turkish Prime Minister has been accused of hitting a protester during demonstrations over an explosion and fire in a Soma coal mine that killed at least 282, in the worst mining disaster in Turkish history.
Video footage taken during Prime Minister Recep Tayyip Erdogan's visit to the town also allegedly shows two of his body guards hitting a protester, shortly before he was forced to take refuge in a supermarket after being jostled by angry protesters.
In the footage, Mr Erdogan and his staff can be seen as he is mobbed by an angry crowd who can be heard shouting and whistling, as he heads into a supermarket. A scuffle then appears to break out and the exact circumstances of the incident become difficult to ascertain.
Taner Kuruca, the man who claims to have been hit by the Prime Minister told Kanal D television he was "slapped" when he came "face to face" with Mr Erdogan in the supermarket, the Hurriyet Daily News has reported.
"I was not one of the protesters. I came face to face with Prime Minister," he said. "As his bodyguards started to push, Prime Minister unfortunately did something involuntarily and slapped me while I was walking backwards, because he was angry at the crowd and he couldn't control himself."
Other reports suggested a man shouting at Mr Erdogan was then followed into the store and punched by the PM. None of the claims made have been confirmed or verified.
Mr Erdogan's office has since stated that whatever occurred was a "reaction of the moment", according to the BBC.
The claims come as after the Turkish PM's adviser admitted kicking a protester being restrained on the ground during anti-government demonstrations after he was allegedly "provoked" into doing so.
Yusuf Yerkel made the statement after photos of him kicking a were widely circulated across social media and printed in Turkish newspapers, where he was named as the man in the picture.
"I am sorry that I was not able to keep calm despite all the provocations, insults and attacks that I was subjected to," he said.
There were 787 people inside the mine at the time of the explosion, approximately four miles from the entrance and two miles underground. The Energy Minister Taner Yildiz said "no more than 18" miners are believed to still be trapped inside and hopes are fading that any more survivors will be pulled out.
Mr Yildiz has claimed most of the dead were killed by carbon monoxide poisoning after the blaze, which is still raging and producing toxic fumes, making the rescue operation more difficult.
Three days of national mourning began on Thursday, while the head of the Confederation of Revolutionary Trade Unions called on citizens to wear black.
Register for free to continue reading
Registration is a free and easy way to support our truly independent journalism
By registering, you will also enjoy limited access to Premium articles, exclusive newsletters, commenting, and virtual events with our leading journalists
Already have an account? sign in
Join our new commenting forum
Join thought-provoking conversations, follow other Independent readers and see their replies