Picture shows half-naked Turkish soldiers 'stripped and bound' amid fears Erdoğan will enforce brutal crackdown
'We will march in our funeral shrouds and we will deal with these assassins, this cult,' Erdoğan says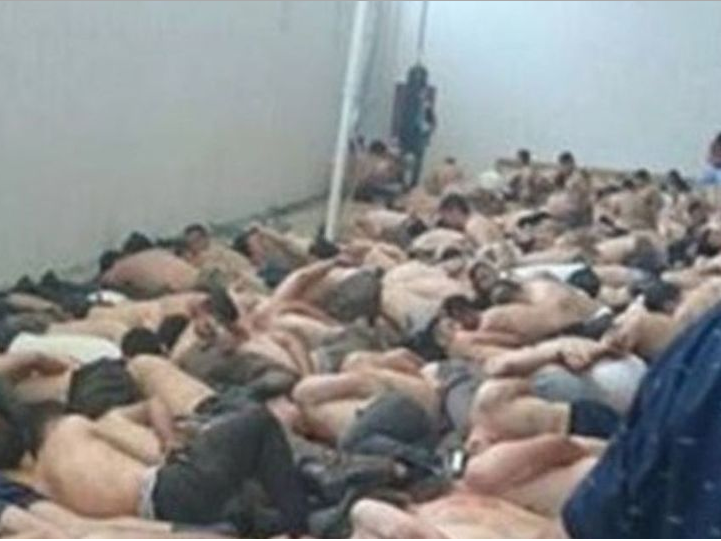 A photograph purportedly showing dozens of Turkish soldiers lying on the floor of a gymnasium, half-naked with their wrists tied, appeared online after the Turkish president said he would "cleanse" the country of the "virus" responsible for the military coup.
There are fears Recep Tayyip Erdoğan will react with brutality against those responsible for the military action in Ankara and Istanbul on Friday night.
Mr Erdoğan arrested 6,000 people after the failed coup and refused to rule out bringing back the death penalty, which has not been used in the country since 1984. Col Ali Yaziki, Mr Erdoğan's primary military aide, is among those detained.
The death toll over the weekend has reached 290, according to the foreign ministry, after military personnel drove armoured vehicles into Istanbul and Ankara and blocked bridges and roads. More than 100 of the dead had been taking part in the coup.
"We will continue to cleanse the virus from all state institutions, because this virus has spread. Unfortunately like a cancer, this virus has enveloped the state," Mr Erdoğan said at a funeral in the capital for victims of the coup, the BBC reports.
"We march in our funeral shrouds, and we will deal with these assassins, this cult, these followers of Fethullah [Gulen]," he said, according to The Guardian.
Mr Erdoğan alleges his former ally, Fethullah Gülen is responsible for the attack, but the reclusive cleric denies the claims. Gülen said the Erdoğan regime was so manipulative it may have even "staged" the coup itself.
Pictures have emerged of civilians brutally attacking the soldiers in the aftermath of the attempted coup. One photograph apparently shows a group of men kicking a soldier as he lies on the floor, shielding his head with his arms.
Prime Minister Binali Yildirim has warned the soldiers "will pay a heavy price". He urged civilians to remain on the streets to show support for the Erdoğan regime. "Another calamity has been thwarted. However, our duty is not over. We shall rapidly conduct the cleansing operation so that they cannot again show the audacity of coming against the will of the people," Mr Yildrim said.
In pictures: Turkey coup attempt
Show all 17
The 6,000 people Mr Erdoğan has detained includes 2,700 judges, leading to concerns the leader will use the failed coup as a "blank cheque" to bypass the judicial process.
On Monday morning, EU foreign policy chief Federica Mogherini said: "Today, we will say together with the ministers that this obviously doesn't mean that the rule of law and the system of checks and balances in the country does not count, on the contrary, it needs to be protected for the sake of the country itself."
Funerals held for victims of failed coup in Turkey
Fighter jets will reportedly continue to patrol the Turkish skies at Mr Erdoğan's behest, Anadolu reports, to ensure airspace remains in his control.
Join our commenting forum
Join thought-provoking conversations, follow other Independent readers and see their replies