Turkey coup: 2,700 judges removed from duty following failed overthrow attempt
Turkey's highest judiciary council suspends judges and members of its own board for links to reformist Muslim leader Fethullah Gülen
Harry Cockburn
Saturday 16 July 2016 14:15 Comments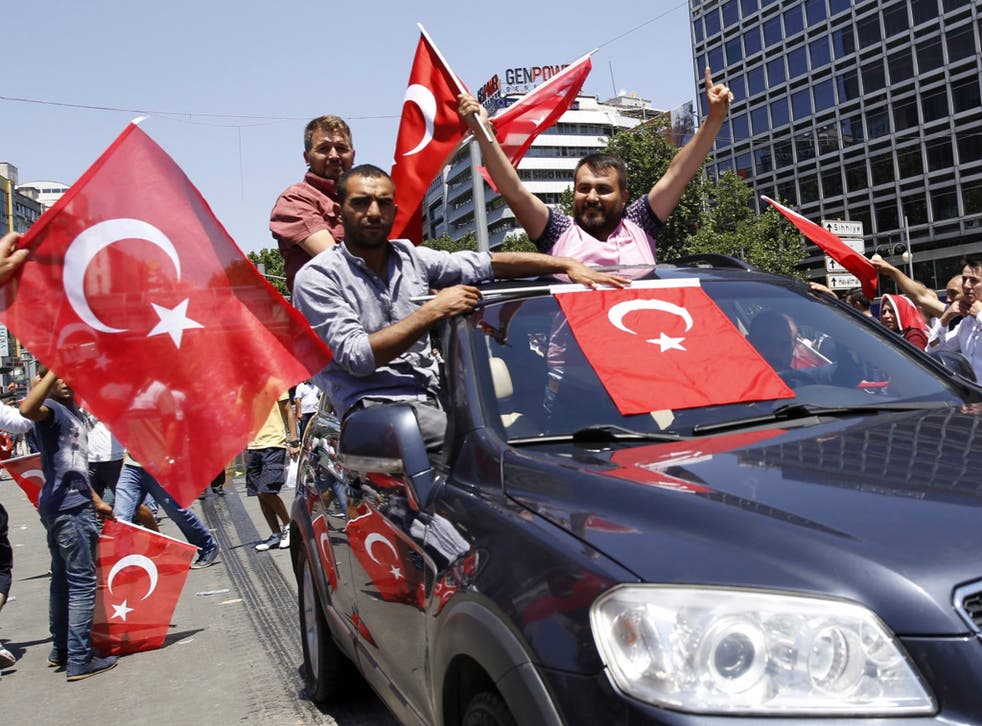 The Turkish government has removed 2,745 judges from duty in the wake of a failed military coup in which over 161 people were killed.
The decision followed an emergency meeting of Turkey's Judges and Prosecutors High Council which was called to discuss members' links to US-based cleric Fethullah Gülen, the leader of a reformist Muslim movement.
The meeting saw the dismissal of 2,745 judges along with several members of the council itself, which is Turkey's highest judiciary board.
Turkey failed coup: Parliament unified in rare meeting
Turkey's state-run news agency said authorities have detained 10 members of the council.
The Anadolu Agency said arrest warrants have been issued for 48 administrative court members and 140 members of Turkey's appeals court.
The government has repeatedly blamed the influence of the Gülen movement for the coup and has said the overthrow attempt was carried out by a clique of supporters within the military.
Turkey's acting military chief of staff Umit Dundar earlier said: "The armed forces is determined to remove members of the Gülen movement from its ranks."
Mr Gülen, a preacher and former imam, was an ally of Turkish President Recep Tayyip Erdogan until 2013. The relationship turned sour after a corruption scandal implicated Mr Erdogan, who then accused Mr Gülen of being behind the corruption investigations.
In pictures: Turkey coup attempt

Show all 17
He is now on Turkey's most-wanted terrorist list and the country has demanded his extradition from the United States where he is in self-imposed exile in Pennsylvania.
Mr Gülen is the founder of the Gülen movement, which teaches a moderate Islam which believes in science, multi-party democracy and interfaith dialogue between the Abrahamic religions.
Register for free to continue reading
Registration is a free and easy way to support our truly independent journalism
By registering, you will also enjoy limited access to Premium articles, exclusive newsletters, commenting, and virtual events with our leading journalists
Already have an account? sign in
Register for free to continue reading
Registration is a free and easy way to support our truly independent journalism
By registering, you will also enjoy limited access to Premium articles, exclusive newsletters, commenting, and virtual events with our leading journalists
Already have an account? sign in
Join our new commenting forum
Join thought-provoking conversations, follow other Independent readers and see their replies