As it happened
ended
1468697034
Turkey coup live: Erdogan government reasserts itself as 2,700 judges purged - as it happened
At least 2,800 military personnel have been detained across the country as the government cracks down on the attempted coup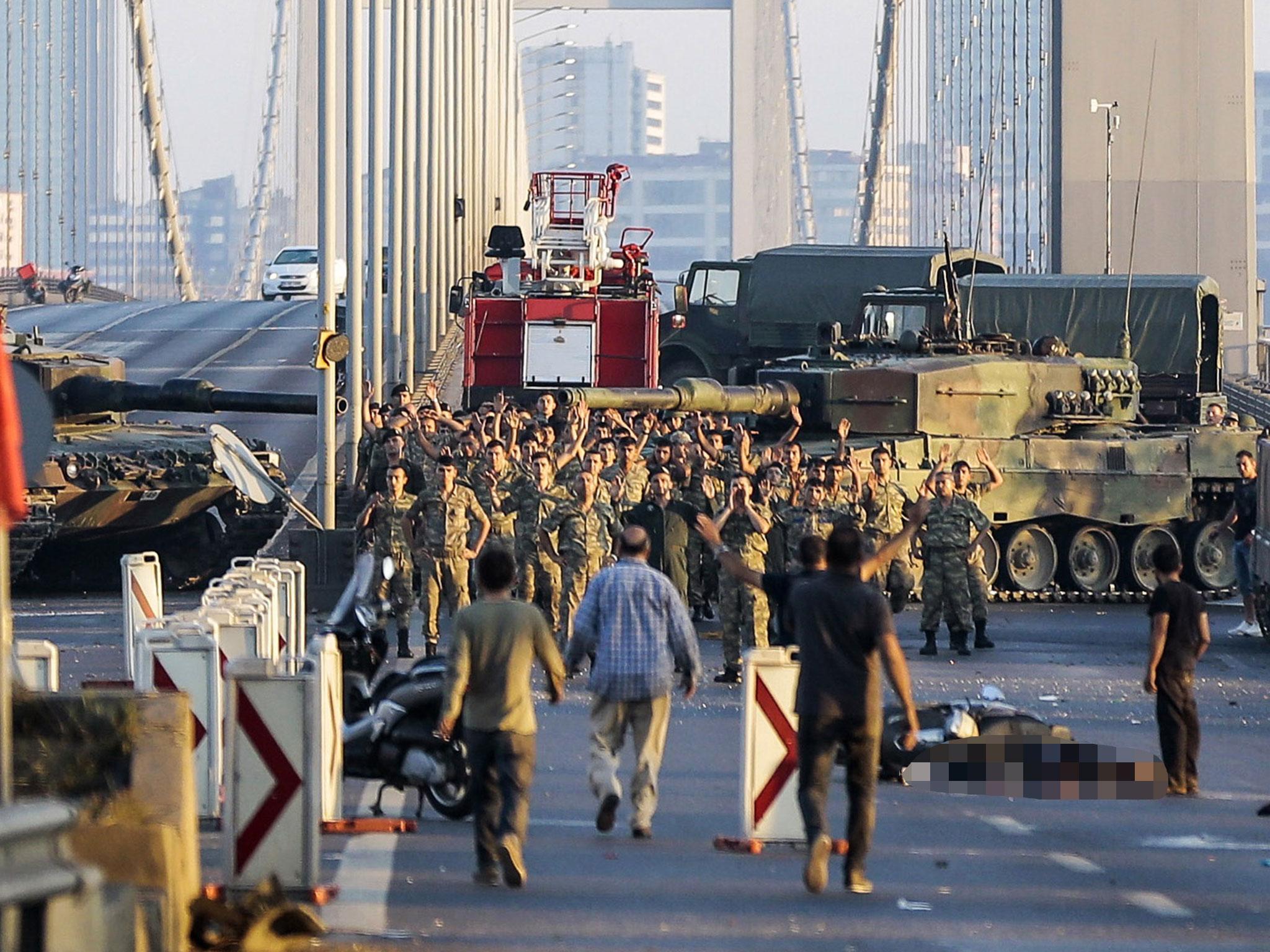 Here are the latest updates:
Please allow a moment for the live blog to load
At least 265 people have been killed and over 1,400 wounded in an attempted military coup in Turkey.
Turkey's president has told the nation that his government is in charge after a coup attempt brought a night of explosions, air battles and gunfire that left dozens dead.
More than 2,800 military personnel have been detained across the country as the government cracked down on the attempted coup, the Turkish Prime Minister said. Colonels and generals implicated in the rebellion were fired and loyal troops rescued the military chief who had been taken hostage at an air base on the outskirts of Ankara.
In pictures: Turkey coup attempt
Show all 17
General Umit Dundar, the newly appointed acting chief of the general staff, said officers from the Air Force, the military police and the armored units were mainly involved in the attempt.
Fighting continued into the early morning, with the sounds of huge blasts echoing across Istanbul and the capital, Ankara, including at least one bomb that hit the parliament complex. Television footage showed images of broken glass and other debris strewn across a lobby leading to the assembly hall.
CNN-Turk said two bombs hit near the presidential palace, killing five people and wounding a number of others.
Protesters in stand-off with tanks in Turkey
In images broadcast on CNN-Turk, dozens of soldiers walked among tanks with their hand held up, surrendering to government forces on Istanbul's Bosporus Bridge. Discarded gear was strewn on the ground. People, some holding flags, climbed onto the tanks.
President Recep Tayyip Erdogan warned coup supporters that "they will pay a heavy price for their treason to Turkey", according to a transcript of his remarks provided by his office.
"Those who stain the military's reputation must leave. The process has started today, and it will continue just as we fight other terrorist groups."
1468691858
Leaders of Turkey's religious communities have released a joint statement condemning the attempted coup. 
The statement from representatives of the Jewish, Christian and Muslim communities declares "our great sorrow over the terrorist attacks that disturb the peace of our great nation and of the world." 
The signatories include the president of Turkey's Directorate of Religious Affairs, Istanbul Greek Orthodox Patriarch Bartholomeos and the Chief rabbi of Turkey's Jewish community. 
Steve Anderson
16 July 2016 18:57
1468691964
President Erdogan has responded to similar calls for the death penalty by saying "these demands may be discussed in parliament".
He also promises, again, to clean up the military.
Steve Anderson
16 July 2016 18:59
Join our commenting forum
Join thought-provoking conversations, follow other Independent readers and see their replies