Turkey coup: Images showing soldier 'beheaded by government supporters' may not be genuine, it is claimed
The pictures, shared widely across social media, may instead show an older incident some users say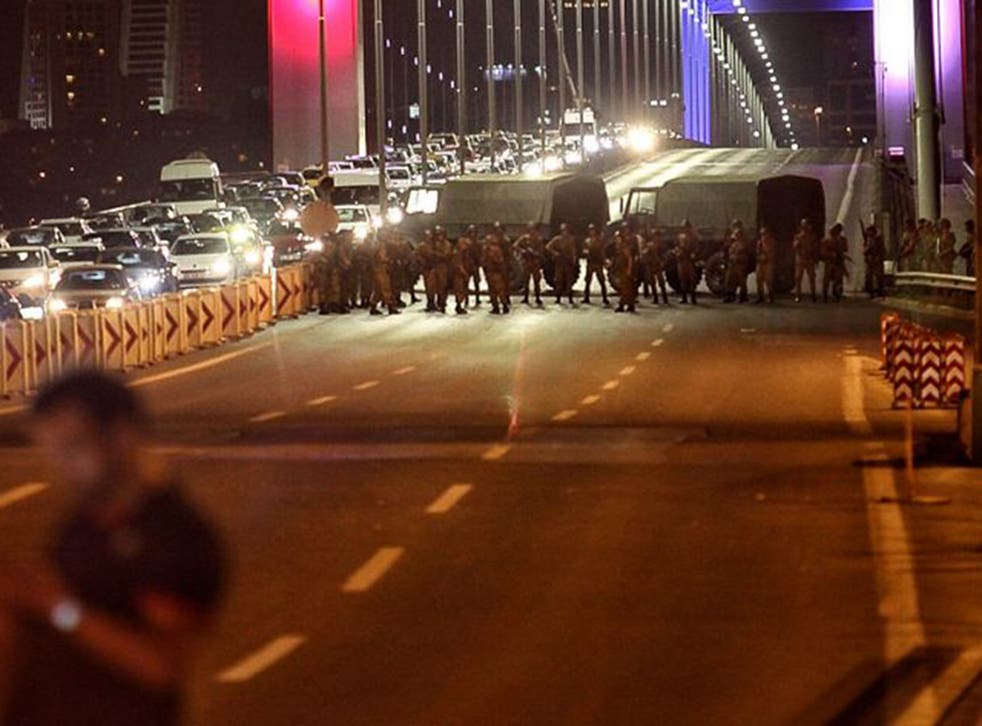 Graphic pictures shared on social media allegedly showing the beheading of a Turkish soldier following an attempted coup, may not be genuine some users have claimed.
The pictures show a man's body, purportedly on one of the bridges crossing the Bosphorus river in Istanbul, after he was allegedly beheaded by supporters of the ruling Justice and Development Party (AKP).
However, a number of users on Twitter have suggested that the images may instead show an incident from 2006.
The soldiers, who had blocked the bridge throughout the coup, surrendered earlier on Saturday.
In pictures: Turkey coup attempt

Show all 17
Forces loyal to Turkey's president quashed a coup attempt in a night of explosions, air battles and gunfire that left dozens dead on Saturday.
Authorities arrested thousands of people as President Recep Tayyip Erdogan vowed those responsible "will pay a heavy price for their treason."
The chaos capped a period of political turmoil in Turkey — a Nato member and key Western ally in the fight against Isis — that critics blame on President Erdogan's increasingly authoritarian rule.
He has shaken up the government, cracked down on dissidents, restricted the news media and renewed conflict with Kurdish rebels.
Pro-coup soldiers surrender on Bosphorus Bridge
Prime Minister Benali Yildirim said 161 people were killed and 1,440 wounded in the overnight violence.
He said 2,839 plotters were detained. A source at the office of the presidency, speaking on condition of anonymity in line with government rules, said the 161 toll "excludes assailants".
Mr Yildirim described the night as "a black mark on Turkish democracy" and said the perpetrators "will receive every punishment they deserve."
Additional reporting by AP
Register for free to continue reading
Registration is a free and easy way to support our truly independent journalism
By registering, you will also enjoy limited access to Premium articles, exclusive newsletters, commenting, and virtual events with our leading journalists
Already have an account? sign in
Register for free to continue reading
Registration is a free and easy way to support our truly independent journalism
By registering, you will also enjoy limited access to Premium articles, exclusive newsletters, commenting, and virtual events with our leading journalists
Already have an account? sign in
Join our new commenting forum
Join thought-provoking conversations, follow other Independent readers and see their replies