Turkey elections: Erdogan licks his wounds while Kurds gain hope peace process will be reignited
After 13 years with a majority, the Islamist-leaning AKP must now seek coalition partners – and the President will be forced to curb his increasingly autocratic ways, to the delight of the Kurish minority. Isabel Hunter reports from Istanbul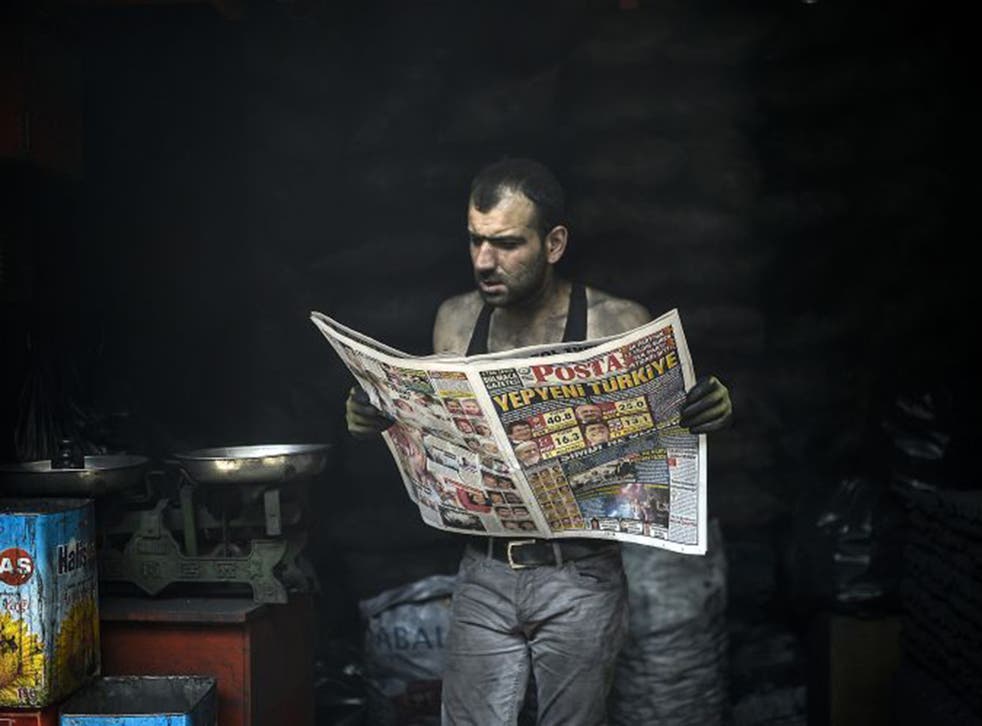 Months of political uncertainty, blood letting and infighting are set to strike Turkey after no party achieved a single majority in national elections amid a national backlash against the authoritarian rule of President Recep Tayyip Erdogan.
As parties geared up for a period of intense negotiations to secure a coalition government, there was one normally ubiquitous figure absent. Mr Erdogan had failed to appear with the same frequency he had in the days leading up to the election which centred on his bid to reform Turkey's constitution and extend his presidency. Should Mr Erdogan's Justice and Development Party (AKP) fail to secure a coalition partner, fresh elections could be held as early as August.
On Sunday, voters resoundingly rejected Mr Erdogan's ambitions at the polls and, in a historic inclusion for Kurds, welcomed the pro-Kurdish Peoples' Democratic Party (HDP) into parliament. There were triumphant scenes in Kurdish regions, and many Kurds hoped for restarted peace talks. In a major political gamble, Mr Erdogan launched a peace process with jailed Kurdistan Workers Party (PKK) leader Abdullah Ocalan in 2012 to end a conflict that has killed more than 40,000 people.
Kurds have accused Mr Erdogan of backtracking on the peace process, which has been on hold for months. "When Kurdish people grasped that he is no longer true to his word, they gave him an answer in the ballot box," said retired publisher Alaattin Usta, 54.
One of the new cohort of MPs is Seher Akcinar, a Kurdish native of Erzurum in central eastern Turkey who faced violent anti-HDP protests in the days leading to the election that left hundreds injured. The 33-year-old told The Independent: "This has been a revolution in Erzurum. I'm Kurdish, I wear a headscarf and I am a woman, so I will fight for all of these issues when I get to parliament."
The vote has left AKP officials stunned. For the first time in 13 years, the conservative Islamist-leaning party does not have a majority in parliament. Mr Erdogan has maintained de-facto control of the party and government despite becoming the ceremonial head of state.
While it received the most votes, the AKP is set to enter a period of self-examination. And the future of Prime Minister Ahmet Davutoglu has also been thrown into doubt. Mr Davutoglu said he would resign if his party was not able to form a single ruling block. It is considered unlikely he will leave prior to the party's conference in November.
Recep Tayyip Erdogan's most controversial quotes

Show all 8
"While Erdogan could make lemons into lemonade, Davutoglu struggles," said Aaron Stein, a Turkey analyst and associate fellow at the Royal United Security Institute (Rusi). He believes new elections will be called within six months. The party most likely to form a coalition with the AKP is the nationalist MHP, which won 80 seats. Both are seeking a change to the constitution, although MHP Chairman Devlet Bahceli has ruled out any extensions to the presidency — a key campaigning pledge of President Erdogan.
Both the HDP and Turkey's main opposition, the leftist CHP, have categorically said they will not join a coalition with AKP. President Erdogan made a written statement on his website, calling for all political parties to "show the necessary sensibility and responsibility to preserve stability and the environment of trust in the country".
"I believe that the current situation, which did not permit any party to form a government on its own, will be evaluated healthily and realistically by all parties that have taken part in the race," he said.
Mr Erdogan is expected to accept the government that is presented to him within 45 days of the final announcement of the election results. The instability has made an impact on the economy as the Lira dropped to a near record low.
At the HDP's headquarters in Istanbul, party co-chairs Selahattin Demirtas and Figen Yuksekdag held a press conference frequently interrupted by celebratory chanting. Hundreds gathered in the street below waiting for their appearance as they waved flags and embraced each other.
Voters elected a record number of women, who now number 96 out of 550 MPs. And there were other firsts as Armenians, a Roma candidate, a Yazidi, four Christians and the niece of Mr Ocalan made it to parliament. The results have been widely hailed as not only a victory for the nation's Kurds and liberal Turks but for women and democracy.
It has also stood clearly against the growing autocracy of President Erdogan. "Those who support freedom, democracy and peace won this election. Those who consider themselves the sole owners of Turkey lost," said Mr Demirtas. "This victory is the collective victory of those who want a democratic civilian constitution… This victory is the victory of those who want peace in the Kurdish Question," he added.
Aziz Duran, 28, was selling traditional simit bread in the south-eastern Kurdish city of Diyarbakir. "For years we have been treated as less than flies – the state has always insulted us," he told Reuters. "Now we have 80 representatives."
Join our new commenting forum
Join thought-provoking conversations, follow other Independent readers and see their replies