Erdogan risks losing power as Turkey's high-stakes election reaches its climax
Challenger Kemal Kilicdaroglu has a lead in the polls as he seeks to end the current president's 20 years in power, writes Borzou Daragahi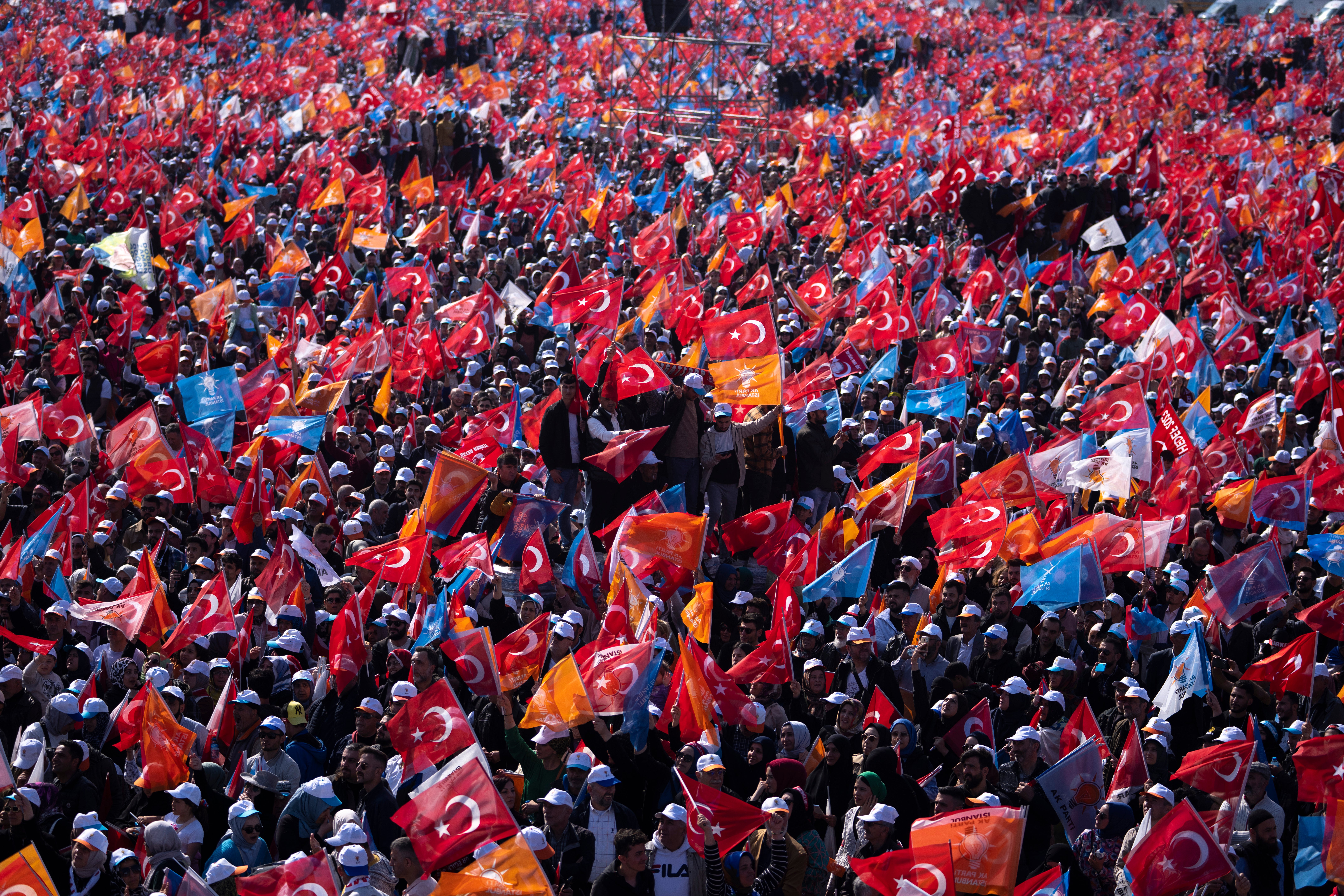 Tens of millions of Turks will head to the polls on Sunday for tightly contested presidential and parliamentary elections that will have a profound impact on both Turkey and global politics.
Challenger Kemal Kilicdaroglu, campaigning on the promise to reverse the country's authoritarian turn under President Recep Tayyip Erdogan and improve the economy, poses the greatest threat yet to Erdogan's 20 years in power.
In the final days of the campaign, Erdogan has announced populist giveaways, including hikes in public sector salaries, and unveiled a number of public projects. Meanwhile, Kilicdaroglu has made his own lofty promises about plans to right the economic state of the nation, with inflation having soared in recent years, and better relations with Western allies. All in an effort to cajole a sliver of undecided voters.
The 74-year-old Kilicdaroglu is sitting at above 50 per cent in some of the most recent polls, enough to give him a narrow majority in the first round of voting at the weekend and avoid a 28 May second-round run-off. Although an average of polls has him sitting at about 49 per cent to Erdogan's 43 per cent.
However, the surveys do not include the votes of 1.7 million Turks abroad, who have generally favoured Erdogan. Minor opposition candidate Muharrem Ince bowed out of the race on Thursday, citing a faked "character assassination" carried out online – including an alleged sex tape that Ince was a deepfake. His dropping out potentially gives Kilicdaroglu a boost at the polls.
"We don't know what will happen," veteran journalist Murat Yildiz says in an interview. "In Turkish politics, the last week of the campaign feels like a year."
Acute economic pressures and worries about Erdogan's authoritarian tendencies among young and liberal voters may help bolster Kilicdaroglu. But Erdogan's strongman image still holds sway among many older voters.
This is seen in the differing styles of the two frontrunners. Kilicdaroglu, leader of the centre-left Republican People's Party (CHP) and architect of a six-party coalition that spans the political spectrum, has a big social media profile, and uses upbeat, simple messages. Erdogan, his Justice and Development Party (AKP) and their allies flood the television and radio airwaves they control with images of grand public works projects. Seeking to paint a picture of the work being done now, not just looking to the future.
The impact of the massive earthquakes in February, which killed at least 50,000 people and raised questions about the speed and size of the government response, have cast a long shadow over the weeks-long campaign.
"Erdogan has never won elections without delivering growth," believes Soner Cagaptay, Turkey expert at the Washington Institute for Near East Policy. "If he wins it will not be based on a record of good government, but a post-truth reality in which pro-Erdogan forces control 90 per cent of media."
The outcome of the vote will reverberate globally. Turkey will place its own geopolitical interests first regardless of whether it is led by Kilicdaroglu or Erodgan – but the two have contrasting visions of what that looks like. Erdogan has embraced a Eurasian vision that includes broadening and deepening ties to Russia and China and strengthening links to the wealthy monarchies of the Arabian Peninsula. Kilicdaroglu has explicitly stated that he would seek to revive Turkey's drive to integrate more fully with the EU.
The election will significantly impact the already fragile security of the region. Turkey is a G20 economy and has Nato's second-largest military force behind the US. It is a lynchpin of both Mediterranean and Black Sea security – and has been involved in talks to extend a grain shipping pact between Ukraine and Russia. That gives Ankara the potential for a key political role around Russia's invasion. Turkey also has clout in the geopolitical rivalries of the Middle East, the Caucasus region, North Africa and the Horn of Africa.
The election has already turned into something of a contest between differing global camps. Authoritarian states such as Russia, Saudi Arabia and Azerbaijan are openly backing Erdogan while pro-democracy voices in the West are cheering a potential Kilicdaroglu victory. On Thursday, Kilidaroglu accused Russia of meddling in the Turkish elections, which brought an angry rebuke from the Kremlin.
"Similar perhaps to the Brazilian election, a Kilicdaroglu victory will show that populist leaders can be gotten rid of," says Ozge Zihnioglu, a political scientist specialising in Turkey at the University of Liverpool. "We have been talking about democracy's decline for 15 years. If Erdogan is defeated,  there could be signs that the trend could be reversed. It might give hope to other countries."
The two sides have been campaigning ferociously. When polls were released on Monday showing Kilicdaroglu possibly squeaking a narrow first-round win in Sunday's presidential elections, Erdogan moved quickly.
On Tuesday, just five days before the vote and a few days after his challenger had promised to raise civil servants' salaries, Erdogan announced a dramatic 45 per cent pay increase for 700,000 public employees at a cost of £130 million. At a time when the country is struggling to rebuild after devastating earthquakes.
Both the opposition and the pro-government camps can count on solid supporter bases. Turnout will be high, perhaps above 85 per cent, making appeals to swing voters crucial to any chance of victory.
Analysts say undecided voters include pious ethnic Kurds – who may have voted in the past for Erdogan and his Islamist-rooted party but are now considering voting for the secular nationalist CHP. That may be in part because Kilicdaroglu is himself a member of the minority Alevi religious community with ethnic Kurdish roots.
But some nationalist voters, typically living in the cities, are also torn. Erdogan has a track record of building projects across the country including bridges and skyscrapers that bring jobs and prestige. And is a well-known figure on the international stage who can spar with world leaders. However, the downward spiral of the economy has been on his watch. Skyrocketing rents and food prices, as well as the collapse of the Turkish lira over the last five years, have threatened to overwhelm all other issues.
A key unknown in the election will be the sentiments of at least five million first-time voters. Many appear to resent Erdogan as the only national leader they have known their entire lives.
"The Gen Z wave is pro-Kilicdaroglu," says Cagaptay. "They speak foreign languages and they don't care about aircraft carriers or bridges. They might not be in love with Kilicdaroglu but they are not drinking the Kool-Aid that Erdogan is serving."
Polls are set to close Sunday at 5pm local time and results will likely emerge in the late evening. But Erdogan loyalists control much of the mechanisms for releasing the results. And while some in the bureaucracy have shown streaks of independence in recent years, there are concerns about what Erdogan may do if the numbers turn against him. In the 2019 mayoral elections, when numbers began to turn against the AKP candidate in Istanbul, the official Anadolu News Agency simply stopped reporting them.
There are also worries about violence. There have already been spasms of political violence directed at opposition parties and figureheads, including Istanbul mayor Ekrem Imamoglu, who was pelted with stones during one appearance.
One analyst with close ties to the leadership in Ankara suggests Erdogan's response will depend on the vote result. If Kilicdaroglu only narrowly wins either a first or second round of the vote, he will be challenged in the courts. If Kilicdaroglu wins by a solid 52 per cent or more, Erdogan will concede and wait for a collapse of the sprawling coalition that Kilicdaroglu heads, before aiming for a comeback.
"No one will back him if he loses by this margin," the analyst tells me. "The sanctity of the ballot box is everything to Erdogan's base."
Representatives of all political parties closely watch each polling centre, where voters cast folded ballots into transparent plastic bins.
"He might try to influence but rigging it is not something easy," says Zihnioglu. "Civil society and opposition groups are highly mobilised. Some election irregularities are likely but irregularities at mass scale would be difficult."
Many Turks insist their elections are sacrosanct. Even Erdogan himself, when cornered about allegations of corruption or abuse of power has urged his opponents to take the issue up at the ballot box.  Erdogan's attempt to redo the 2019 Istanbul mayoral elections narrowly won by Imamoglu backfired spectacularly when even his own supporters voted for the mayor.
"We are not a perfect democracy," says Yildiz. "But for Turkish people, democracy is their vote. They don't care about other issues, they just want their vote to be counted."
Join our commenting forum
Join thought-provoking conversations, follow other Independent readers and see their replies