Turkey media crackdown: Video shows police and trustees taking over newsroom of Bugun paper
Staff who object and stand up for editorial independence are sacked on the spot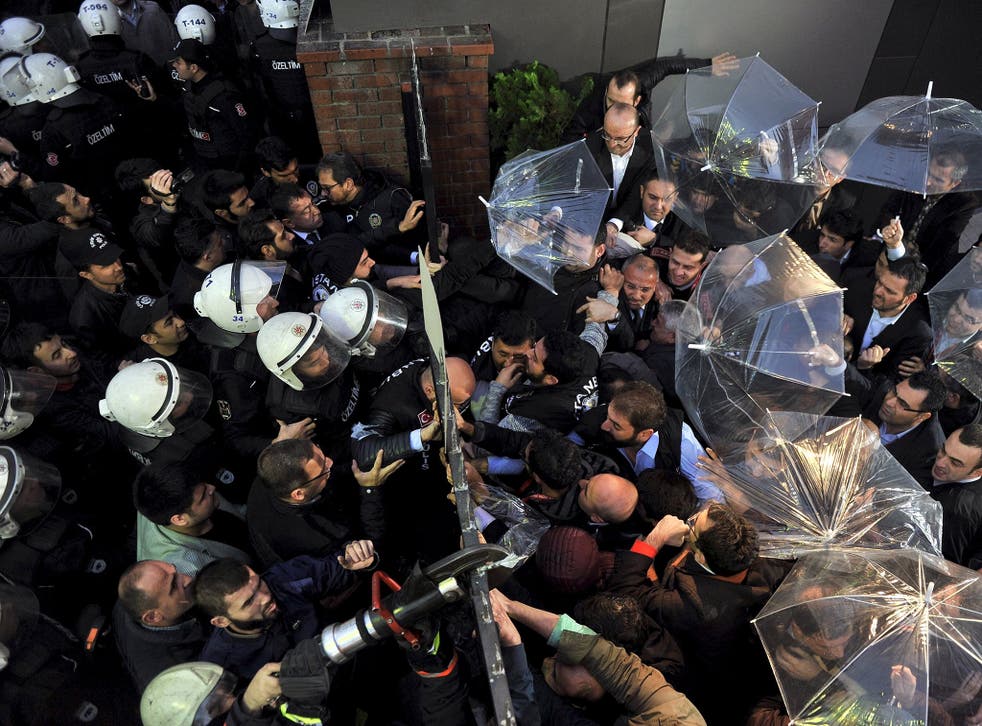 A video has emerged from inside the newsroom of a Turkish newspaper that has been taken over using police force, and shows one of its own trustees threatening, insulting and firing staff on the spot.
In the extraordinary footage, obtained by Today's Zaman, trustee Hasan Ölçer can be seen invading the offices of the Bugün daily with security officers.
The paper is part of the Koza-Ipek Holding media company, which was seized by court order in a dawn raid on Wednesday over links to the high-profile government critic Fethullah Gulen.
Bugün prepared a newspaper for Thursday headlined on the "Extortion by trustees" of their own business – but it was blocked before more than a few thousand copies were printed.
According to Today's Zaman, video of Thursday's intervention by Ölçer shows the unfair dismissal of the paper's Editor-in-Chief Erhan Başyurt, Publishing Coordinator Mehmet Yılmaz and Managing Editor Güngör Ergun.
Ergun can be seen in the video objecting to the censorship of Thursday's edition – to which Ölçer replies: "You prepared a disgrace of a newspaper yesterday."
Ergun told Today's Zaman afterwards: "Our colleagues reacted against Ölçer's insults and told him he cannot insult the views of people in the newspaper.
"An editor, Bilal Şahin, shouted: 'This newspaper is my honor. You cannot insult it!' Ölçer ordered the police officers waiting in the meeting room to remove Şahin from the room and detain him.
"When he said this, all of us reacted and said if they detain him, they will have to detain all of us in the newspaper as well."
The raid of the media offices on Wednesday was broadcast live from within by Bugun TV and Kanal Turk, before they were shut down by police.
Critics denounced the raid as a government crackdown on opposition voices ahead of Sunday's parliamentary election. Koza-Ipek owns opposition television stations Bugun TV and Kanal Turk, the Bugun and Millet newspapers and other business interests.
Opposition parties have denounced the seizure as an unlawful attempt by President Recep Tayyip Erdogan to silence critical media.
"We are faced with an unacceptable incident," said Haluk Koc, a deputy chairman of main opposition the Republican People's Party. "(Erdogan) sees himself as above the law and is busy massacring laws as he sees fit."
The government "is trying to silence every single dissenter days ahead of the election", the Ankara-based Contemporary Journalists' Association said in a statement.
The seizure comes amid more widespread pressure on media in Turkey that international watchdogs have called a crisis for the free press. Last month, the headquarters of the secular-leaning Turkish daily Hurriyet was vandalized by a mob following verbal attacks on the newspaper by Erdogan.
Register for free to continue reading
Registration is a free and easy way to support our truly independent journalism
By registering, you will also enjoy limited access to Premium articles, exclusive newsletters, commenting, and virtual events with our leading journalists
Already have an account? sign in
Register for free to continue reading
Registration is a free and easy way to support our truly independent journalism
By registering, you will also enjoy limited access to Premium articles, exclusive newsletters, commenting, and virtual events with our leading journalists
Already have an account? sign in
Join our new commenting forum
Join thought-provoking conversations, follow other Independent readers and see their replies