Turkey's Nazi allegations are 'detached from reality,' says European Council President Donald Tusk
Row with Netherlands continues to escalate as country goes to polls in national election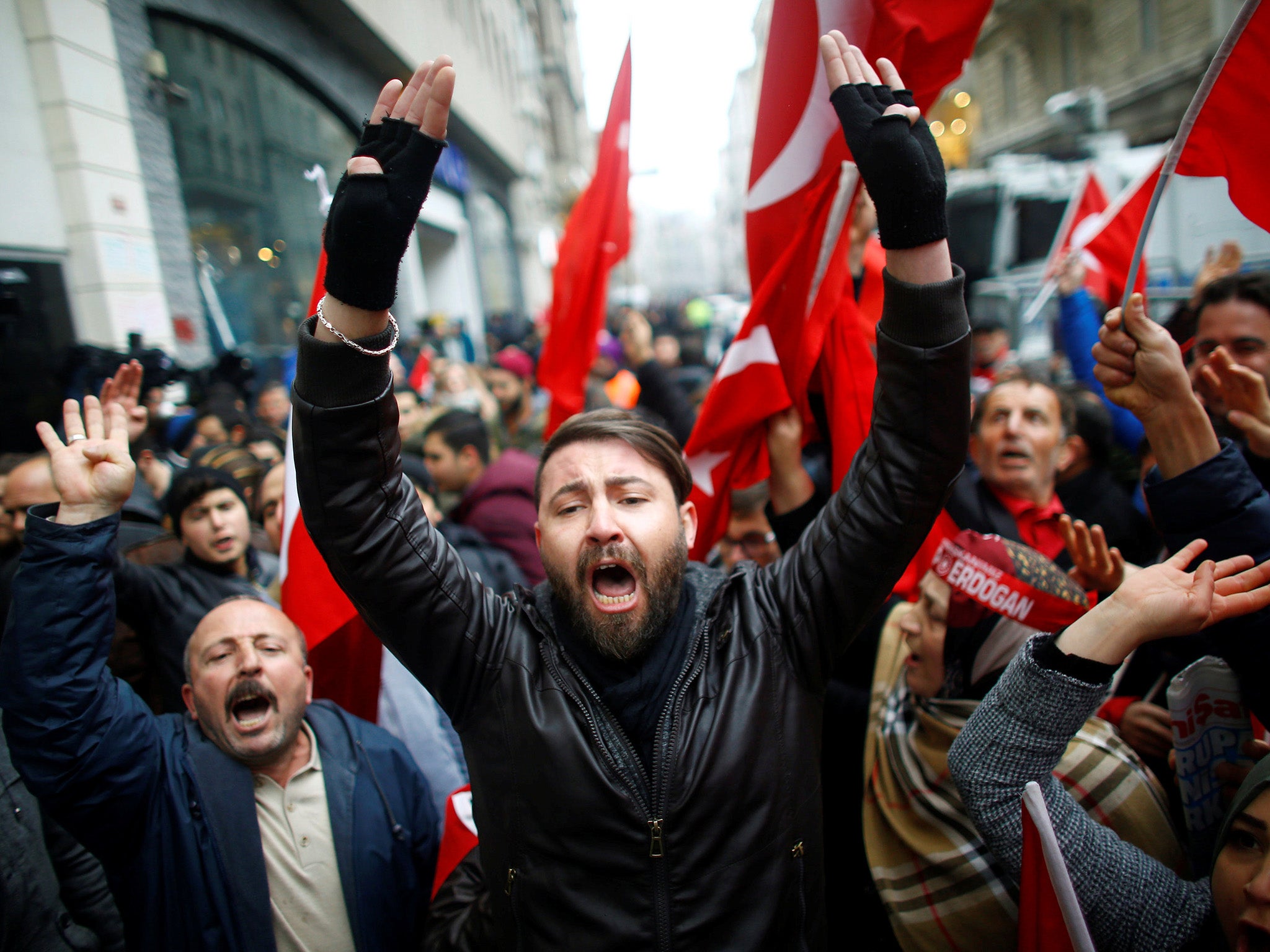 Donald Tusk has called Turkey's comparisons between the Dutch government and Nazis "completely detached from reality" as a diplomatic row continues to escalate on the day of Netherlands' election.
"Rotterdam, the city of Erasmus, was totally destroyed by the Nazis, [and] now has a mayor born in Morocco," the European Council President said.
"If any anyone sees fascism in Rotterdam, they are completely detached from reality."
Hundreds of pro-Turkey protesters clash with police in Rotterdam
The European Commission President, Jean Claude Juncker, told the European Parliament he was "scandalised" by the Turkish accusations.
"My home country, Luxembourg, was occupied by the Nazis," he said. "Our people were suffering. My father was forced into the German army together with his three brothers.
"If you are establishing a comparison of that period with our times, this is totally unacceptable – and the one who is doing this is taking distance from Europe and not trying to enter the European Union," he added, referring to Turkey's faltering attempts to join the bloc.
Recep Tayyip Erdogan and his government have directed repeated allegations of Nazism at the Dutch government after rallies by ministers attempting to drum up support for a constitutional referendum were cancelled.
As with similar incidents in Germany, Austria and Switzerland, safety concerns were cited as the main reason for stopping a planned event featuring foreign minister Mevlut Cavusoglu in Rotterdam on Saturday.
But the row escalated after Dutch authorities withdrew permission for his plane to land in the country, saying his visit would "contribute to tensions in society" while Mr Cavusoglu slammed the Netherlands as the "capital of fascism".
Turkish hackers spread the accusations across high profile Twitter accounts on Wednesday morning, posting pro-Erdogan messages and a link to the President speaking from accounts including Unicef USA, Amnesty International, BBC North America, Forbes and Justin Bieber's Japanese account.
"A little bit of an Ottoman Slap to you, see you on 16 April," read the identical tweets, using the hashtags #NaziGermany and #NaziHolland.
Twitter has revoked access to an Amsterdam-based third party application that was compromised in the cyber attack, with Twitter Counter starting its own investigation.
The dispute has sparked protests in Turkey and across Europe, while Turkish-backed rebels in Syria put out a video accusing the Dutch government of being swayed by the ideology of Geert Wilders' "xenophobic and racist" Party for Freedom (PVV).
A protester scaled the Dutch consulate in Istanbul and replaced the national flag with the Turkish banner during demonstrations on Sunday, while Turkish protesters have been photographed stabbing oranges and holding signs reading "fascist Holland".
Mr Erdogan has also accused the Dutch of failing to prevent the Srebrenica massacre in the row, which has seen Turkey repeat threats to scrap a deal struck with the EU last year to slow the flow of refugees to Greece.
Ankara also halted high-level talks with Dutch government officials on Monday and closed its airspace to the country's diplomats, making good on a promise to impose retaliatory sanctions.
Nazi allegations were initially levelled at the German government by Mr Erdogan after several cities cancelled planned rallies.
In pictures: Turkey coup attempt
Show all 17
Angela Merkel's government says it will not impose a blanket ban on campaigning by Turkish ministers but reserves the right to deny entry as a "last resort".
At least four German local authorities have withdrawn permission for pro-Erdogan campaign events, as well as areas of Austria and Switzerland.
Allies of the Turkish President are targeting more than a million Turkish voters living in Europe who will be eligible to cast a ballot in the vote on 16 April.
The referendum could see Turkey's parliamentary system replaced with an executive presidency using constitutional amendments that have alarmed human rights groups by granting sweeping powers to Mr Erdogan.
All rally cancellations have cited safety and administrative issues but were linked to concern over a crackdown seeing thousands of people detained in Turkey following an attempted coup in July.
Anti-Islam politician Mr Wilders has attempted to capitalise on the controversy, leading a small protest outside the country's embassy and calling Mr Erdogan a "dictator".
Polls predict his party to come second to Prime Minister Mark Rutte's conservative VVD in Wednesday's election, which is being closely watched as a barometer of European populism ahead of upcoming elections in France and Germany.

Join our commenting forum
Join thought-provoking conversations, follow other Independent readers and see their replies