Turkey elections: Recep Tayyip Erdogan calls surprise early vote in June in bid to tighten grip on power
New political system to increase powers of president will take effect a year early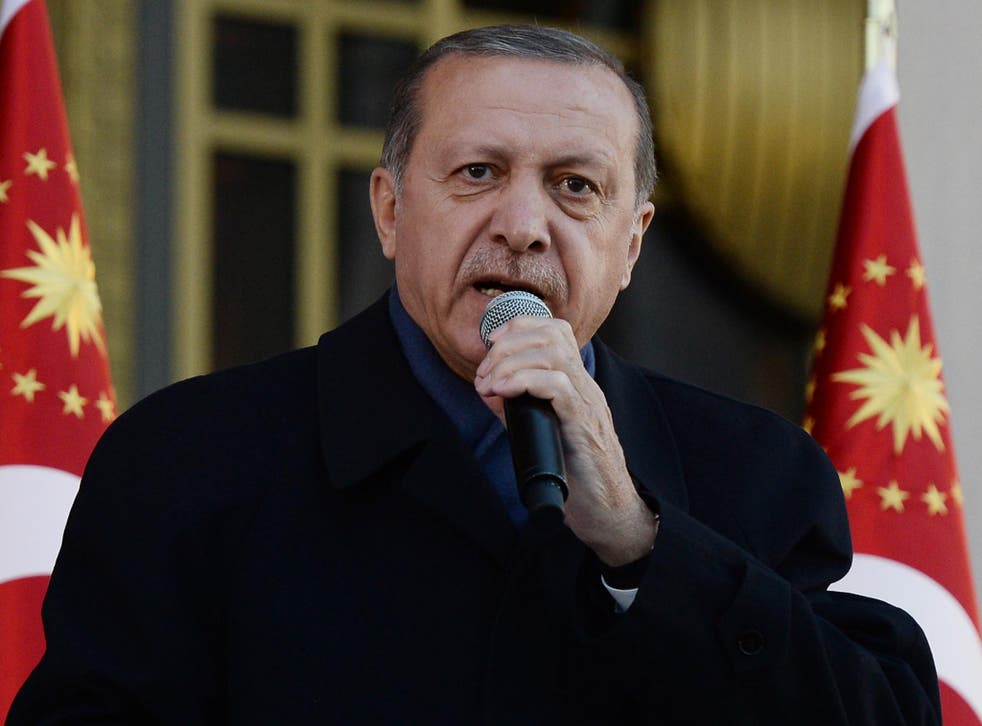 Recep Tayyip Erdogan caught Turkey off guard on Wednesday by calling early elections for June, in a move that could cement his grip on power a year ahead of schedule.
The Turkish president announced that parliamentary and presidential elections, originally scheduled for November 2019, will now be held on 24 June, meaning a new political system that will increase the powers of the president will take effect a year early.
Turkey is switching from a parliamentary system to a presidential one, abolishing the office of the prime minister and decreasing the powers of the parliament, following a narrowly approved referendum last year. The changes take effect with the next election.
Mr Erdogan would be able to run for two five-year terms on top of his current term.
The strongman, who has ruled Turkey since 2003, spoke of the need for the new system to be implemented quickly in order to deal with numerous challenges ahead, including Turkey's fight against Kurdish insurgents in Syria and Iraq.
The move, however, allows the leader – criticised for his authoritarian tendencies – to capitalise on nationalist sentiment that is running high following a successful military campaign to drive out Syrian Kurdish militants from the border enclave of Afrin in north-east Syria and ahead of warnings the economy could be foundering.
It also puts opposition parties, many of which have not yet decided who to put forward to challenge Mr Erdogan, at a distinct disadvantage.
"Erdogan wants to take stock of a number of developments that are in his favour," said Soner Cagaptay, Turkey researcher at The Washington Institute for Near East Policy.
"Russia might soon force Turkey to pull out of Afrin," Mr Cagaptay said. "He wants to move forward before the negative news [on Afrin and the economy] start coming in," Mr Cagaptay said.
Mr Erodgan said: "Be it the cross-border operations in Syria or incidents of historic importance centred in Syria and Iraq, they have made it imperative for Turkey to overcome uncertainties quickly," in apparent reference to the aspirations for independence by Kurds in both countries.
"Switching to a new system of government has increasingly gained urgency so that decisions regarding our country's future can be made and implemented with greater strength."
He announced the elections after a meeting with Devlet Bahceli, the leader of Turkey's main nationalist party, MHP, who made a surprise call for early elections, citing efforts by unnamed circles to foment chaos in Turkey. The MHP has agreed to an election alliance with Mr Erdogan's ruling Justice and Development Party, also known as AKP.
The Turkish president, who has moved to further tighten his grip on power since a failed coup attempt in 2016, needs a 51 per cent majority to be re-elected in the first round of the presidential election.
World news in pictures

Show all 50
The decision to hold early polls comes a month after the AKP, with the help of the nationalist party, changed electoral laws that, among other things, paves the way for government employees to monitor ballot boxes, reducing independent monitoring of the polls.
It also follows the sale of Turkey's largest media group, Dogan Holding, to a group that is close to Mr Erdogan – a move observers say places 90 per cent of the nation's media under Mr Erdogan's control.
Mr Cagaptay said Mr Erdogan had been "preparing the groundwork to stack the elections in his favour".
Turkey's weak opposition parties announced they were ready for the polls. They, however, have just two months to prepare for the elections and come up with candidates strong enough to challenge Mr Erdogan.
It was unclear whether Meral Aksener, the leader of the fledgling centre-right Good Party which broke away from the MHP, would be eligible to run in the polls. Ms Aksener had announced her intention to run against Mr Erdogan and was seen as a strong candidate. Selahattin Demirtas, the charismatic former leader of Turkey's pro-Kurdish party, is in prison on terrorism charges.
The elections would be held under a state of emergency that was declared following the failed coup. Parliament extended it for a seventh time despite calls for its end. The main opposition party accuses the government of misusing its emergency powers to erode democracy and arrest government critics.
It allows the government to close down media outlets and non-governmental organisations.
The government argued that security threats from a movement led by US-based cleric Fethullah Gulen, whom Turkey accuses of masterminding the coup, have not abated. It also cites Turkey's continued struggle against Kurdish rebels and other groups.
Mr Gulen has denied any ties to the failed coup.
AP
Register for free to continue reading
Registration is a free and easy way to support our truly independent journalism
By registering, you will also enjoy limited access to Premium articles, exclusive newsletters, commenting, and virtual events with our leading journalists
Already have an account? sign in
Register for free to continue reading
Registration is a free and easy way to support our truly independent journalism
By registering, you will also enjoy limited access to Premium articles, exclusive newsletters, commenting, and virtual events with our leading journalists
Already have an account? sign in
Join our new commenting forum
Join thought-provoking conversations, follow other Independent readers and see their replies