Suicide bomber who killed 54 at wedding in Turkey 'might not have been a child'
President Erdogan had been quick to blame the attack on a child aged between 12 and 14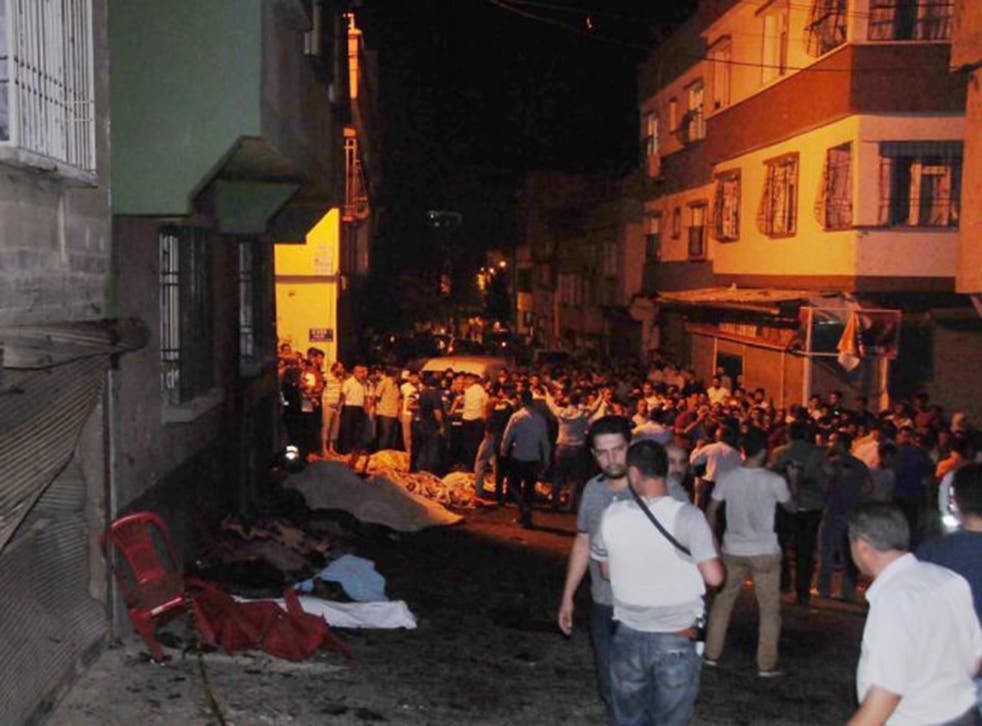 The suicide bomb attack at a wedding party in Turkey in which at least 54 people were killed might not have been carried out by a child, Turkish authorities have admitted.
The attack on Saturday has been widely attributed to Isis and was initially thought to have been carried out by a young boy.
On Sunday, President Erdogan said the attack, the deadliest in Turkey this year, was carried out by a bomber aged between 12 and 14 in an attempt by the terror group "to make room for itself".
However, Turkish authorities have now backtracked, with the prime Minister stating that officials were still trying to determine who carried out the attack and whether it was by a "child or a grown-up".
Speaking after a Cabinet meeting on Monday, Premier Binali Yildirim said "a clue hasn't yet been found concerning the perpetrator of the attack."
People were dancing when the explosion ripped through the celebrations on Saturday in the city of Gaziantep, in the volatile south-east near the border with Syria.
Celebrations were ending at the traditional henna night party, when guests have decorative paint applied to their hands and feet. Some families had already left when the bomb went off but women and children were among the dead, witnesses said.
Blood stains and burns marked the walls of the narrow lane where the blast hit while women in white and checkered scarves cried while waiting outside the morgue waiting for word on missing relatives.
In pictures: Turkey coup attempt

Show all 17
"The celebrations were coming to an end and there was a big explosion among people dancing," said 25-year-old witness Veli Can. "There was blood and body parts everywhere."
Following the attack, the Turkish foreign minister, Mevlut Cavusoglu, said the country would provide every kind of support needed to "cleanse" Turkey's border with Syria of the extremists.
There was no immediate claim of responsibility, but officials have said it appeared to be the work of Isis, accusing it of trying to destabilise the country by exploiting ethnic and religious tensions. It was the deadliest attack in Turkey this year.
Mr Cavusoglu: "Our border has to be completely cleansed of Daesh (an Arabic name for IS). It's natural for us to give whatever kind of support is necessary.
"Isis martyred our ... citizens. It is natural for us to struggle against such an organization both inside and outside of Turkey."
Turkey has been beset by both external and internal strike.
This week, United Nations warned Turkey that wide-ranging purges and arrests following a failed coup "go beyond what can be justified" and may violate international law.
Register for free to continue reading
Registration is a free and easy way to support our truly independent journalism
By registering, you will also enjoy limited access to Premium articles, exclusive newsletters, commenting, and virtual events with our leading journalists
Already have an account? sign in
Register for free to continue reading
Registration is a free and easy way to support our truly independent journalism
By registering, you will also enjoy limited access to Premium articles, exclusive newsletters, commenting, and virtual events with our leading journalists
Already have an account? sign in
Join our new commenting forum
Join thought-provoking conversations, follow other Independent readers and see their replies