Turkish President ridicules men who wore skirts in feminist protest after Ozgecan Aslan murder
'Let them cry out for low-cut [tops] and miniskirts,' Recep Tayyip Erdoğan said
Lizzie Dearden
Wednesday 25 February 2015 16:39 Comments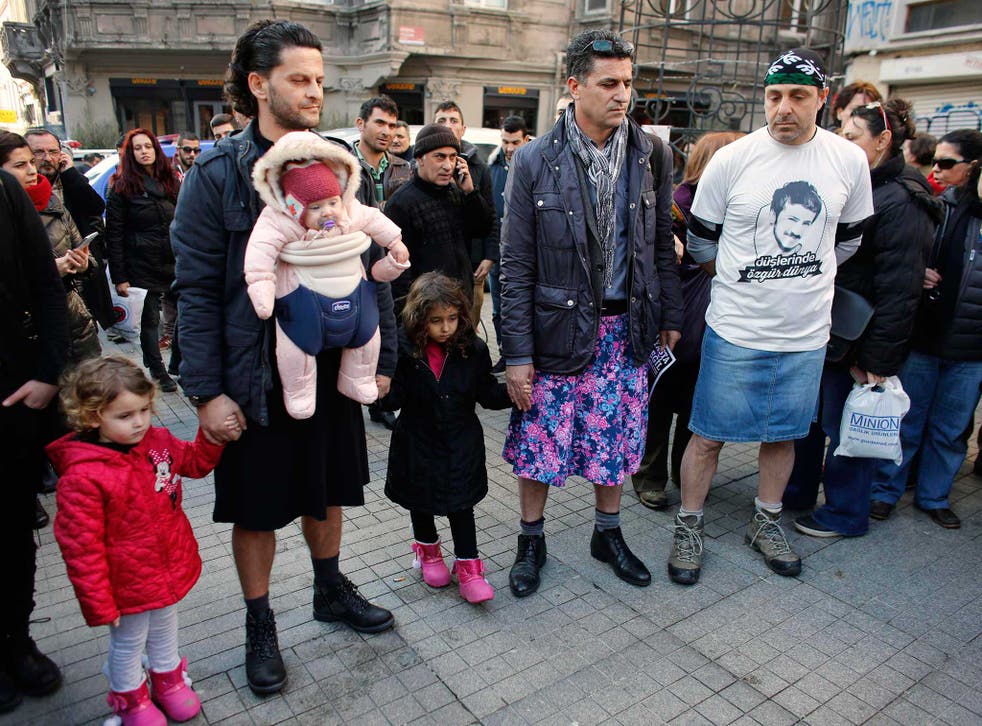 The President of Turkey has ridiculed men who took to the streets of Istanbul wearing skirts in a women's rights protest after a woman was murdered defending herself from rape.
"Let them cry out for low-cut [tops] and miniskirts," Recep Tayyip Erdoğan said at a speech in Ankara today.
He was speaking at the inauguration of new buildings for a youth charity, Hurriyet Daily News reported, vowing to "raise generations loyal to their beliefs and history".
A Turkish author quoted the President saying in the speech: "You claim to be a man. Why you wear a skirt! What kind of a man you are? You are not a man, you are a terrorist." The translation could not be verified.
Men wearing skirts protested in Istanbul on Saturday as many more tweeted pictures of themselves in women's clothes in response to Ozgecan Aslan's horrific death.
A Facebook page supporting the campaign explained: "If a miniskirt is responsible for everything, if [wearing] a miniskirt means immorality and unchastity, if a woman who wears a miniskirt is sending an invitation about what will happen to her, then we are also sending an invitation!"
The 20-year-old reportedly resisted a minibus driver's rape attempt on 11 February and was stabbed and beaten with an iron rod.
Turks in skirts: Istanbul protest over horrific death of Ozgecan Aslan

Show all 9
The alleged perpetrators burned her body and cut off her hands in an apparent attempt to prevent DNA evidence of the struggle being found under her fingernails.
Her murder has triggered huge public debate in Turkey about women's rights and the link repeatedly made by conservatives between usually Western clothing deemed "provocative" and sexual assault.
In August last year, for example, a woman stabbed by her ex-husband was reprimanded by judges who claimed she had "provoked" him by wearing leggings.
Mr Erdogan, who has previously declared it was "against nature" for women and men to be on "an equal footing", heads a socially conservative government that has been accused of letting women's rights regress and misogyny flourish.
Today he condemned the murder of Ozgecan as "total savagery".
His speech came as the former Miss Turkey faces up to two years in prison for social media posts deemed to be critical of Mr Erdogan.
An Istanbul prosecutor is reportedly demanding that Merve Buyuksarac be prosecuted on charges of insulting a public official.
The model was detained last month for sharing a satirical poem on her Instagram account and denies insulting the President.
She is the latest figure to face trial for insulting Mr Erdogan, amid fears the country is lurching toward authoritarian rule.
In recent years, Turkey has curbed media freedoms, cracked down on critical social media postings and prosecuted hundreds of people who took part in mass anti-government protests.
Register for free to continue reading
Registration is a free and easy way to support our truly independent journalism
By registering, you will also enjoy limited access to Premium articles, exclusive newsletters, commenting, and virtual events with our leading journalists
Already have an account? sign in
Register for free to continue reading
Registration is a free and easy way to support our truly independent journalism
By registering, you will also enjoy limited access to Premium articles, exclusive newsletters, commenting, and virtual events with our leading journalists
Already have an account? sign in
Join our new commenting forum
Join thought-provoking conversations, follow other Independent readers and see their replies