Ukraine activist Dmytro Bulatov 'kidnapped, tortured and left to die'
He led AutoMaidan protest movement that organised motorcades outside the houses of politicians and oligarchs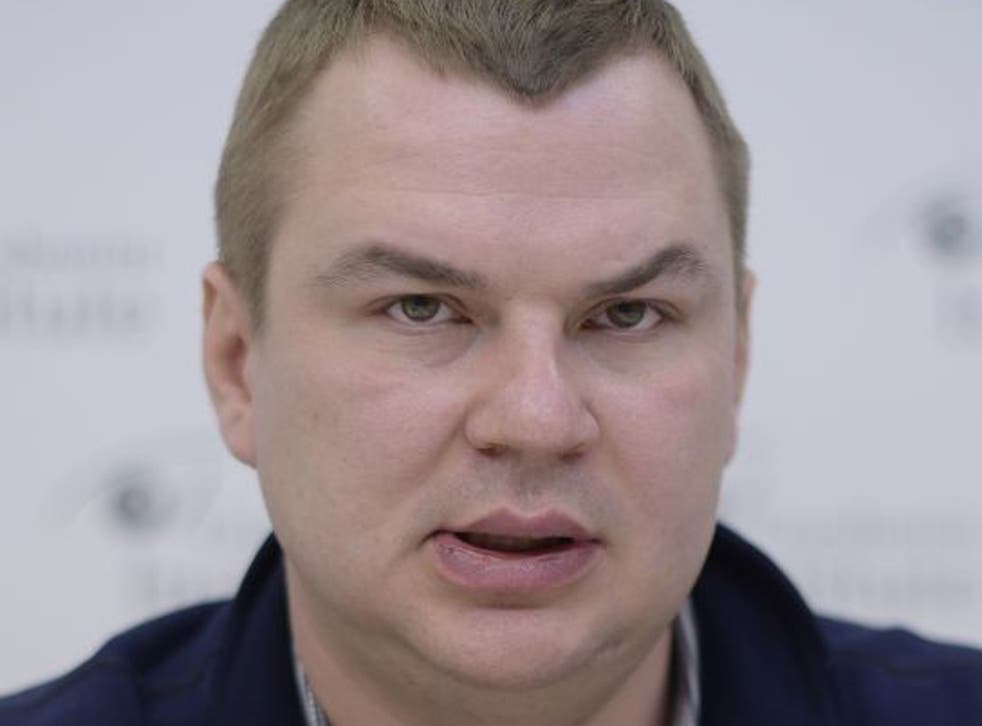 A prominent Ukrainian opposition activist who vanished eight days ago has claimed he was kidnapped, tortured and left to die in the suburbs of the capital Kiev.
Dmytro Bulatov, leader of the AutoMaidan protest movement which organised motorcades outside the houses of politicians and oligarchs, was found locked in a house in the Kiev suburb of Boryspil, according to local TV station Channel 5. Villagers reportedly heard him pounding on the door.
Wearing blood-stained clothes and exhibiting cuts and bruises to his face, ears and hands, the 35 year-old activist gave a brief interview to media before being admitted to a Kiev clinic for medical treatment.
"My whole body is a mess. You can see everything. I am alive. Thank God for this," he told reporters.
Mr Bulatov disappeared on 22 January when the AutoMaidan motorcade he was travelling with was ambushed. Activists at the anti-government protest said they were beaten by police and hired thugs. He said those who held him had Russian accents, but does not know who they were.
More than five people have died and hundreds have been injured in clashes between authorities and anti-government protesters over the past two weeks. There have been dozens of cases of police brutality, according to Human Rights Watch.
The EU's foreign affairs chief Catherine Ashton issued a strong statement today condemning the treatment Mr Bulatov received at the hands of his captors.
"I am appalled by the obvious signs of prolonged torture and cruel treatment of Auto-Maidan organiser Dmytro Bulatov, who was found alive yesterday after having been missing for a week," the statement read.
"Others, like Maidan protester Yuriy Verbytskyy who was found dead on 22 January, have paid with their lives for exercising their civil rights… All such acts are unacceptable and must immediately be stopped," she added.
Ms Ashton also called for "all unlawfully detained people have to be released and perpetrators brought to justice."
Police in Kiev have confirmed Mr Bulatov was bruised and received a cut to one of his ears, according to Ukrainian newspaper Ukrainskaya Pravda. They have opened an investigation and posted guards at the hospital where he is being treated.
Meanwhile, the army has called on President Viktor Yanukovych to take "urgent steps" to ease the political crisis. Mr Yanukovych's office released a statement on Thursday saying he was off sick with acute respiratory illness, casting doubt over how negotiations to end the standoff with the opposition will proceed.
Demonstrators took to the streets of Kiev in their tens of thousands in November in response to the government's decision to spurn a political and trade deal with the EU in favour of a £9bn bailout and cheaper gas prices from Russia, to keep Ukraine's struggling economy afloat.
The protests have since evolved into an anti-government movement calling for snap elections and Mr Yanukovych's resignation.
Targets of AutoMaidan's motorcade protests are reported to have included one of Mr Yanukovych's residences, and the Donetsk home of Ukraine's richest man, Rinat Akhmetov, when activists called on him to speak up against the bloodshed.
On Saturday, Mr Akhmetov Akhmetov issued a strong statement warning that the use of force against protesters was unacceptable.
"The only way out is to move from street confrontation to negotiations," he said, in a statement released by his holding company System Capital Management (SCM).
Following violent clashes between protesters and police, Ukraine's government this week made several concessions to the opposition. The Prime Minister Mykola Azarov and his cabinet resigned, and parliament voted overwhelmingly to repeal harsh anti-protest laws passed this month to curb the demonstrations. Many have blamed a combination of these laws and cases of police brutality for radicalising the previously peaceful protests.
Despite the concessions, a sprawling opposition camp in Kiev's city centre remains in situ, and protesters continue to occupy some government ministries.
A further move - an amnesty for protesters - was debated in parliament, but rejected by opposition parties after a number of conditions were placed on the bill.
"They have set a number of conditions, and the key condition under the draft bill is to let the Maidan go and only afterwards all protesters will get an amnesty," leader of Ukraine's main opposition bloc Arseniy Yatsenyuk said. "This is unacceptable for us."
Speaking at the opening of the parliament session on Wednesday, former Ukrainian president Leonid Kravchuk warned that: "All the world acknowledges and Ukraine acknowledges that the state is on the brink of civil war."
In an emotional speech that was given a standing ovation, he said: "It is a revolution. It is a dramatic situation in which we must act with the greatest responsibility."
In Brussels on Tuesday, Russian President Vladimir Putin said the bailout funds remain on the table, and urged EU officials not to interfere in events in Kiev.
However, some analysts say Russia is likely to use its political, historical and financial sway over the post-Soviet country to urge President Yanukovych to take a tougher approach to solving the political crisis on its doorstep.
The EU has blamed a cocktail of blackmail and bribery from Moscow for President Yanukovych's decision to pull out of the pact in November.
Join our new commenting forum
Join thought-provoking conversations, follow other Independent readers and see their replies