Ukraine crisis: A mood of relief, anger and mutiny prevails among retreating troops
Petro Poroshenko flew in on Wednesday evening to congratulate the men he described as 'returning heroes'
Oliver Carroll
Thursday 19 February 2015 23:06 Comments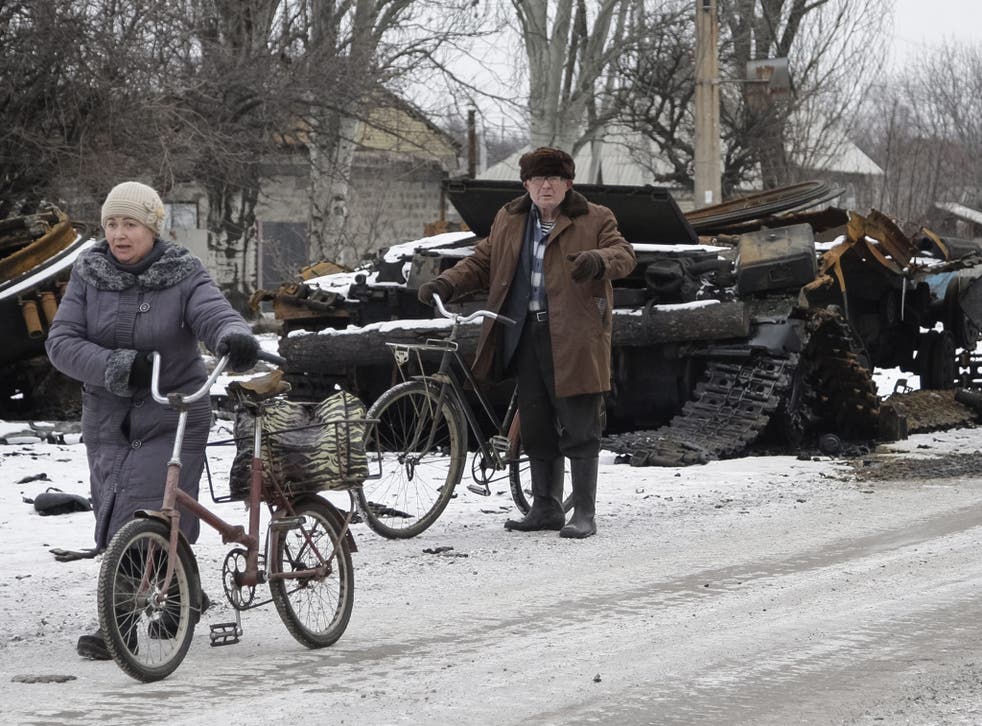 Nikolai Kozitsyn, the Cossack leader known by the nickname "Daddy", made an unexpected return to the eastern Ukrainian frontlines yesterday. Widely assumed to have been withdrawn to Russia by his Kremlin handlers, Mr Kozitsyn was instead seen making victory loops in a military jeep around the desolate, wrecked streets of Debaltseve.
As of last night, the entire railway town had passed to the control of Russian-backed forces and only a handful of Ukrainian soldiers remain in the area following yesterday's mass retreat.
With shelling continuing, Ukrainian officials feared the rebels could be preparing for a push into the key port town of Mariupol, about 120 miles south. The celebratory mood among rebel forces touring Debaltseve contrasted with a more tangled mix of relief, anger and mutiny among the Ukrainian troops who had managed to make the perilous 30-mile journey up the road to the next major town of Artemivsk.
The Ukrainian President Petro Poroshenko flew in on Wednesday evening to congratulate the men he described as "returning heroes". Speaking earlier in the day, Mr Poroshenko had boasted of an "overwhelmingly successful" operation that had "demonstrated the strength of the Ukrainian army", and "showed that there had been no siege to speak of".
Such comments were met with derision from the soldiers of the 128th brigade.
Ukraine crisis: Civilians targeted in Donetsk

Show all 11
"We conveyed him our thanks," "Sanya", a private from the brigade, told The Independent. "We thanked him for his siege denials, we thanked him for equipping us so well, we thanked him for the ceasefire, and we thanked him for sending us out like meat to a grinder."
Soldiers seemed especially vexed at official military statements that only 13 soldiers had been killed and 157 wounded during the retreat. The number of dead was "clearly in the hundreds," they said.
Officials at the local staging hospital refused to confirm numbers of those killed in action. It is likely that many remain behind enemy lines.
Volunteers working at the hospital confirmed that just under 200 wounded soldiers had passed through their doors, only a proportion of the injured, as those who are able to do so travel further to better facilities.
What is clear is that several of the small groups that broke through the encirclement suffered significant losses. Nikolai Gemon, an officer in the 128th brigade, said that only one of 12 vehicles in the column he led made it through.
The convoy fell under significant shelling, he said, and many of the men were forced to abandon their vehicles and make their way back by foot.
Mr Gemon also said that three Kamaz trucks had got lost on the way back, and fallen into separatist checkpoints.
"They were travelling too far behind, didn't see the others turn off, and they went straight on," he says.
Each truck usually carries up to 30 soldiers, and as of last night, their fate was unknown.
Many soldiers scoff at the idea that this was a well-organised operation.
Sergei Mykulaichuk, a private from the 51st brigade, was based in Chornukhine, a village located to the east of Debaltseve. He says that Ukrainian forces there were surrounded significantly earlier than those in Debaltseve, from the end of January onwards.
His unit was one of the last to make its way back, making the 14-hour journey over minefields to Artemivsk.
"We had no proper maps, let alone GPS navigation. We simply followed the direction of the moon," says Mr Mykulaichuk.
The Independent learned that as of midday yesterday perhaps 60 Ukrainian soldiers remained encircled in Chornukhine, awaiting orders to retreat.
One evacuated soldier said he could not understand why his comrades had been abandoned to their fate.
The neighbouring Artemivsk has taken on a new military hue over recent days, as the thousands of returning soldiers readjust to civilian life. By last night, one of the local restaurants had removed hard spirits from its menu.
The French and German Presidents, who oversaw all-night peace talks in Minsk last week, said that they were intent on salvaging the ceasefire deal, hoping that a truce would hold following the capture of Debaltseve.
Locals are less optimistic. Several stood in a huddle, consulting Ukrainian National Guard officers about their best course of action. They had become worried that war would reach them.
"Leave, Artemivsk will be next," was the officer's clear advice.
Register for free to continue reading
Registration is a free and easy way to support our truly independent journalism
By registering, you will also enjoy limited access to Premium articles, exclusive newsletters, commenting, and virtual events with our leading journalists
Already have an account? sign in
Join our new commenting forum
Join thought-provoking conversations, follow other Independent readers and see their replies