Ukraine crisis: Ceasefire holds but Russia says it 'will react' to further EU penalties
Further travel and economic sanctions on Russia were approved by the EU yesterday, however its Foreign Ministry warned this morning that it would "react" if they are imposed
Natasha Culzac
Saturday 06 September 2014 16:18 Comments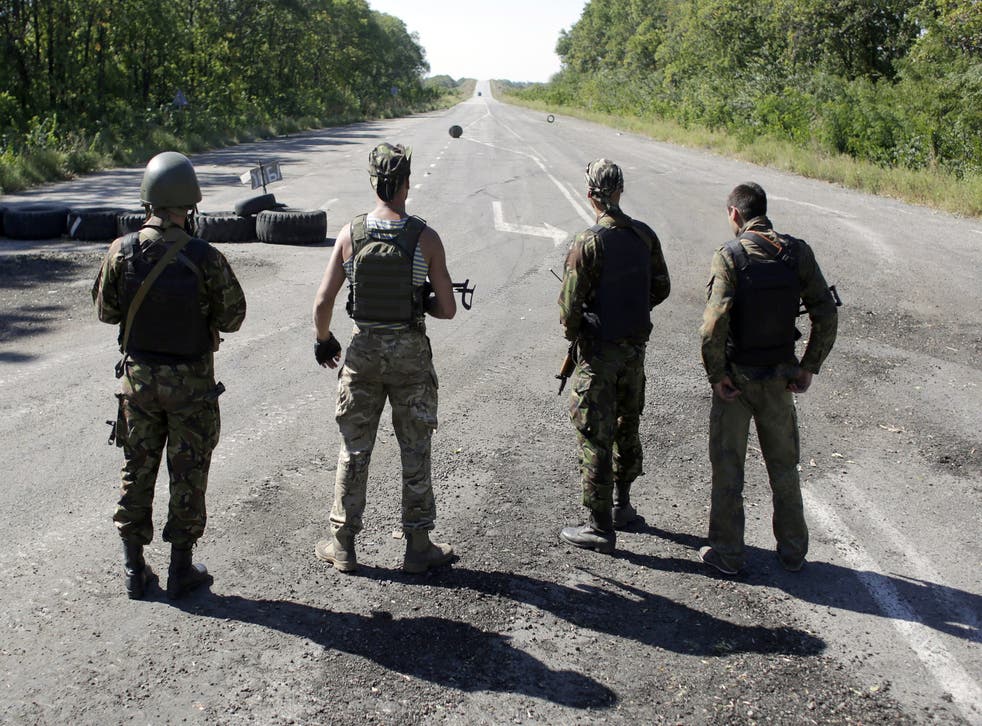 A ceasefire between Ukraine and separatist rebels began last night and appears to still be in place following a five-month bloody conflict left more than 2,000 dead.
The deal began at 6pm local time after being signed in Minsk, the capital of Belarus, by Kiev, Moscow and the Russia-backed separatists, as well as the Organisation for Security and Co-operation in Europe (OSCE).
As part of the agreement, all heavy weaponry is to be withdrawn, more than 1,000 prisoners released and humanitarian aid sent to the epicentre of the fighting in eastern Ukraine.
The situation is still precarious, however, with both sides claiming that the other has violated the agreement.
Ukrainian President Petro Poroshenko confirmed that the ceasefire was a result of a "long conversation" between all parties mediated by members of the OSCE.
He added that the prisoner exchange, which has been described as a "breakthrough", could begin today and that today he and Mr Putin had discussed giving the ceasefire "a stable character".
Ukraine crisis: A timeline of the conflict

Show all 23
Mr Putin's spokesman Dmitry Peskov said that the Kremlin hopes the ceasefire will ensure that negotiations can continue in the effort to bring about "the full settlement of the crisis in Ukraine".
US President Barack Obama said that the ceasefire is fresh and "has to be tested" and that the most effective way to ensure its success would be to continue with the additional approved economic sanctions.
However, Russia's Foreign Ministry said this morning that it "will react" if the EU sanctions are imposed, though it is unclear in what shape this reaction will come.
A statement said: "If they are implemented of course there will be a reaction from our side," according to Reuters.
The EU ratified further sanctions against Moscow yesterday, extending the list of people who will be slapped with travel bans and asset freezes, in addition to tighter controls on its access to capital marks and its trade in arms and defence technologies.
They are due to come into force on Monday.
The sanctions could be suspended if Moscow keeps to its side of the truce deal and removes its troops from Ukraine.
Speaking at the end of a two-day Nato summit in Wales, President Obama added that he hopes the truce would hold but that there is concern the rebels and Russia could still fall foul of Ukraine's territorial integrity.
Donetsk separatist leader Alexander Zakharchenko, said he was "very pleased and happy that we managed to take the first steps to change the military situation into a political discussion."
However, he also claimed that there has been shelling in the town of Amvrosiivka, which is 30 miles southeast from the largest rebel-held city of Donetsk.
He didn't elaborate on when this breach had happened but added: "At this time the ceasefire agreement is not being fully observed".
Ukrainian spokesman Andriy Lysenko said Mr Zakharchenko's comments were a provocation and that the rebels had fired at Ukraine's military on Friday night - though this would have been prior to the ceasefire coming into effect.
Speaking on the ceasefire, German Chancellor Angela Merkel said: "If certain processes get under way, we are prepared to suspend sanctions.
"We have to see whether this ceasefire is being applied. Do Russian troops withdraw, so far as they're there?"
Russia has always denied supplying the rebels with weaponry, troops and funds since the fighting began in April.
United National Secretary-General Ban Ki-moon called for the full implementation of the ceasefire and also hailed the discussions between the Presidents of Ukraine and Russia as a "breakthrough".
He added that "credible and comprehensive monitoring and verification are essential elements for successful implementation of the cease-fire and the peace plan."
Additional reporting by PA
Register for free to continue reading
Registration is a free and easy way to support our truly independent journalism
By registering, you will also enjoy limited access to Premium articles, exclusive newsletters, commenting, and virtual events with our leading journalists
Already have an account? sign in
Join our new commenting forum
Join thought-provoking conversations, follow other Independent readers and see their replies