Ukraine crisis: Darth Vader parliamentary candidate denied vote in elections
Darth Vader is the official candidate of the Ukrainian Internet party
Antonia Molloy
Sunday 26 October 2014 16:45 Comments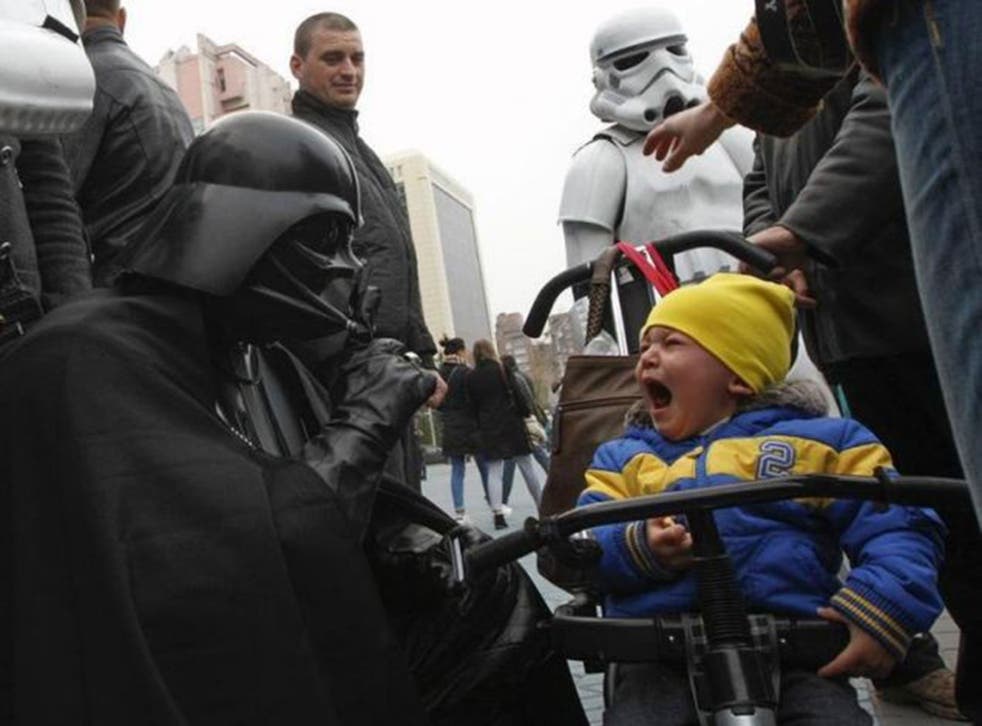 It appears the force was not with Ukrainian parliamentary candidate Darth Vader – after he was turned away from a polling station in Kiev for refusing to show his face.
Footage published by The Telegraph shows the Star Wars baddie being refused a ballot paper on Sunday, after he attempted to vote attired in the film character's iconic black costume.
"The fact that I did not vote does not mean that my empire will not win"," he said.
Darth Alekseyevich Vader, an electrician, is the official candidate of the Ukrainian Internet party (UIP) and has been wooing voters with promises to turn Ukraine into a "galactic empire".
Previously known as Viktor Shevchenko, he changed his name ahead of the elections and insists his party is serious about its intentions.
Despite his pledge to enhance transparency, Vader is renowned for declining to ever show his own face. The move saw him previously banned from voting in May's presidential elections by electoral commission workers who said he was violating voting rules.
Ukraine's vote takes place against a backdrop of conflict between government troops and pro-Russian separatist forces in its eastern regions.
The election is set to usher in a contingent of largely pro-Western lawmakers. President Petro Poroshenko's party has campaigned on an ambitious reform agenda and is expected to get the largest share of the vote, but there is a strong likelihood it will need to rule in a coalition.
Additional reporting by agencies
Register for free to continue reading
Registration is a free and easy way to support our truly independent journalism
By registering, you will also enjoy limited access to Premium articles, exclusive newsletters, commenting, and virtual events with our leading journalists
Already have an account? sign in
Join our new commenting forum
Join thought-provoking conversations, follow other Independent readers and see their replies