Ukraine crisis: Russia in a 'state of war' with our continent, European leaders warn
Leaders urge dramatic escalation of response – including 'military materials' – to Russia's troops crossing the border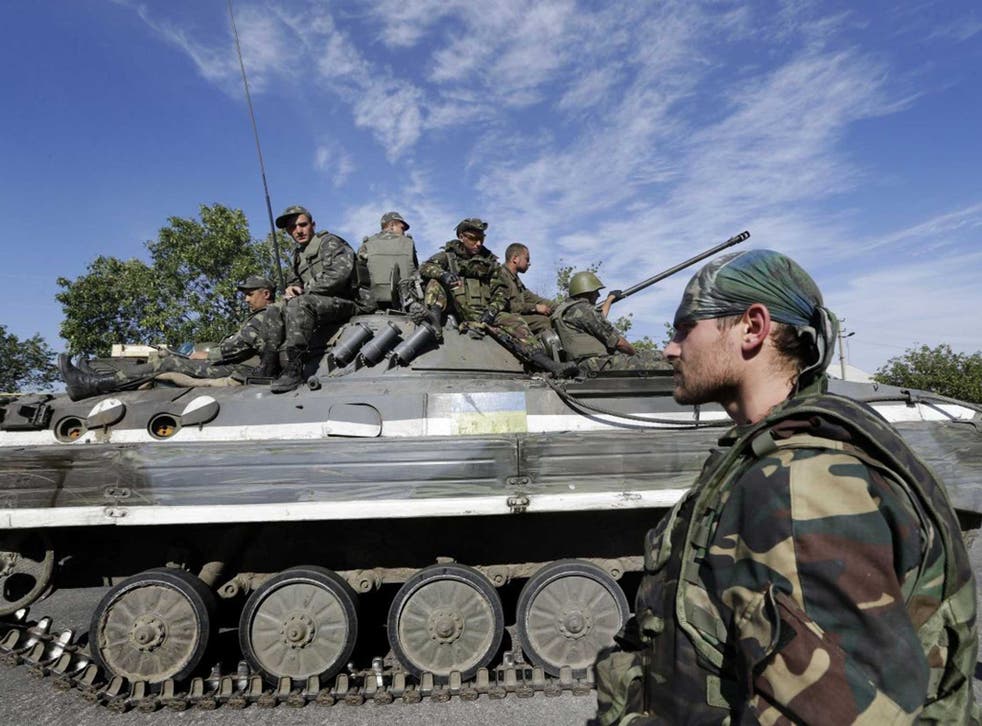 European leaders last night warned that the presence of Russian soldiers in Ukraine represented a serious threat to the security of the whole continent, with some calling for a dramatic escalation of the EU's response given Moscow's "state of war" against Europe.
At their gathering in Brussels, the 28 EU heads of government were expected to agree to consider deeper sanctions against Moscow after evidence emerged of around 1,000 Russian troops on Ukrainian soil. Ukraine's President, Petro Poroshenko, warned that their presence was a "very high risk, not only for the peace and stability of Ukraine, but for the whole peace and stability in Europe".
"We are very close to the point of no return," he said in Brussels, after meeting EU leaders. "The point of no return is full-scale war, which already happened on the territory controlled by separatists." He urged the leaders to "undertake enormous efforts" to prevent any further Russian military incursions and force the Kremlin back to the negotiating table.
Given such dire warnings, some EU leaders were pushing for a response going beyond sanctions, which so far have had little impact on Russia's actions in its neighbour.
"We're starting to clarify and clearly see that Russia is in a war stage against Ukraine. That means it is in a stage of war against a country which would like to be closely integrated with the EU," said the Lithuanian President, Dalia Grybauskaite. "Practically, Russia is in a state of war against Europe .... We need to help Ukraine to battle back, to defend itself, its territory and its people, and to help militarily with military materials."
David Cameron went into the meeting condemning recent Russian actions in the east, where pro-Russian separatists have since April been taking over key cities in the industrial heartland. "We need to address the completely unacceptable position of having Russian troops on Ukrainian soil," the Prime Minister said. "Countries in Europe shouldn't need to think long before realising just how unacceptable that is – we know that from our history – so consequences must follow."
Ukraine crisis: Civilians targeted in Donetsk

Show all 11
An early draft of the council conclusions said that the leaders would task the European Commission and the EU foreign service with preparing a list of possible new sanctions.
But despite the bullish words from some leaders, many nations remain cautious. Hungary and Slovenia have both in the past expressed concern that sanctions simply damage the EU's economies while having little impact on President Vladimir Putin's decision making.
The 28-member bloc did agree to escalate sanctions in July after the downing of Flight MH17 over rebel-held territory in Ukraine killed 298 people, most of them from Europe. For the first time, sanctions were imposed on some energy transactions and arms sales, but new measures could cut much deeper into the gas, defence and financial-services sectors.
Over the past month the Ukrainian military also appeared to be making gains on separatist-held territory, but earlier this week the rebels opened up a new front in the east, helped – some European and Nato officials say – by the increased Russian military presence on the ground.
British government sources have said that Russia has supplied the rebels with 100 tanks, 100 artillery pieces and anti-tank weapons, as well as shoulder-mounted missile systems.
Nato released satellite images on Thursday to back up claims of 1,000 Russian troops in Ukraine. The Russian government, however, denies all the allegations, and President Putin says he is committed to talks and finding a peaceful solution to the conflict between the Ukrainian government and the rebels.
The question now is whether the EU leaders can agree to any serious escalation of sanctions that may help nudge Mr Putin to the negotiating table, given his apparent immunity to the measures taken so far.
Join our new commenting forum
Join thought-provoking conversations, follow other Independent readers and see their replies