Ukraine crisis: Humanitarian workers flee from east of the country
Kim Sengupta in Donetsk on the violence and fear causing international agencies to pull out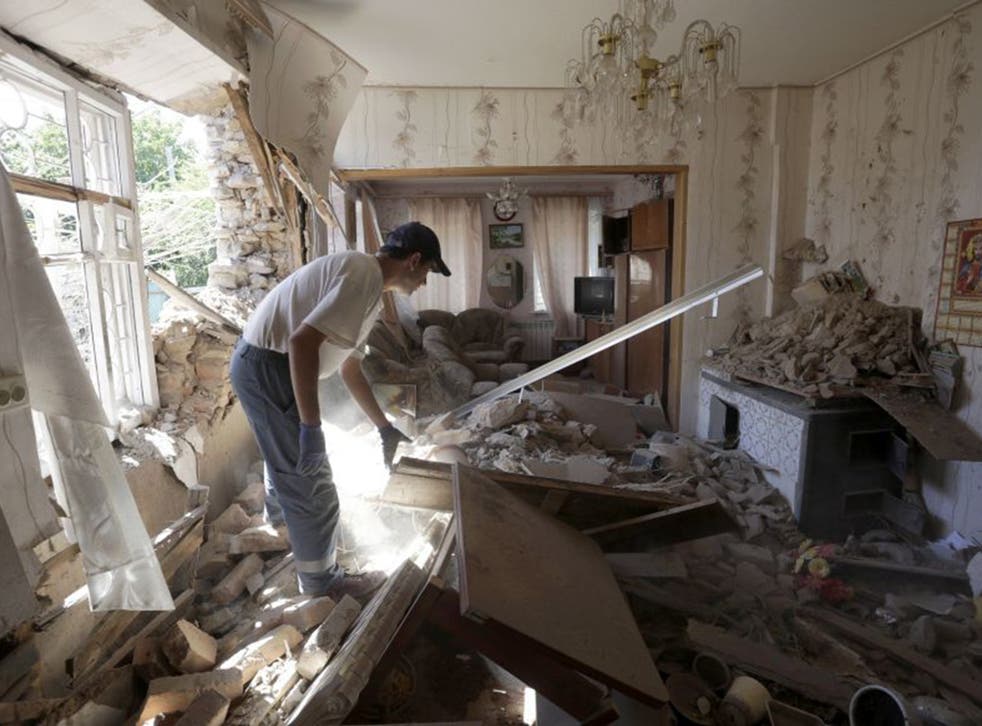 He had been arrested twice, beaten up, had his phone and laptop seized. But what made up Sergei's* mind to leave the Donetsk Peoples' Republic was hearing that former colleagues were being picked up and that he was, once again, a focus of the security police's attention.
The former official for the International Rescue Committee (IRC), a humanitarian NGO ( Non-Governmental Organisation) decided that he was not going to wait for the knock on the door by the men in camouflage. He moved away from Donetsk to another city. "It was the uncertainty of what may happen which gets to you. If the idea is that you can drive people away by intimidation, well then it works", he reflected.
The administrations of the separatist enclaves in eastern Ukraine have long regarded international organisations with suspicion, accusing some of them of spying for the West. At the end of last week UN agencies and several NGOs were ordered out of Luhansk. The organisations were not named, but Médecins Sans Frontières (MSF) closed their offices, saying it was "extremely concerned" by developments.
MSF continues to work in Donetsk, which has a separate government to the one at Luhansk, but the UN stated that its operations in Donetsk have also been suspended. Stephen O'Brien the head of its humanitarian mission in Ukraine, described the actions as a "blatant violation of international humanitarian law". Stopping supplies, he stressed, meant that "hospitals cannot perform surgery because they lack anaesthesia and 150,000 people are not receiving monthly food distributions. All this is having a serious impact on three million people as winter approaches."
Relationship between the separatists and NGOs soured as the rebellion against the Kiev government gathered momentum in the east. Adding to the tension was the fact that many of the local staff working for these organisations were young, westernised and opposed to secession from Ukraine. To add to the chagrin of the rebels, some of them were also active in political and human rights fields; agents of Kiev according to their opponents.
The offices of the International Rescue Committee in Donetsk were raided by the Ministry of State Security forces last April. Thirty members of staff, including American, Canadian, Brazilian and Chilean citizens, as well as local ones like Sergei, were arrested. Computers and documents were seized, say employees, along with the payroll of 800, 000 Hryvnas (about £23,000), personal cash and mobile telephones
Some of the foreign nationals, including the Americans, were held for up to nine days in Ministry cells although the authorities claimed they were being kept under house arrest in their hotel. Sergei, 31, and some of the other local employees were interrogated for around ten hours.
"The methods used were rough, but not too rough. They kept on accusing us of being CIA spies", Sergei recalled. "They had a really bizarre story. One of our former staff had discovered, they said, that we were spies, and gone to the police with this information. This man had ended up stabbed to death, and we were being accused of killing him", recalled Sergei.
"But there were no 'former' staff, the offices hadn't opened long and no one had left the staff. We never found out if anyone actually had been killed, no bodies were shown. Anyway, the IRC couldn't continue, the offices shut, we didn't get anything back which was taken by the police, including the money. The foreigners left and the rest of us lost or jobs."
Sergei then started a service delivering and collecting mail at checkpoints from residents caught on the two sides of the frontline. He was arrested again in June. Unbeknown to him, one of the two cars he and his colleagues were using carried a young man wanted for "anti-patriotic activities".
Sergei was taken to a police station and interrogated. "This time it was really rough, I was tied up, punched, kicked, they kept asking about the IRC and spying. Luckily my friends tracked me down to the police station", he said. "Some of them worked as translators for foreign journalists. When they called, the police agreed to let me go, but only if I agreed to sign a document saying that I had not been mistreated."
A photograph taken of Sergei at the time shows extensive bruising to his face and a shut black eye. He also suffered, he said, injuries to his arms and chest. "I signed the document. It seemed the only way to get out. They released me, but straight into the custody of the Ministry of State Security police. I thought things could not get any worse", he said.
But Sergei was to be surprised. The State Security official who questioned him was shocked by his injuries and urged him to complain about the policemen who had carried out the beating. The official said that he was part of a new batch officers tasked with countering corruption and abuse.
Sergei was freed. But then, last week, some former colleagues from the IRC were questioned again. "The same accusations, about spying. Then they started asking them about me. So, I have decided to leave. Maybe they will reform the police, maybe they will stop their campaign against NGOs in the future, but I don't think it's safe waiting for that to happen."
*The NGO official's name has been changed to Sergei to ensure his safety.
Register for free to continue reading
Registration is a free and easy way to support our truly independent journalism
By registering, you will also enjoy limited access to Premium articles, exclusive newsletters, commenting, and virtual events with our leading journalists
Already have an account? sign in
Register for free to continue reading
Registration is a free and easy way to support our truly independent journalism
By registering, you will also enjoy limited access to Premium articles, exclusive newsletters, commenting, and virtual events with our leading journalists
Already have an account? sign in
Join our new commenting forum
Join thought-provoking conversations, follow other Independent readers and see their replies