Ukraine crisis: Mercenaries, ready meals and MI6 – the 'evidence' British troops are fighting pro-Russian troops, or something far less sinister?
A combat jacket with British markings and American military meals and ammunition found at the scene of a shooting in Andrievka leaves locals suspicious.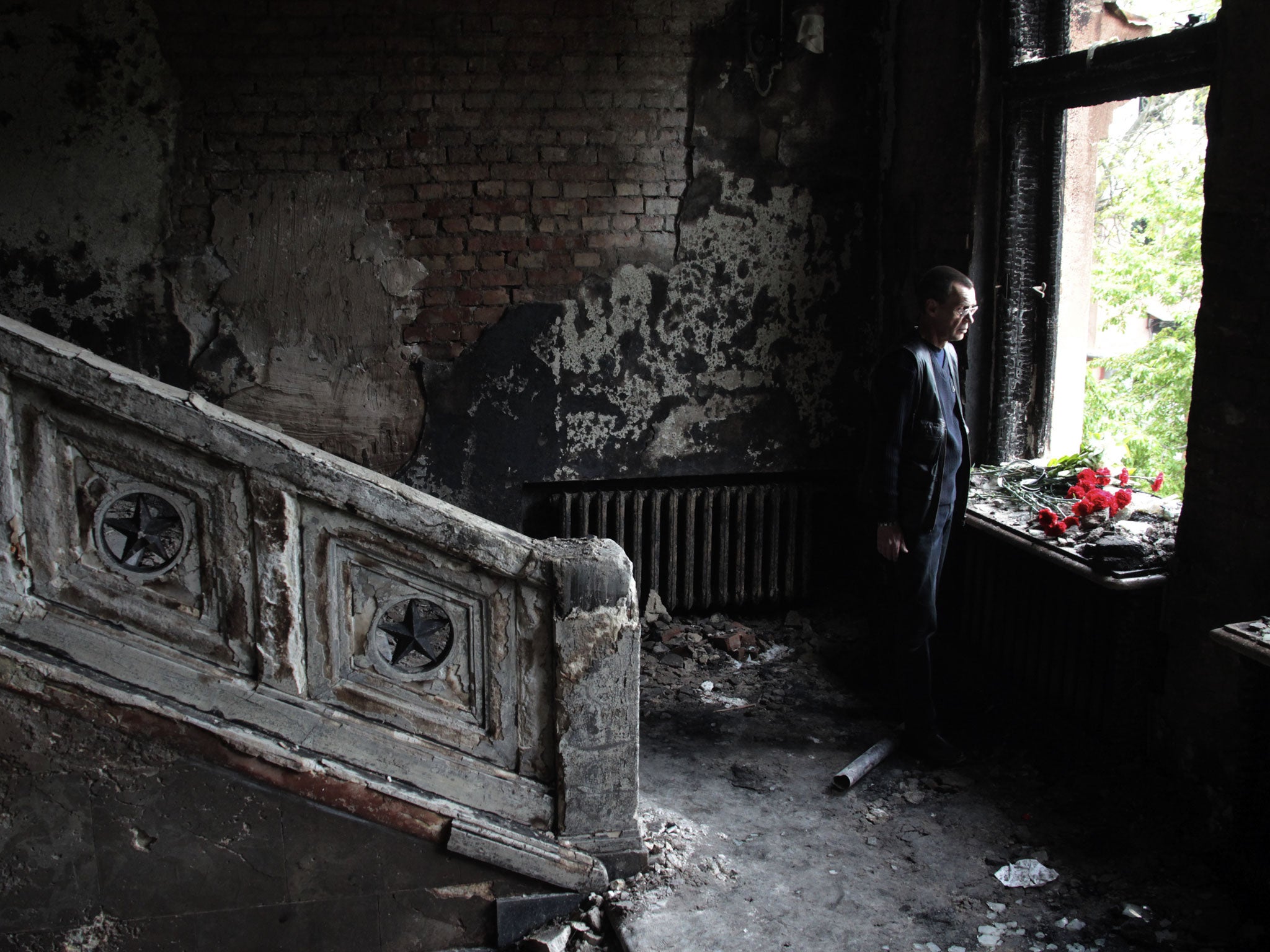 "The snipers on that hill were British. People have seen them. You could tell by their uniforms," Vitali Nelovich said with confidence. "They were by the television tower. But even before they were stationed, there were others who came by helicopter. They were very dark skinned".
Alexei Viktorovich was also adamant: "The dark-skinned men were very professional, I was in the army myself, so I could tell. They didn't stay long, flew in and flew out."
There was other incriminating "evidence", local people pointed out, of a foreign hand in the shooting which took place between Ukrainian forces and residents, claiming between seven and 10 lives and up to 20 injured in Andrievka, near the militant stronghold of Slovyansk on Friday evening.
There were MREs (Meals Ready to Eat) – a staple of US forces on combat missions, in the brown packets familiar to many of us from Iraq and Afghanistan, clearly marked Made in USA, issued by the Department of Defense. Also there, lying amid blood stains, body parts and a body yet to be taken away, were Nato 5.56mm cartridges as used in the US military's M16 rifles. "I am not saying the foreigners did the killings", but they were here, insisted Mr Velovich, a 45-year-old farmer.
There are plausible explanations for the two items. Washington has announced that it is sending "non-lethal" aid to Ukrainian troops, and the "jambalaya with chicken and shrimps" may qualify in that category, although some who have tasted it may disagree. The M16 is not standard issue for the country's army, but the force which had assembled in this village included units of recently raised National Guard, and the assault rifles could have been obtained through a third party by the Kiev administration. The "dark-skinned" fighters may be from former Soviet Republics in central Asia, bringing their bloody feud with the Kremlin to eastern Europe; but, against that, there has been no verifiable account of their presence in this conflict.
When it comes to British soldiers, there is absolutely no evidence that they are here. But it is a tale conveniently fitting in with all the others about "hidden forces" and "mercenaries" that both the separatists and the government are keen to propagate as the violence escalates. This is not, after all, unusual in lands descending into civil war; there is a reluctance, perhaps natural, to accept that compatriots would be eager to inflict brutalities on each other and more comforting to blame outsiders; the raging conspiracy theories in such situations are ideal for disseminating such claims.
The previous day, in Slovyansk, a militant commander, Leonid, had claimed mercenary presence. "They came in SUVs. They were, I think, scouting. They behaved in a different way, more professional. They did not fire back when we fired at them, so they did not reveal their positions. Then they just disappeared; but we found their uniforms, they must have changed into civilian clothes."
A group of fighters subsequently produced combat kit supposedly abandoned by these mercenaries. One combat jacket had a Union Jack on the sleeve, along with a panther's head badge. "What is this? How do you explain this?" one demanded. I pointed out that one of his companions was wearing a Manchester United shirt, and asked them to consider whether a hired gun was really likely to be wearing his national colours.
The same combat jacket appeared later on a YouTube video. A man in balaclava displaying it exclaims: "Look at this chevron, a white lion!" Another man corrects him: "No, it's a panther, an English panther". The first man: "Yes, that's right, English panthers, they are very close to the nationalists. They are very well trained. They came to kill us, but don't worry, we will protect the public."
What is much more likely to have happened is that the combat jacket belonged to a British soldier who had served in Helmand province in Afghanistan during Operation Panther's Claw in 2009, and had somehow ended up in Slovyansk through army surplus stores.
Allegations of soldiers of fortune operating in the east of the country first surfaced months ago when well-armed masked men in combat uniforms, with no insignias, were used against pro-Moscow demonstrators in Donetsk who chanted "Blackwater! Blackwater!" at them. It was later claimed that they were not from the US security contractor which had attracted notoriety in Iraq, but from Greystone, a Blackwater affiliate. The Russian foreign ministry maintained the operatives were from Greystone, something the company denied. The following day, a crowd, somewhat confused, had switched the chant to "Greywater! Greywater!"
The Kiev administration, in turn, has repeatedly charged that agents of the Russian intelligence service, FSB, played a key role in fomenting the upheavals and that members of Spetsnaz, Russian special forces, had been active on the frontline, a reprise of the "men in green" so active in Crimea as the territory was annexed by Vladimir Putin. These claims have been echoed in Washington, London and other Western capitals.
Ukraine's acting government had pointed the finger at Igor Ivanovich Strelkov, who they say is a Russian military intelligence operative in his mid- to late 50s, as being one of the main players in this maskirovka, or disguised warfare. However, a spokeswoman for the country's SBU security service, Maryna Ostapenko, claimed that the man's real name was Colonel Igor Vsevolodvich Girkin; who also used the name Strelok.
In an interview with a Moscow newspaper, Strelkov/Girkin/Strelok insisted that he was Ukrainian, not Russian: a common refrain among the separatist fighters.
It is, however, very possible that former members of the Russian forces are serving in militant ranks. During a visit to the police headquarters in Slovyansk, now controlled by separatists, Aleksandr, a former Ukrainian soldier, complained, pointing to his combat clothing: "I've seen pictures of this type in the Western media, saying it's Russian. But it's actually different." He asked his companions to go and fetch Nicolai and, when the man appeared, Aleksandr said: "Now look: that's Russian kit."
"What? Who's he? Hang on," I spluttered into my tea; but the two men smiled and left. So who was Nicolai? He could, of course, have been a former Russian soldier. But he could also have been someone else with a fancy for army surplus. In the frontline of Donbass, what really lies behind the balaclava often remains elusive.
Join our commenting forum
Join thought-provoking conversations, follow other Independent readers and see their replies