Ukraine crisis: No sign Russian troops are withdrawing from border, says Nato chief
His statement came before the Romanian President said the US plans to increase the number of troops stationed at the Mihail Kogalniceanu base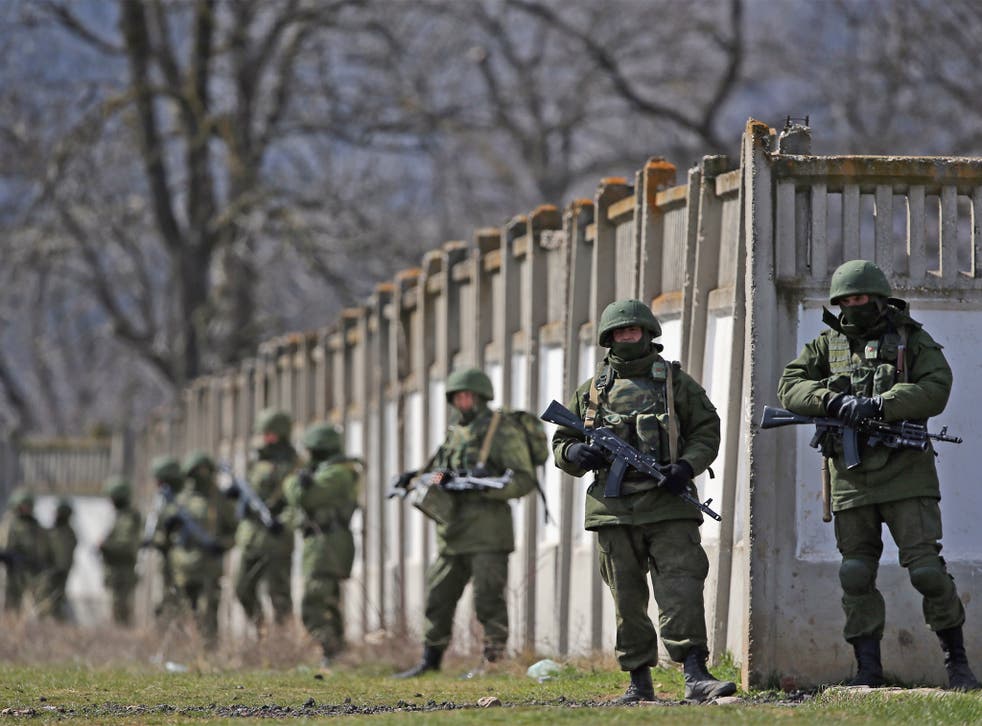 There is no evidence to suggest that Russia is withdrawing troops from its border with Ukraine, the chief of Nato said on Tuesday before a meeting of the military alliance in Brussels.
But ahead of Nato negotiations, the first to be held between foreign ministers of the alliance to discuss its response the Ukrainian crisis, Nato Chief Anders Fogh Rasmussen said: " Unfortunately, I cannot confirm that Russia is withdrawing its troops."
"This is not what we are seeing," he added.
Following Rasmussen's comments, Romania's President Traian Basescu said that the US has asked to increase the number of troops and aircraft it has stationed at a the Mihail Kogalniceanu Black Sea air base in eastern Romania.
Washington wants to add up to 600 troops to the 1,000 currently stationed at the air base, as well as military aircraft "for specific missions," President Basescu explained on Tuesday.
The US has used the base as an equipment store and deployment hub in both the Iraq and Afghanistan wars.
Rasmussen's statement came after Russian President Vladimir Putin told German Chancellor Angela Merkel in a telephone call that around 500 Russian troops are being withdrawn from the Ukrainian border, according to her office.
Since the overthrow of former Ukrainian President Viktor Yanukovych in February, Moscow has sent tens of thousands of its forces to the border - a move that has raised fears over its territorial ambitions and its plans of an incursion into other parts of the country.
During Nato negotiations, ministers will consider options ranging from stepped-up military exercises and sending more forces to eastern member states, to the permanent basing of alliance forces in those countries - a step Moscow would view as provocative.
In pictures: The crisis in Ukraine

Show all 15
Asked if Nato could station forces permanently in the small former Soviet Baltic states, Rasmussen said: "We are now considering all options to enhance our collective defence, including further development of our defence plans, enhanced exercises and also appropriate deployments."
Polish Foreign Minister Radoslaw Sikorski told reporters as he arrived that he would welcome "some more prominent Nato presence in Poland."
Since the Crimea crisis erupted, the United States has increased the number of US aircraft in regular Nato air patrols over the Baltic States and has beefed up a previously planned training exercise with the Polish air force.
Meanwhile, Russian officials warned Ukraine, which is not a member the military alliance, against integration with Nato on Tuesday. Moscow warned that Kiev's previous attempts to move closer to it had had unwelcome consequences.
"[Past attempts] led to a freezing of Russian-Ukrainian political contacts, a headache between Nato and Russia and ... to a division in Ukrainian society," the Russian Foreign Ministry said.
Additional reporting by Reuters
Register for free to continue reading
Registration is a free and easy way to support our truly independent journalism
By registering, you will also enjoy limited access to Premium articles, exclusive newsletters, commenting, and virtual events with our leading journalists
Already have an account? sign in
Register for free to continue reading
Registration is a free and easy way to support our truly independent journalism
By registering, you will also enjoy limited access to Premium articles, exclusive newsletters, commenting, and virtual events with our leading journalists
Already have an account? sign in
Join our new commenting forum
Join thought-provoking conversations, follow other Independent readers and see their replies