Ukraine crisis: Pro-Russian rebels ambush and seize Kiev troops during continued fighting in the strategic town of Debaltseve despite ceasefire
Both sides claim control of transport hub as President's office calls on the EU and Nato to condemn the Russia-backed rebels for violating the truce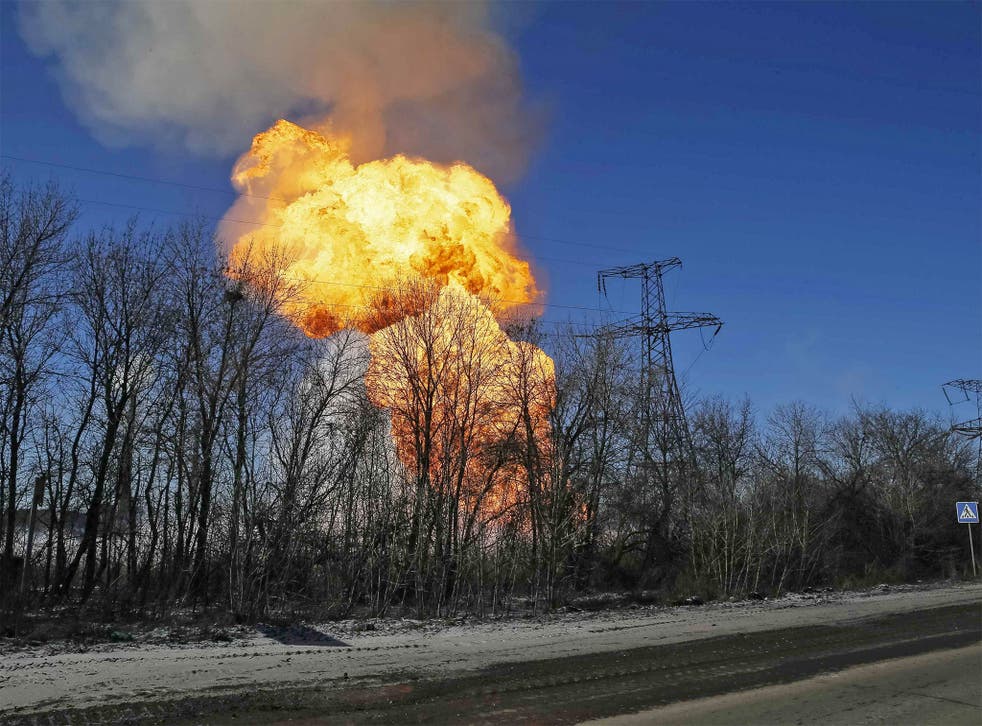 The senior Ukrainian rebel commander Eduard Basurin has said that pro-Russian separatists have gained control of more than 80 per cent of the eastern Ukrainian transport hub of Debaltseve, which has been gripped by fighting despite a ceasefire deal coming into effect on Sunday.
The Ukrainian defence ministry earlier acknowledged that several government soldiers had been ambushed and taken prisoner in the city but denied rebel claims that they had seized control.
The ministry said street fighting continued in Debaltseve. It did not say how many soldiers had been seized in the ambush. Earlier today the Ukrainian presidential office called on the European Union and Nato to condemn the Russia-backed rebels for violating the ceasefire. Russian news agencies quoted Valeriy Chaly, chief of the Ukrainian presidential administration, as saying that Kiev wants the EU and Nato "resolutely to condemn" separatist violation of the deals.
The war in eastern Ukraine has killed more than 5,600 people and displaced more than a million, the United Nations said on Monday.
The rebel commander Vladimir Kononov claimed on Russian television that most of Debaltseve was now under the control of the separatists and urged the remaining Ukrainian troops to surrender.
The announcement by the rebels came after fierce fighting that appeared to be focused on Debaltseve. Both sides claim the strategic town is on their side of the ceasefire line. The issue was not resolved under the ceasefire agreement negotiated last week by the leaders of Ukraine, Russia, Germany and France.
Today a deadline passed under the agreement for both sides to begin pulling back heavy weaponry from the front line. Mr Basurin announced in a televised briefing that the rebels would begin to pull back their big guns. He did not provide a timeline for the operation. Monitors from the Organisation for Security and Co-operation in Europe were unable to reach Debaltseve on Monday because of the fighting. The Ukrainian government, however, insisted on a ceasefire before pulling back its weaponry.
Ukraine crisis: A timeline of the conflict

Show all 23
The Ukrainian military spokesman Andriy Lysenko said the pullout hinged on the ceasefire being fully observed. The deal specifies that the pullout begins on the second day after the parties stop fighting. This condition has not been met, Mr Lysenko said.
"As soon as the fire ceases... we will be ready to begin the withdrawal," he said.
Rupert Colville, spokesman for the UN High Commissioner for Human Rights, told a briefing in Geneva that the UN is "alarmed" by reports of continued shelling in the areas and has not yet been able to get reliable information on the casualties there and the well-being of civilians.
"It is unclear how many civilians are still there," he said. "We are particularly concerned about the civilians trapped in the area – we believe there may be a few thousand hiding in cellars, struggling to get food, water and other basic necessities."
AP; Reuters
Join our new commenting forum
Join thought-provoking conversations, follow other Independent readers and see their replies