Ukraine crisis: Putin threatens to disrupt gas supplies to Europe
US accuses Russian President of using energy as 'a tool of coercion'
Tomas Jivanda
Saturday 12 April 2014 12:04 Comments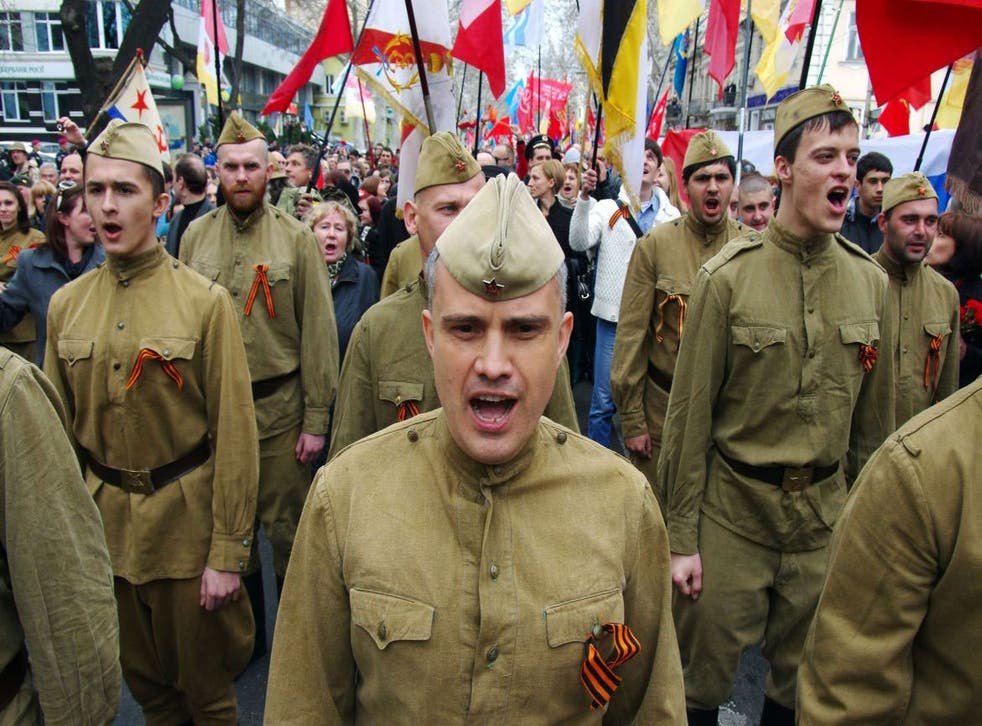 Vladimir Putin has warned Europe that the flow of Russian gas supplies to the continent could be disrupted if Ukraine does not pay the huge amount it owes Russia in unpaid gas bills.
Since pro-Moscow President Viktor Yanukovich was overthrown two months ago and replaced with a pro EU leadership in Ukraine, Russia has nearly doubled the gas price it charges to the country, removing the large subsidies it previously offered.
In a letter to the leaders of 18 European countries, Putin made clear unless a solution could be brokered soon, his patience would run out over Kiev's $2.2 billion gas debt to Russia.
Putin said Russian exporter Gazprom would demand advance payment for gas supplies to Ukraine and "in the event of further violation of the conditions of payment will completely or partially cease gas deliveries".
Clashes in eastern Ukraine

Show all 126
Putin pointed out that this could have knock-on effects for European Union countries, much of whose Russian gas flows in pipelines across Ukraine. "We fully realise that this increases the risk of (Ukraine) siphoning off natural gas passing through Ukraine's territory and heading to European consumers," the letter said.
Prime Minister Dmitry Medvedev said earlier in the week that Ukraine's total debt to Russia, including the gas bill, now stands at $16.6 billion.
The Ukrainian crisis, which triggered Russia's annexation of Crimea, has led to the worst stand off between Russia and the West since the Cold War.
Responding to the gas threat, the US accused Russia of using energy as "as a tool of coercion" against Ukraine. Russia meets 30 percent of Europe's natural gas demand and half of this goes through Ukraine.
State-controlled Gazprom stopped pumping gas to Ukraine during price disputes in the winters of 2005-2006 and 2008-2009, leading to reduced supplies in European countries.
Russian officials say gas dealings with Ukraine are purely commercial and it was forced to move after Kiev failed to meet a deadline on Monday to pay for its March supplies.
In Ukraine, pro-Russian separatists occupying two official buildings in the eastern cities of Donetsk and Luhansk rejected a government offer of an amnesty in exchange for laying down their weapons. They said they only would if Kiev agreed to hold a referendum on the future of the largely Russian-speaking region.
"We are trying to find a compromise, but the demands put forward by the occupiers are unacceptable. Our aim is to avoid the use of force, but that option remains in place," Deputy Interior Minister Serhiy Yarovy told journalists.
Prime Minister Arseny Yatseniuk is to travel to Donetsk on Friday to discuss the crisis.
Nato meanwhile raised Moscow's ire by publishing satellite pictures it said showed a Russian military buildup on the Ukrainian border. Moscow said they had been taken last year.
"The alliance is trying to use the crisis in Ukraine to rally its ranks in the face of an imaginary external threat to Nato members and to strengthen demand for the alliance," the Russian Foreign Ministry said in a statement.
Nato Secretary-General Anders Fogh Rasmussen, visiting Prague, said the threat was real. "Russia is stirring up ethnic tensions in eastern Ukraine and provoking unrest," he told a news conference.
"And Russia is using its military might to dictate that Ukraine should become a federal, neutral state. That is a decision which only Ukraine as a sovereign state can make."
A Pentagon representative confirmed that the destroyer USS Donald Cook arrived in the Black Sea on Thursday for exercises with ships from Romania, Bulgaria and Turkey.
US Treasury Secretary Jack Lew told his Russian counterpart on Thursday the United States stood ready to impose additional sanctions on Russia if it continued to step up tensions, according to a Treasury representative.
Additional reporting by Reuters
Register for free to continue reading
Registration is a free and easy way to support our truly independent journalism
By registering, you will also enjoy limited access to Premium articles, exclusive newsletters, commenting, and virtual events with our leading journalists
Already have an account? sign in
Join our new commenting forum
Join thought-provoking conversations, follow other Independent readers and see their replies