Ukraine crisis: Russia gags Ukrainian helicopter pilot on trial for killing journalists
Nadiya Savchenko denies charges that she directed artillery fire that led to the death of two Russian reporters in east Ukraine and illegally crossing the border into Russia
Nadia Beard
Moscow
Thursday 03 March 2016 23:44 Comments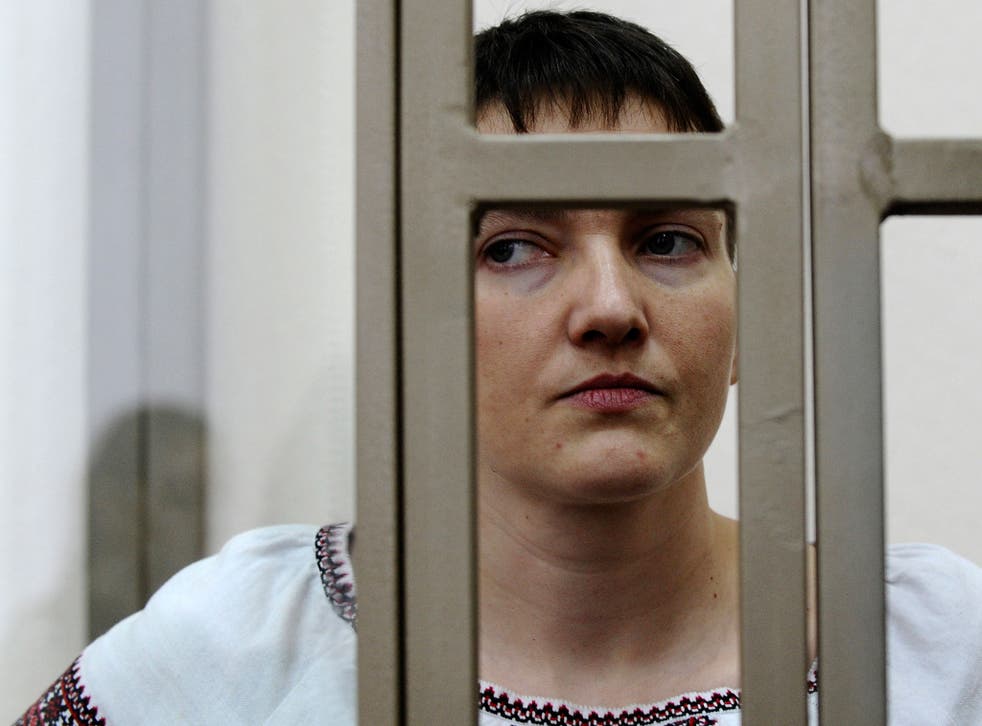 Nadiya Savchenko, the helicopter pilot accused of killing Russian journalists during fierce fighting in Ukraine's restive east, had expected to be allowed to speak one last time at the end of what her lawyers described as a "show trial".
Instead, she was silenced and vowed, immediately, to go on hunger strike after being denied her closing statement at the end of a trial widely viewed as politically motivated. Ms Savchenko appeared furious after her statement was refused, despite 90 minutes remaining of what is expected to be her last full day in court.
In a cramped courtroom in Russia's southern Rostov region, Ms Savchenko announced her protest. "Our first priority now is to convince Nadiya not to go on full hunger strike," one of Ms Savchenko's defence lawyers, Nikolay Polozov, told The Independent. "A person can survive only between three and five days on full hunger strike."
Ms Savchenko, who has been in Russian custody since June 2014, has denied charges that she directed the artillery fire that led to the death of two Russian journalists in east Ukraine. She also denies illegally crossing the border into Russia. Ms Savchenko says she was captured by separatists while fighting, after which she was dragged across the border where she appeared in police custody six days later.
Defiant on the penultimate trial day on Wednesday, Ms Savchenko told the judge not to wait to deliver the 23-year prison sentence prosecutors are seeking, a sentence "that has been decided long ago from the very top", she said.
Dressed in traditional Ukrainian dress, the 34-year-old Ms Savchenko, who is the first female military pilot in Ukraine since the end of the Soviet Union, launched an attack on Russia's state organs for their alleged abuse of power. Ms Savchenko said: "I am an officer of the Ukrainian military forces. I have every right to defend my land – it is my duty. You have no right to judge me."
Mr Polozov said that a guilty verdict had already been decided by Russia's Presidential administration, which has "wielded the case as a tool to serve Russia's political interests". "A political case like this one is not decided by the courts," he said. "Of course, the verdict will be a guilty one, and that decision will have come, without a shadow of a doubt, from the Kremlin."
The prosecution claims that, motivated by "hatred and hostility", Ms Savchenko acted as a spotter while fighting against separatists in east Ukraine's Luhansk region. They say she directed artillery fire from a Ukrainian volunteer battalion to the two journalists who were from Russia's state-owned VGTRK television holding.
But Ms Savchenko's lawyers argue that telephone records obtained during the course of the investigation prove her innocence. The documents, they say, show that Ms Savchenko was captured at 10:30am the day the two journalists were killed, a full hour before the start of the mortar fire which caused their death.
Ms Savchenko has become a symbol of struggle against Russian aggression in Ukraine. In October 2014, Ms Savchenko was elected to the Ukrainian parliament and serves in absentia as a Ukrainian delegate to the Parliamentary Assembly of the Council of Europe.
Register for free to continue reading
Registration is a free and easy way to support our truly independent journalism
By registering, you will also enjoy limited access to Premium articles, exclusive newsletters, commenting, and virtual events with our leading journalists
Already have an account? sign in
Join our new commenting forum
Join thought-provoking conversations, follow other Independent readers and see their replies