Ukraine crisis: Russian officials hit with sanctions as Kiev warns Crimea against referendum
Ukraine's acting President, Oleksander Turchinov, has announced the formation of a new national guard in response to Russian attempts to annex the region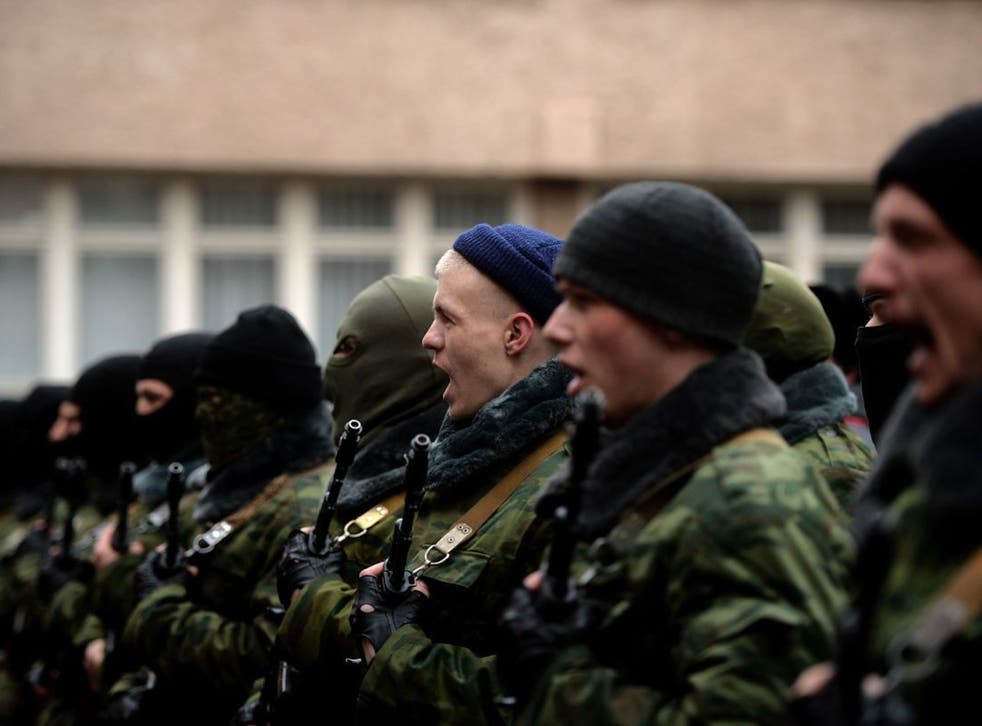 Sanctions against dozens of senior Russian officials are set to come into force by the end of the week, it has emerged.
Foreign and finance ministers from 10 countries met in London today to approve the measures, which will target military figures and civil servants implicated in breaching Ukraine's sovereignty.
British sources indicated sanctions were likely to come into force ahead of Sunday's referendum in Crimea on whether to stay part of Ukraine or become part of the Russian Federation. The Crimean parliament decided that if voters backed joining Russia they would first declare independence.
The UK sources said Western nations were more interested in face-to-face talks between Moscow and Kiev making progress than in the outcome of what it regards as an unconstitutional referendum. They confirmed more sanctions could follow.
In pictures: Ukraine crisis

Show all 12
Representatives of Britain, the United States, Italy, France, Germany, Poland, Switzerland, Japan, Turkey and Canada attended the talks.
Meanwhile, Ukraine's government warned the regional assembly in Crimea that it faces dissolution if it does not call off a referendum on joining Russia.
Kiev set a deadline for today for the semi-autonomous region, which is currently occupied by Russian forces, to cancel the referendum.
The majority-Russian region became even further isolated when all flights to the region's main airport were cancelled, apart from those to and from Moscow. The restrictions on air traffic came after Russian nationalists took over the control tower and the runways at gunpoint.
Speaking today, Oleksander Turchinov, Ukraine's acting President, announced the formation of a new national guard in response to Russian attempts to annex Crimea. He said the Ukrainian military had to be rebuilt "effectively from scratch" after years of mismanagement under former President Viktor Yanukovych's watch.
Striking a defiant tone, Mr Yanukovych said that Crimea is breaking away from Ukraine and blamed opponents who forced him from power for developments on the peninsula.
In a statement to journalists, Mr Yanukovych also said that US financial aid to Ukraine would be illegal, saying that US law does not allow the government to aid "bandits".
Flights from Kiev were also prevented from landing in Crimea's administrative capital, Simferopol. No official explanation was given.
As Simferopol airport, a member of Crimea's pro-Russian 'self-defence' force, his face hidden by a balaclava, said that the move was intended to "stop fascists from the Maidan [Kiev's Independence Square, the centre of the anti-government protests which led to Mr Yanukovych's fall from power] from coming here and disturbing our referendum". Maxim Boronin, another member of the force, said: "It will be reopened as soon as the voting takes place and we have got the security of joining the Russian Federation."
Checkpoints on roads into the Crimean peninsula, manned by self-defence forces as well as, at some places, Russian troops, have stopped those associated with the Ukrainian government, civil rights activists and some members of the media from getting in.
An inspection team from the Organisation for Security and Co-operation in Europe have been repeatedly blocked, with warning shots fired at them on one occasion.
There has also been a steady exodus from Crimea of those who have been subjected to intimidation or who fear that violence will accompany the referendum.
Marina Abrahimova, from the strongly anti-Moscow Tatar community, which has been particularly apprehensive about the future, was waiting with her three children to fly to Kiev when she heard the flight had been turned away.
"We don't want to go by road because we are hearing about money being taken by the Soma Borona at checkpoints. All tickets for trains to Kiev have been [fully booked] for days. I just don't know what to do now," she said.
Join our new commenting forum
Join thought-provoking conversations, follow other Independent readers and see their replies