Ukraine crisis: Separatist leaders elected in Donetsk and Luhansk in 'sham' vote
The Government and West have condemned the rebel-held ballots
Lizzie Dearden
Tuesday 04 November 2014 09:33 Comments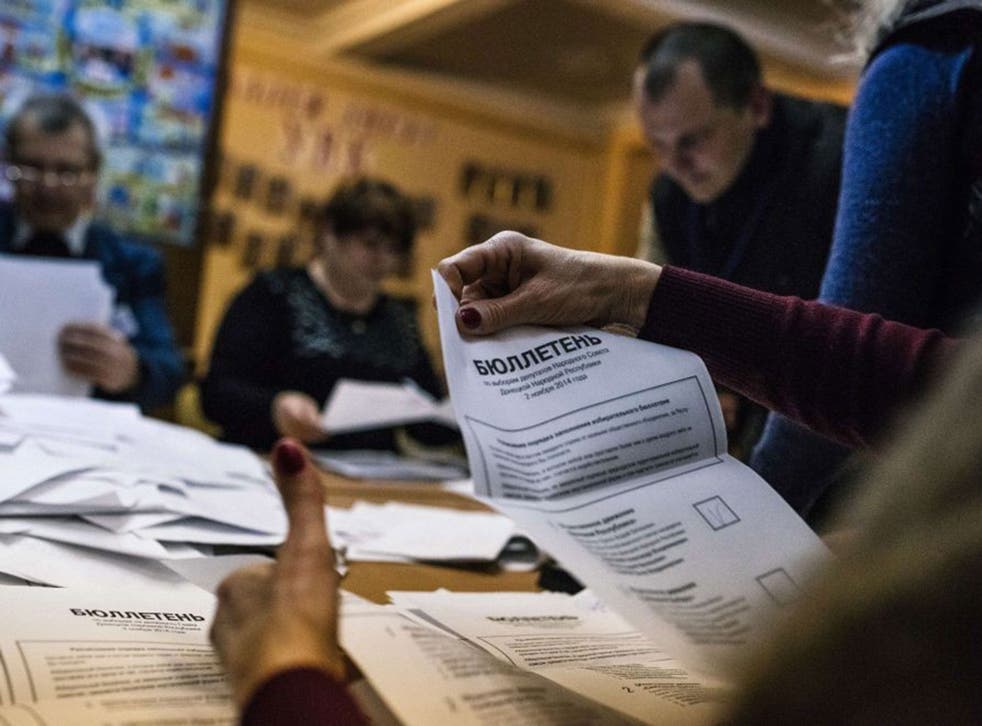 The Ukrainian Government is holding crisis meetings after voters in the regions of Donetsk and Luhansk elected separatist leaders in unrecognised ballots.
President Petro Poroshenko denounced Monday's vote as an "electoral farce" that violated a key element of a peace deal struck with rebels in Minsk in September, which was meant to move towards a solution for the Ukrainian conflict.
The Foreign Office issued a joint statement with the Visegrad Group, representing the Czech Republic, Hungary, Poland and Slovakia, saying it deplored the "illegitimate" elections.
Calling on Russia to refuse to acknowledge the results to contribute to a peaceful solution, it added: "The only elections that have legitimacy in Ukraine are those held under Ukrainian law."
The White House also condemned the "sham" vote, threatening financial penalties on Russia.
Under the Minsk Protocol, Kiev claims only elections for local officials were permitted and not those aimed to create a separate state or form a union with Russia.
President Poroshenko claims Vladimir Putin's Government encouraged the ballot, which could create a new cold war in the post-Soviet block and threaten the further loss of territory by Ukraine after the Crimean peninsula was annexed by Russia.
In retaliation, he threatened to scrap a law that would have given increased autonomy to rebel-controlled areas of eastern Ukraine that saw months of intense fighting earlier this year.
The law would also have offered separatist militants in the Donbass region immunity from prosecution.
Alexander Zakharchenko, a 38-year-old former mining electrician, reportedly won the election as head of the self-titled Donetsk People's Republic, which was proclaimed by armed rebels in April, with 79 per cent of the vote.
In a similar vote in Luhansk, Igor Plotnisky won more than 63 per cent of the vote, according to a rebel representative.
A Russian deputy foreign minister, Grigory Karasin, made no mention of formal recognition but said the newly elected leadership in eastern Ukraine had a mandate to negotiate with Kiev.
Ukrainian leaders have so far refused to hold direct talks with the separatists, calling them "terrorists" and "bandits".
The elections were the latest development in the crisis that started with the ousting of Ukraine's Moscow-backed leader, Viktor Yanukovich, after months of protests in February.
Ukraine crisis: A timeline of the conflict

Show all 23
Russia denounced the overthrow as a coup by a "fascist junta" and allegedly backed separatist rebellions that sprang up in Russian-speaking parts of Ukraine.
Government forces made large losses in the subsequent battles, during which Malaysia Airlines flight MH17 was shot down. Nato and Ukraine offered alleged proof of Russian involvement arming rebels with heavy weaponry but it denied sending troops across the border.
More than 4,000 people have been killed in the conflict, which has led to US and European Union sanctions against Russia.
Additional reporting by Reuters
Register for free to continue reading
Registration is a free and easy way to support our truly independent journalism
By registering, you will also enjoy limited access to Premium articles, exclusive newsletters, commenting, and virtual events with our leading journalists
Already have an account? sign in
Join our new commenting forum
Join thought-provoking conversations, follow other Independent readers and see their replies