Ukraine crisis: Trapped forces are left with an impossible dilemma in Crimea as Russian endgame approaches
In a state no longer their own and with 'Russian friends' lost, servicemen are fearful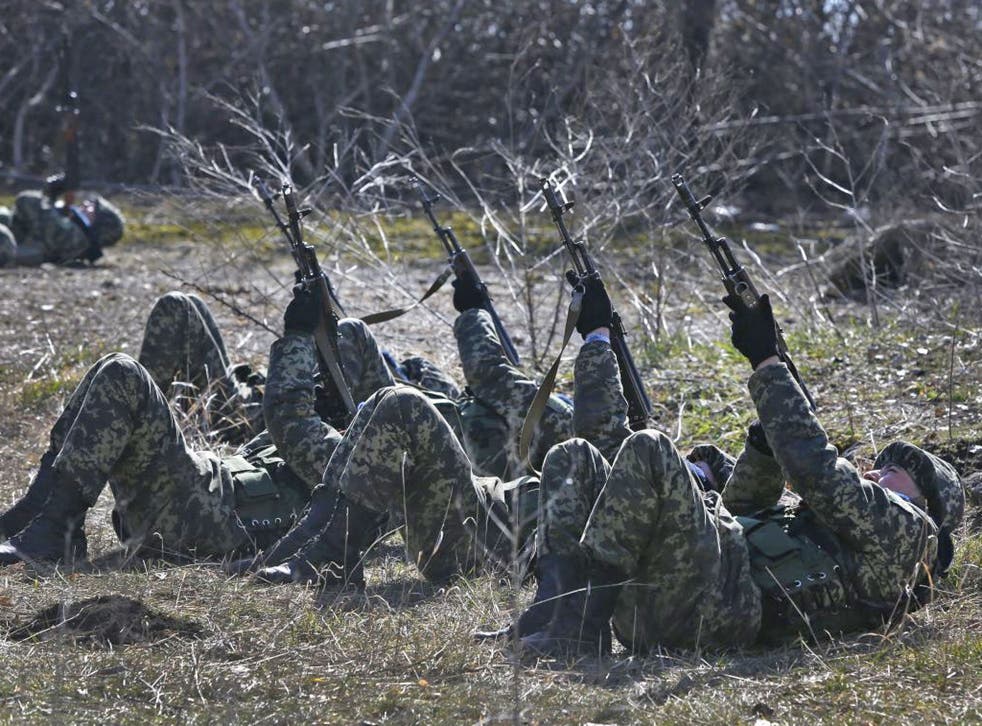 "My grandfather is buried in the military cemetery here, so is my father, and that is where I am going to end up, I don't think I will be leaving Crimea, this is where I was born and this is where I will die. I feel more and more that I will be killed here".
It has been three long and hard weeks for Major Vladislav Korgic and his fellow Ukrainians; days of threats, of intimidation, insults and ultimatum. Shots had been fired, attempts made to break down the main gate. Now, the final act of the drama of Belbek airbase is about to be played out as the Russians seek to extinguish the last remaining embers of resistance.
"We have sworn an oath to the state of Ukraine and we must abide by that and bear the continuous pressure which has been put on us. We have to be constantly ready for attack. Our men are not combat troops, we specialise in aviation. The Russians are here with infantry, armour, spetznatz [special forces]", said Major Korgic, a decorated fighter pilot with 17 years' service.
"But this is also a regiment with a proud history, it was formed during the war, we provided the security for the Yalta conference. If necessary, we have to fight for country, fight for our families. The politicians should have brought this to a negotiated end: the politicians have failed us."
The force here is likely to be the last men standing as base after base continues to fall. Yesterday was the deadline set by for the remaining Ukrainian troops: they would have to go under the Kremlin's command or return to their "homeland", the separatist government in Crimea had warned.
Colonel Yuli Mamchur was having none of that. This was the man who had led his men, unarmed, undaunted by shots being fired over their heads, to demand from Russian troops, the return of facilities which had been seized. He was not fazed when 10 Russian armoured personnel carriers drew up in the morning, followed by delegation of a Russian officers, officials and members of the recently raised Self Defence Force' They had a demand for Colonel Mamchur: the parliament in Moscow had passed the motion annexing Crimea he was told, the garrison must disarm and depart.
Crimea referendum and independence

Show all 14
"One of them said that we were here illegally, they said we were breaking the laws of the United Nations, can you imagine? People like these talking about international law?" laughed the Colonel. " I told them that the Moscow parliament wasn't my parliament. I would wait for orders from my government in Kiev."
But there were no orders by the end of the day, as had been the case week after week, a source of bitter complaint from Colonel Mamchur and other senior officers. At one point this week, after a military installation was stormed in the state capital Simferpol, the acting prime minister Arseniy Yatsenuyk had declared that Ukrainian forces had been authorised to open fire. 24 hours later his government announced that they would be pulled out, but no plan of withdrawal was presented.
Standing at the airbase on a beautiful day of blue skies and gentle wind, Colonel Mamchur insisted that all his troops had remained at their post. But that was not the case. Some were leaving, clutching bags and plastic sacks; in fact parts of the facility were being stripped, two men, carrying away a washing machine, stopped for a breather. "No point in leaving it for the Samoobrona [Self Defence Force] to loot; we are moving it for safekeeping", said one of them jovially. How much longer will they stick it out? "The soldier shook his head, no longer smiling: "We don't know, the commander will decide, it's been hard."
That is not just for those serving, but their families as well. " Look over there, my apartment, 200 meters away" Major Korgic pointed at block of flat beyond the perimeter wall: "I have my wife there with our daughter; she is just seven years old. I have spent just two of the last 20 days with them. It pains me to know what they are going through. We have to move our daughter from school, because of things which are being said about me. My wife has to put up with daily abuse, being called things like 'Bandera's Bitch….'".
Stepan Bandera was the nationalist leader from western Ukraine who proclaimed independence from the Soviet Union during the Second World War, thinking he had found a powerful ally in Hitler. In the event he fell out with the Germans who arrested him and his cohort and sent them to concentration camps. The hard right groups who took part in the protests in Kiev's Maidan, overthrowing Viktor Yanukovych, had claimed Bandera as one of their inspirations.
"These same people used to cheer us as their military on parades not so long ago, now they call us traitors. What's happening is tearing families apart. I have two sisters, and also their husbands, in the Russian Navy, they know what is going on here, you can imagine just how worried they are, it is a terrible, terrible situation", Major Korgic said, stopping for moment and staring at the ground.
"I don't know what I am going to do if I survive this. My father is Ukrainian, my mother is Russian. I was born here in Crimea, my wife was born here. What are we going to do in mainland Ukraine? But will we be accepted if we stay? How will they treat us? I have lost Russian friends who contacted me after the referendum to ' congratulate' on us becoming a part of Russia. They couldn't understand why I said 'no, I remain a Ukrainian.'"
Major Korgic had served as an observer in Iraq, Sudan and Sierra Leone. "Please don't say I was with Western missions, it was international missions. I have my own views about what has been done by Western missions in Iraq, in places like Libya," he wanted to stress. "Then, on the other side you have Russia. They now see enemies everywhere, it is them against the world, paranoid. We are the ones in the middle, paying the price."
Join our new commenting forum
Join thought-provoking conversations, follow other Independent readers and see their replies