Ukraine troops put on combat alert as Russia ramps up border tensions
President Petro Poroshenko has rejected Moscow's claims that several groups of Ukrainian 'saboteurs' have carried out attacks in Crimea during which two Russians died as 'fantasy' and 'a provocation'
Natalia Vasilyeva
Moscow
Thursday 11 August 2016 20:06 Comments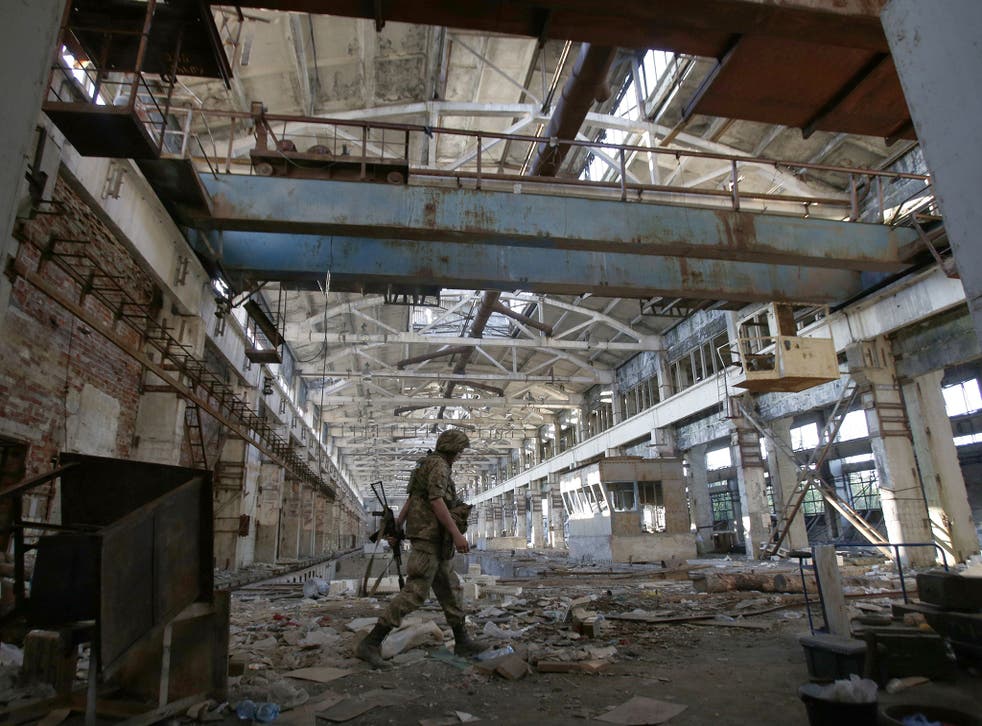 Ukraine has put its troops on combat alert along the country's de facto borders with Crimea and separatist rebels in the east amid an escalating war of words with Russia over Crimea. Ukrainian President Petro Poroshenko issued the order after Moscow accused his country of sending several groups of "saboteurs" to carry out attacks in Crimea and said that two Russians died while fending off their incursions. Ukraine has denied the claim.
Russia annexed Crimea from Ukraine in March 2014 following a hastily called referendum, and a conflict between Russia-backed separatists and Ukrainian forces flared up in eastern Ukraine weeks later. The conflict in the east has killed more than 9,500 people and is still raging.
Russia's domestic security agency known by its Russian acronym FSB said in Wednesday's statement that one of its officers was killed in a gun battle with a group of "saboteurs" from Ukraine over the weekend. It said the intruders carried an arsenal of bombs, ammunition and mines.
The agency also said that two more groups tried to force their way into Crimea early Monday, supported by Ukrainian artillery and armour. One Russian army soldier died in that clash, the FSB said.
Mr Poroshenko rejected the claims as "fantasy" and "a provocation".
Russian President Vladimir Putin denounced what he described as Ukraine's "stupid and criminal" action and called a session of his Security Council to discuss boosting security in Crimea.
He also said on Wednesday that it makes no sense to discuss the implementation of the Minsk peace deal for eastern Ukraine with leaders of Ukraine, France and Germany at the sidelines of the Group of 20 meeting in China next month as had been planned earlier.
The Russian Foreign Ministry followed up by warning that if Mr Poroshenko had been involved in "criminal decisions to stage armed provocations" in Crimea, "he could claim the role of the gravedigger of the Minsk process".
"And if he had been unaware of these decisions, it's even worse," it said.
Mr Poroshenko, in his turn, ordered Ukrainian troops to go on combat alert not only on the de facto border with Crimea but also along the line of contact in eastern Ukraine, where the warring sides have continued to routinely exchange fire despite a 2015 truce. He also ordered Ukrainian diplomats to organise his conversations with the US and European leaders and Mr Putin.
The strong language used by Mr Putin and other Russian officials, particularly Mr Putin's refusal to discuss the implementation of the peace accord with Mr Poroshenko, has raised fears of a possible escalation of hostilities.
While local media and social media users have largely corroborated reports of a shootout at the Crimean border, independent accounts of the second border incident reported by the FSB were missing.
"A pretence of an anti-terrorism operation staged by Russia is more plausible than an actual Ukrainian attack on Crimea," commentator Oleg Kashin wrote on Slon.ru. "Russia deliberately pushes for an escalation and ignores the opportunities it has to preserve the status quo."
As soon as Russia forced the last Ukrainian troops based in Crimea to leave in 2014, Moscow set up fortified border crossings and sent new weapons to the peninsula – from cutting-edge fighter jets to the newest missile systems.
Despite the military buildup, hardly any disturbances or let alone cross-border shootings have been reported in Crimea since the annexation.
The 2015 peace agreement for eastern Ukraine signed in Minsk has helped reduce fighting in eastern Ukraine, but peaceful settlement has floundered. The deal obliged Ukraine to grant broad autonomy to the rebel regions before it can fully regain control of the border with Russia, but those provisions haven't been implemented.
In pictures: Crisis in Ukraine

Show all 11
Independent Moscow-based military analyst Pavel Felgenhauer said that if the Kremlin wanted to make gains or solidify its positions in Ukraine, now would be a good moment because the world's attention is elsewhere.
"The temptation is high to try and use this occasion to solve the Ukrainian problem once and for all," he said. "While America is right now not very operational because it's in a midst of a divisive election campaign, Europe is also divided – on Brexit, on refugees, on sanctions against Russia."
Putin menacingly referred to the Ukrainian leadership as "the people who seized power." Moscow refused to recognise Ukraine's interim authorities after Ukraine's pro-Moscow President, Viktor Yanukovych, was driving from power by massive protests, but later recognised Poroshenko.
"The main issue is what is going to happen to the Minsk talks – whether Russia will stop them or start asking for more concessions," respected daily Vedomosti said in an editorial. "In his rhetoric, Putin has returned to 2014, when he did not consider the Ukrainian government legitimate."
AP

Register for free to continue reading
Registration is a free and easy way to support our truly independent journalism
By registering, you will also enjoy limited access to Premium articles, exclusive newsletters, commenting, and virtual events with our leading journalists
Already have an account? sign in
Join our new commenting forum
Join thought-provoking conversations, follow other Independent readers and see their replies