Ukraine crisis: Pro-Russians seize back Mariupol building as both sides begin burying their dead
Heavy fighting continued overnight as government forces advanced on a rebel-held city hall building
Heather Saul
Wednesday 07 May 2014 08:42 Comments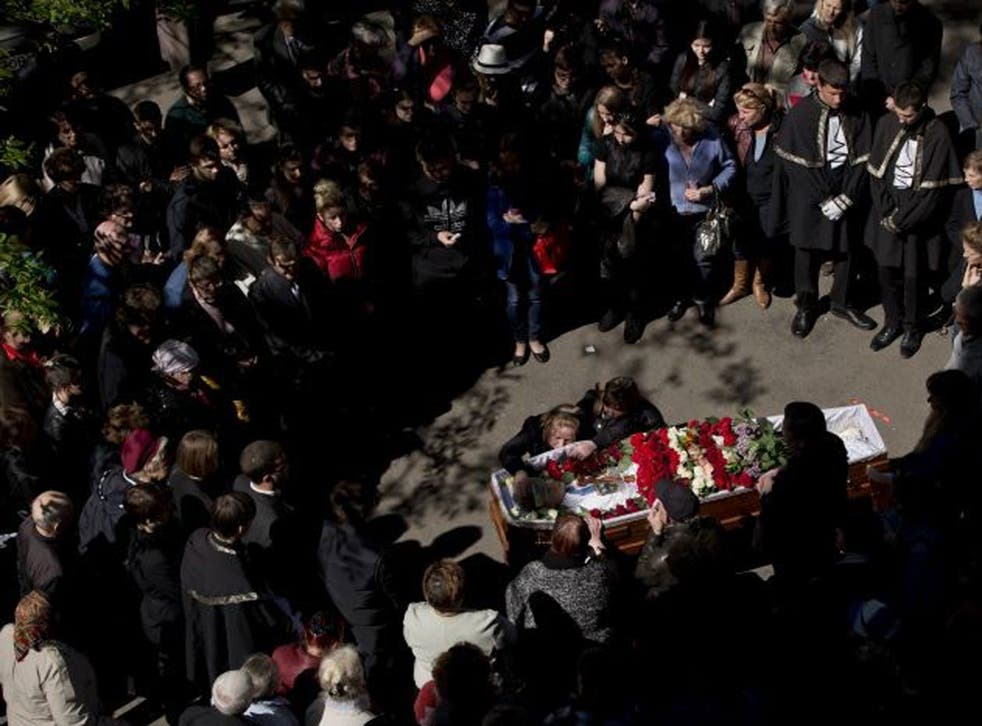 Both sides embroiled in the escalating crisis in Ukraine began burying their dead against a backdrop of more violence, as clashes with pro-Russian militants continued into the night and the country edged closer towards war.
In Kramatorsk, a separatist-held town in the east that saw an advance by Ukrainian troops at the weekend, seven priests led mourners in prayer for a woman killed by large calibre bullets. In the south-western port city of Odessa, a small crowd of about 50 people gathered to bury a pro-Ukrainian activist.
Overnight, government forces briefly retook a city hall in the eastern port of Mariupol, Ukrainian media announced on Wednesday, after heavy fighting with militants.
Pro-Russian separatists have since seized back the building after government forces left. Russian and "Donetsk Peoples' Republic" flags now fly over Mariupol's city hall, the BBC reported.
This morning, Ukraine's Channel 5 television said the National Guard had seized the building, forcing rebels into the streets, where they blocked the main thoroughfare, burning tyres and a trolleybus.
Pro-Moscow militants told Russian news agencies that one of their checkpoints on the outskirts of the city was attacked late on Tuesday by Ukrainian forces or by pro-Kiev militia and they were preparing to repel further assaults.
Clashes in eastern Ukraine

Show all 126
Local website 0629.com.ua posted images of tyres burning outside the city council building and thick smoke pouring over the town centre. Some streets were barricaded by buses.
A spokesman for pro-Moscow militants told Russia's Itar-Tass news agency that one person was killed and three wounded in an attack on a checkpoint.
The clashes come after Odessa became the centre of violent street battles on Sunday, leaving 40 dead, when petrol bombs led to a fire breaking out in a building where pro-Russian activists had barricaded themselves inside.
The bloodshed led German Foreign Minister Frank-Walter Steinmeier to warn the country is on the brink of civil war. "The bloody pictures from Odessa have shown us that we are just a few steps away from a military confrontation," he said in an interview published in four European newspapers.
On Tuesday, Interior Minister Arsen Avakov claimed more than 30 separatists had been killed in fighting around Slavyansk, but this figure could not be confirmed. The rebels, who triggered fighting in the area on Monday by ambushing government troops, said four of their number had been killed.
The next few days could prove decisive when separatists in the eastern Donbass region hold a referendum on secession on 11 May, similar to the one that preceded Russia's annexation of Crimea.
Additional reporting by agencies
Register for free to continue reading
Registration is a free and easy way to support our truly independent journalism
By registering, you will also enjoy limited access to Premium articles, exclusive newsletters, commenting, and virtual events with our leading journalists
Already have an account? sign in
Join our new commenting forum
Join thought-provoking conversations, follow other Independent readers and see their replies