Ukraine crisis: Vladimir Putin says war with Russia would represent 'apocalyptic scenario' for eastern Europe
Russian President says he 'hopes this will never happen' – but EU official says he's wrong and the conflict has already begun
Adam Withnall
Tuesday 24 February 2015 14:10 Comments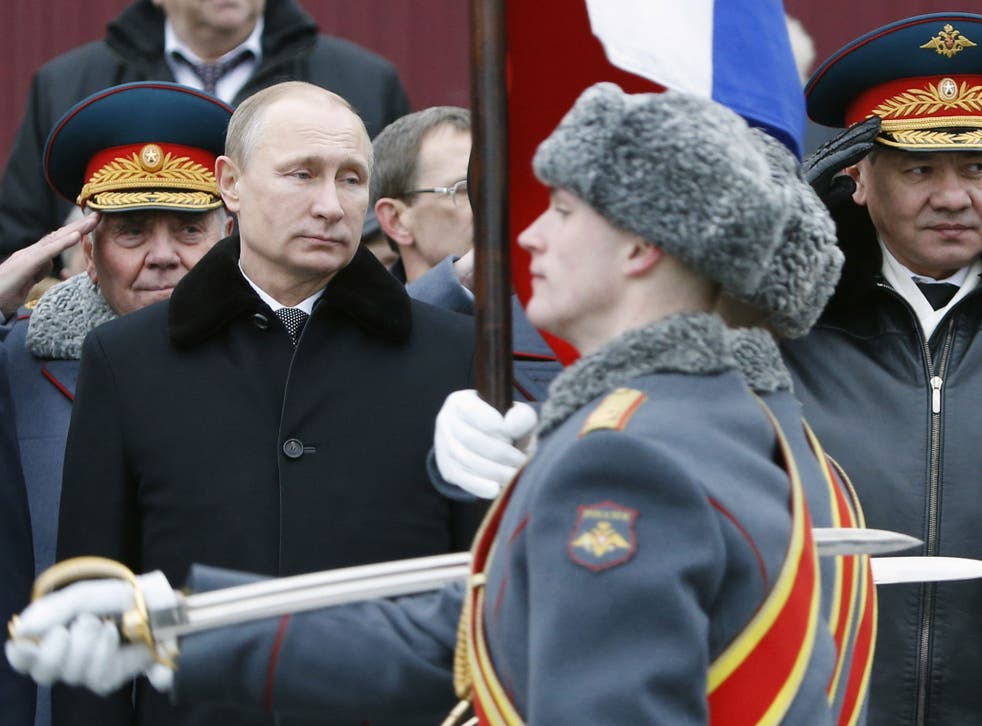 The Russian President Vladimir Putin has described war with Ukraine as an "apocalyptic scenario" in his first comments since the signing of a shaky peace agreement in Minsk.
With a ceasefire struggling to take hold and neither the Ukrainian government nor rebels withdrawing heavy weapons from the frontline as promised, Mr Putin gave a confident interview on Russian TV.
Asked if the situation in eastern Ukraine and renewed calls for Russia to return the annexed territory of Crimea meant we could "wake up one day to discover a war has started", Mr Putin said: "I think that such an apocalyptic scenario is unlikely and I hope this will never happen."
Foreign ministers from Russia and Ukraine are to meet with those from France and Germany in Paris on Tuesday to discuss how the deal set out on 12 February is progressing.
Mr Putin said that its implementation was the right path to let eastern Ukraine "gradually stabilise".
"Europe is just as interested in that as Russia," he said. "No one wants conflict on the edge of Europe, especially armed conflict."
The EU's foreign policy chief has responded to Mr Putin's comments, saying he is wrong because war is already the state of affairs in the country.
Tensions between Russia and the Western world

Show all 8
She told BBC Radio 4's Today programme: "We have to make it succeed. This is the only agreement that was signed by the parties, it has been supported by the UN Security Council resolution and it is the only way we have to make peace possible in Ukraine.
"The country desperately needs a ceasefire, there are thousands of people dying, millions of people displaced. We need to bring peace in that part of Ukraine.
"Putin is wrong when he says that it is unlikely to have a conflict there, conflict there is already going on, we have to find the ways of stopping it and we have to insist on the need to do that."
Asked how the Minsk agreement was holding, Ms Mogherini said: "There is a lot of fighting still going on, there are some other places where the ceasefire is working.
"The agreement is 10 days old, we have to insist to make it work. This is what the Ukrainians are asking us, this is what our duty is as Europeans."
Register for free to continue reading
Registration is a free and easy way to support our truly independent journalism
By registering, you will also enjoy limited access to Premium articles, exclusive newsletters, commenting, and virtual events with our leading journalists
Already have an account? sign in
Join our new commenting forum
Join thought-provoking conversations, follow other Independent readers and see their replies