Ukraine crisis: West tells Russia to halt the bloodshed or face further sanctions
After Ukrainian separatists shoot down a helicopter, EU leaders will assess whether Russia has done enough to stop the flow of insurgents and weapons into the east of the country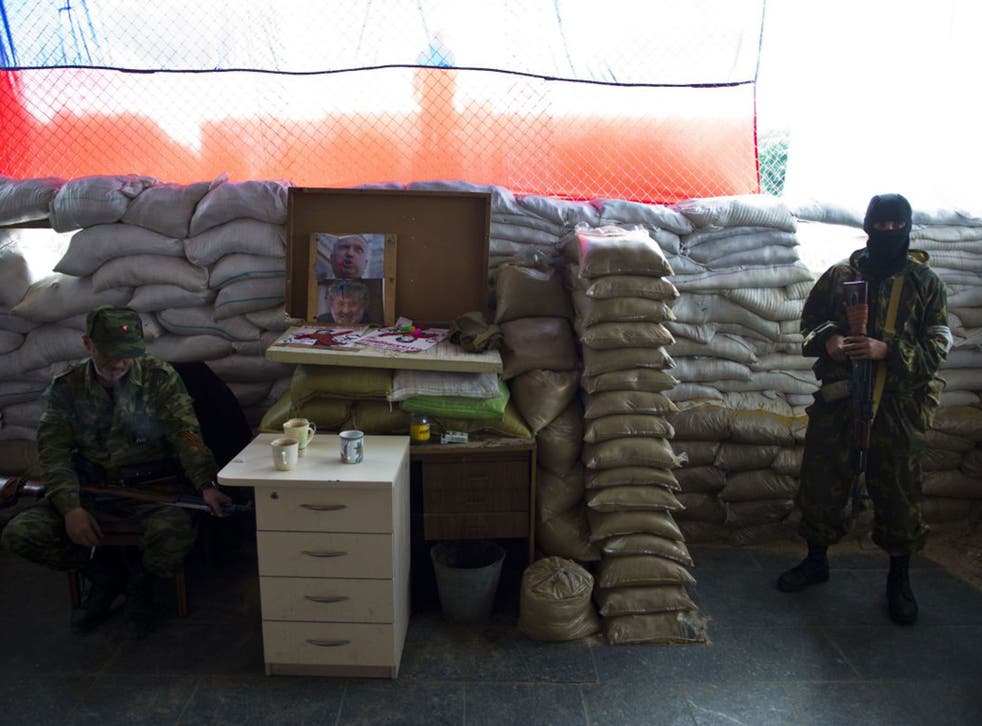 The government in Kiev is struggling to salvage a peace plan for eastern Ukraine after pro-Russian separatists shot down a helicopter, with Western leaders urging Moscow to intervene now to stop the bloodshed or face the toughest sanctions yet.
European Union leaders are gathering in Belgium and will over a two-day summit be assessing whether Russia has done enough to stop the flow of insurgents and weapons into eastern Ukraine, where separatists pledging allegiance to Moscow have taken over government buildings.
In a move probably aimed at stalling further sanctions, the Russian parliament has granted President Vladimir Putin's request and revoked an order authorising military action in Ukraine should ethnic Russians come under threat.
While the Ukrainian Foreign Minister, Pavlo Klimkin, called the move a "positive step" and US officials said they may delay a decision on sanctions, there was also scepticism that it would be followed by any concrete measures to end the insurgency.
The German Chancellor, Angela Merkel, said that rescinding the order was an "important psychological point", but urged the Kremlin to speed up its intervention. "Diplomatic solutions are always preferable but if nothing else works, sanctions could return to the daily agenda, and this time at the third level," she told parliament, referring to sanctions targeting key economic sectors.
Ukraine crisis aftermath: Slavyansk residents show the scale of damage caused by weeks of unrest

Show all 10
Britain's Foreign Secretary, William Hague, said there had been similar assurances from Russia when Ukraine's new President, Petro Poroshenko, outlined his peace plan and declared a week-long ceasefire last Friday in a fresh effort to stem a conflict which has claimed at least 400 lives.
"While there have been welcome words from Russia, we have not seen yet the actions to go with that," Mr Hague said. "We urge Russia to take the necessary actions to stop the flow of arms across the border, to stop supporting illegally armed separatist groups in eastern Ukraine, because in the absence of actions by Russia the case for stronger sanctions from European Union nations will of course become stronger."
The downing of the military helicopter shattered a truce which separatist groups had agreed to just 24 hours earlier. Clashes have now resumed, and Mr Poroshenko threatened to end the ceasefire early. His Foreign Minister however said every effort would be made to salvage the peace plan.
The ceasefire is due to end tomorrow. The Ukrainian government had then hoped to move on to the next stages of the plan, which include offering an amnesty for fighters who lay down their weapons, safe passage for Russian fighters who want to return home, and a decentralisation of political powers.
It is unclear whether those steps will go ahead on schedule given the resurgence of violence, and Mr Putin used a conference call with the leaders of France, Germany and Ukraine to urge Mr Poroshenko to extend the ceasefire to allow more time for negotiations.
Tomorrow is also a crucial day for Ukraine's political future, with President Poroshenko due finally to sign the association agreement which sparked the crisis in Ukraine and sent relations between Russia and the West plummeting to levels reminiscent of the Cold War.
Last November, Mr Poroshenko's predecessor, Viktor Yanukovych, backed out of signing the agreement with the EU. The pact promises closer trade and political ties between the nations and is seen as a first step on the road to eventual EU membership. Wary of losing influence in the former Soviet state of 45 million people, Mr Putin used a combination of carrot and stick to pressurise Mr Yanukovych into snubbing the EU and instead forging closer trade ties with Russia, angering many pro-EU Ukrainians in the west.
The protest movement eventually toppled Mr Yanukovych and gave Russia a pretext for annexing Crimea, as it claimed ethnic Russians were in danger. Since then unrest has spread across cities in the east, although the Kremlin denies further involvement.
The EU has faced criticism over its handling of the crisis and initial disregard for Russian concerns. The European Commission President, Jose Manuel Barroso, was at pains to stress that the association agreements – which will also be signed with Georgia and Moldova tomorrow – are "not against anyone".
Mr Barroso added that the European Commission had prepared a package of sanctions on sectors of the Russian economy for EU leaders to consider. The US and EU have imposed visa bans and assets freezes on dozens of Ukrainian and Russian officials, but they have so far shied away from targeting fields like energy, arms and financial services, which could also have an effect in the EU.
Washington has at times appeared frustrated by the EU's self-interest and was preparing to move to a deeper level of sanctions next week. Today, White House officials said they may now delay following the Russian parliament's move, but the State Department spokeswoman Marie Harf conceded that the Kremlin's policy appeared to be "two steps forward, one step back".
The bullish stance was left to the Nato leader Anders Fogh Rasmussen, who insisted that he has seen "no signs" that Russia was moving to de-escalate tensions. "This is a real opportunity to de-escalate the crisis caused by Russia's aggression, and Russia must step back in line with its international obligations," Mr Rasmussen said after a meeting in Brussels of Nato foreign ministers.
Join our new commenting forum
Join thought-provoking conversations, follow other Independent readers and see their replies