Ukraine latest: Russian troops fire warning shots as Putin calls troops back to bases
Warning shots came after the 3am deadline Russia allegedly gave Ukrainian forces to leave expired without incident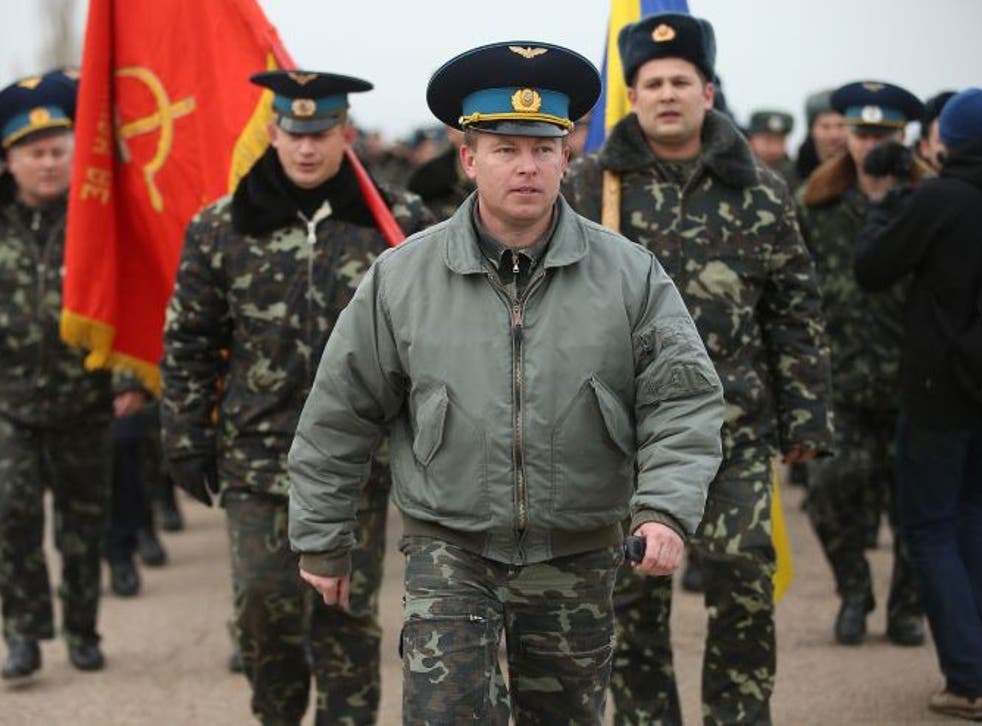 The Russian President Vladimir Putin has accused the West of driving Ukraine into "anarchy" and warned Russia will reserve all rights to protect citizens in the eastern part of the country.
Mr Putin described the ousting of the Ukrainian president Viktor Yanukovych as "an anti-constitutional overthrow and armed seizure of power" in his first press conference since the crisis began.
Meanwhile, the Ukrainian border guard service said Russian navy ships have blocked off the Kerch Strait which separates the Crimea region and Russi, according to Reuters.
The border guards have said that Russian servicemen are in control of the Crimean side of the narrow channel and that Russian armoured vehicles have been sighted on the Russian side.
Earlier today, the Russian president accused the West of using Mr Yanukovych's decision in November to ditch a pact with the EU in favour of closer ties with Russia to encourage the months of protests that drove him from power.
During the conference, Mr Putin said there is currently no need to send Russian troops into Ukraine yet, but insisted: "What we are seeing in Ukraine is not an expression of democracy".
Shortly after he spoke, US officials announced it would seek approval for an aid package to Ukraine of $1 billion (£600 million) to replace lost energy subsidies as the Secretary of State John Kerry arrived in Kiev. It also announced training for financial and election institutions and anti-corruption efforts.
Mr Kerry paid tribute to victims of last months violence by laying flowers in Independence Square, before meeting with interim President Olexander Turchynov.
In a speech in the capital, Mr Kerry condemned what he called "Russia's act of aggression in Ukraine" and accused the country of working hard to create a pretext to invade further in Ukraine.
He added that the US would prefer to see tensions with Russia de-escalate and managed through the structures of international institutions. He stressed diplomacy and respect for sovereignty, not unilateral force, was the route to resolving the dispute.
In response to Mr Kerry's comments and earlier discussions by US lawmakers around imposing sanctions on Russia, Foreign Ministry spokesman Alexander Lukashevich said in a statement on Tuesday:"As always in such situations, provoked by rash and irresponsible actions by Washington, we stress: this is not our choice."
"We have frequently explained to the Americans why unilateral sanctions do not fit the standards of civilised relations between states," Lukashevich said, but did not describe the details of the "actions".
This afternoon both British and Labour MPs said the best way to de-escalate the situation would be to supporting a potential referendum on whether Crimeans want to belong to Russia or Ukraine. The consensus came as Tory Sir Edward Leigh warned Britain could be accused of double standards over Crimea as it violated Serbian territory to protect Kosovans who wanted to break away.
This morning warning shots were fired into the air by Russian soldiers attempting to ward off Ukrainian servicemen marching on an airbase base in Crimea.
The warning shots came after the 3am deadline Russia allegedly gave Ukrainian forces as the time they must leave Crimea by or face a military attack expired without incident.
Mr Putin said he had ordered his troops on military exercises near the border between western Russia and Ukraine to return to bases after completing all of their tasks.
The Russian Foreign minister Sergei Lavrov also defended Russia's position today, and said he hoped "our partners will understand our position" and that "nobody has a right to be angry with Russia".
"The European Union and the United States did not fulfil their obligations in Ukraine," he said.
Moscow has now agreed to attend a special NATO meeting on Wednesday to discuss the developing crisis.
The US has now announced it will suspend all military co-operations with Moscow, over its intervention in Ukraine. Pentagon spokesman Rear Admiral John Kirby has said all military exercises, port visits, bilateral talks and planning conferences between Russia and the US are being put on hold
The news came as the Ukrainian parliament ratified an agreement to receive €610million (£500million) in loans. The loan was agreed in 2013 but never ratified under Mr Yanukovych.
Western leaders point to the huge hits Russia's natural gas, uranium and coal industries would take if sanctions cut off exports to the EU, its largest customer.
But Western governments have acknowledged that few options exist beyond economic and diplomatic penalties, and critics said efforts by the Obama administration are too little, and too late, after years of trying to foster friendlier relations with Russia.
President Barack Obama yesterday described the Russian advance as a violation of international law. He called on Congress to approve an aid package for the new Ukrainian government and repeated earlier threats that the US will take steps to hobble Russia's economy and isolate it diplomatically if Mr Putin does not back down.
"The strong condemnation that has proceeded from countries around the world indicates the degree to which Russia is on the wrong side of history," Obama said.
The White House said Obama met for more than two hours last night with the National Security Council, including Mr Kerry and Defence Secretary Chuck Hagel, to discuss what steps the United States can take with international partners to prevent the situation from escalating further.
The Pentagon announced late on Monday it was suspending military-to-military engagements with Russia, including exercises, bilateral meetings, port visits and conferences. A senior US official said the US also would not move forward with meetings designed to deepen the trade relationship with Russia.
Speaking at a UN session in Geneva, Russian Foreign Minister Sergey Lavrov defended the deployment of Russian troops in Ukraine as a necessary protection for his country's citizens living there.
"Those who are trying to interpret the situation as a sort of aggression and threatening us with sanctions and boycotts, these are the same partners who have been consistently and vigorously encouraging the political powers close to them to declare ultimatums and renounce dialogue," Mr Lavrov said.
"This is a question of defending our citizens and compatriots, ensuring human rights, especially the right to life," he said.
Lavrov said Ukraine should return to a 21 February agreement that sought to end months of unrest in Kiev by addressing an array of issues at the heart of the dispute between protesters and the government.
US officials say the 21 February agreement could form the "basis" for a political resolution to the crisis, but not in its present form.
Additional reporting by the Associated Press
Join our new commenting forum
Join thought-provoking conversations, follow other Independent readers and see their replies