Russia maintains silence on Ukraine 'coup' as leader of separatist Luhansk region 'flees to Moscow'
Luhansk's strongman director Igor Plotnitsky is officially backed by the Kremlin – but elements of Russia's security services appear to support his rival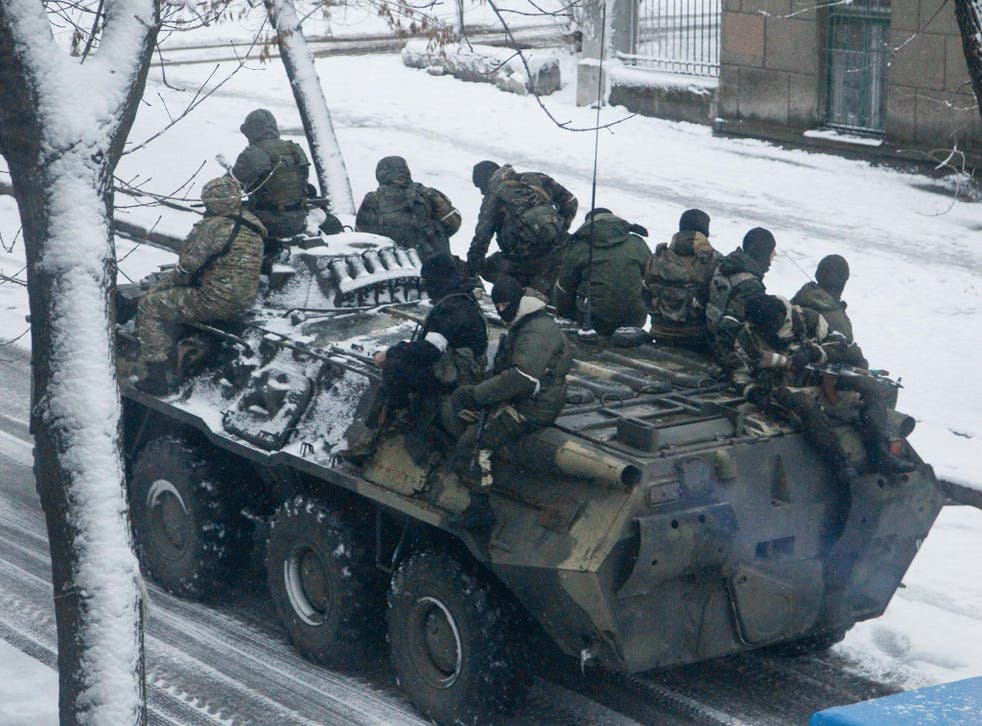 You would always know when you were entering Luhansk People's Republic, the Russian-backed separatist statelet in east Ukraine. It was the point that the sunflower fields turned into an apocalyptic mass of metal. Rusting factories the size of planets – some working, some not – marked the entry point into a new, strange world. It was the frontier of wild and gruesome lands. Few journalists ever made it past.
Three and a half years into the conflict, Luhansk's reputation as a wild outpost remains as true as ever. For the last three days, it has been embroiled in one of its most bizarre chapters. The story began on Monday, when the republic's official leader, strongman Igor Plotnitsky, sacked his interior minister, Igor Kornet. By Tuesday, Mr Kornet had answered by locking down the city centre with little green men, who had barricaded other green men, including his boss, in government buildings. By today, Thursday, it appeared that Mr Kornet had been at least partially successful in his coup attempt.
According to several sources, at around lunchtime, Mr Plotnitsky fled to Moscow for "urgent talks". Accompanying him in the convoy were key members of his administration. Troops supporting Mr Kornet began to move away from the strategic positions they had taken around the city, and the situation in town began to normalise somewhat.
The crisis not only highlighted the dividing lines between the region's infamous leader and his increasingly autonomous subordinate. It also demonstrated inconsistencies in Moscow's approach to the separatist enclave. According to several of The Independent's sources, Mr Kornet had enjoyed the support of part of Russia's security services – while the Kremlin, at least officially, supported Mr Plotnitsky.
Initially, it was a stand-off between interior ministry troops, and military police loyal to Mr Plotnitsky. Later, however, Mr Kornet was able to count on the support of armed groups from the neighbouring Donetsk People's Republic, who arrived in town to lend a hand. There was talk among more excitable elements of a long-touted union between the Donetsk and Luhansk "republics".
On Wednesday, Donetsk's "Ministry of State Security" declared that it teamed up with Mr Kornet's Interior Ministry to conduct a "counterespionage and anti-diversionary operation" against "Ukrainian units".
Mr Kornet elaborated the tale in what appeared to be a victory speech in a front of hall of police chiefs, who listened in with stony faces. Together, they had saved the republic, said Mr Kornet: "Ukrainian special forces were ready to take over Luhansk. The People's Republic nearly became Ukraine again."
Mr Kornet's press service said that work was ongoing to "document" the crimes of the those supposedly arrested in the course of the murky operation.
They would later release a video "confession" of a Ukrainian officer called Sergei Kuznetsov. Looking down at a script, a nervous, gaunt Mr Kuznetsov says that he had "arrived in Luhansk to conduct espionage and diversionary activities".
But The Independent has managed to verify that Mr Kuznetsov is, in fact, a long-term Ukrainian prisoner in Luhansk. He was used in a similar video in March, when he "admitted" to being part of another plot to kill the Russian separatist commander Igor Bezler.
The elaborate presentation will fool few locals, but its intended audience stretches further – beyond the republic's eastern border.
The Kremlin, on its part, has been unusually quiet on the matter. During his daily briefing with journalists on Thursday, presidential spokesman Dmitry Peskov refused to comment. There were "nuances" to the situation, he said. Other Russian officials have been reluctant to talk, either on or off the record.
In the absence of a clear decision from Moscow, the chaos of Ukraine's Wild East is set to continue. And not even the intervention of crooner Iosif Kobson – the Soviet "Frank Sinatra" – who today offered to act as a celebrity negotiator between the warring factions, is likely to change that.
Join our new commenting forum
Join thought-provoking conversations, follow other Independent readers and see their replies