Ukraine opposition leader Yuri Lutsenko injured in police clash
Yuri Lutsenko was injured shortly after midnight when he tried to intervene in a confrontation between riot police and opposition activists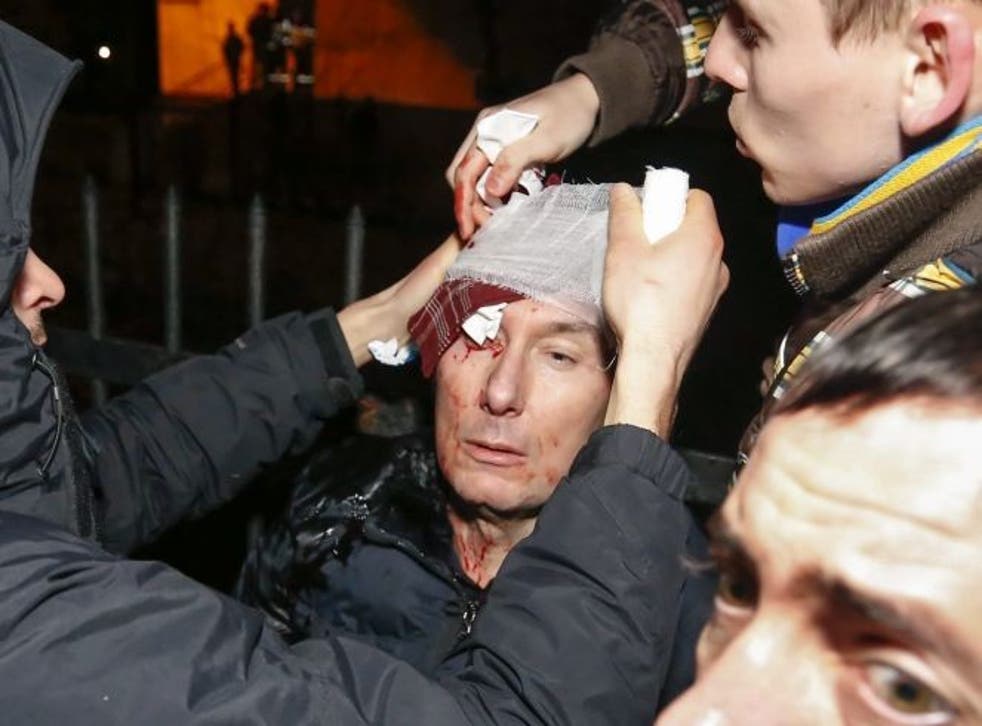 Ukraine's ex opposition leader has been injured in a clash between police and anti-government activists during a protest in Kiev.
Yuri Lutsenko, a top organiser of the mass protests that have gripped the capital for weeks, was injured shortly after midnight when he tried to intervene in a confrontation between riot police and opposition activists.
The ex-interior minister "was hit several times over the head with a club before he fell," his spokeswoman told the Los Angeles Times, who said he was taken to hospital where he received treatment.
The clashes erupted outside a Kiev court when three activists were sentenced to six years in jail after being found guilty of planning to blow up a statue of Bolshevik leader Vladimir Lenin in the nearby town of Borispol in 2011. The opposition argued the verdicts were politically motivated.
Ukraine's top human rights official said 11 people were taken to hospital after the clashes when police used tear gas and and clubs against demonstrators.
The demonstration is the latest in a series of protests after President Victor Yanukovich decided against signing a free trade and association agreement with the European Union in November, choosing instead to increase ties with Russia.
It comes after parliamentarian Andriy Illienko, who organised Ukraine's pro-EU protests, in which thousands demanded the removal of President Yanukovych, was assaulted on 5 January.
The incident is likely to further fuel anger against president Viktor Yanukovych, who has faced protests over his decision to freeze ties with the West and tilt toward Russia.
Video: 50,000 Ukrainians protest opposition leader's beating
Additional reporting by agencies
Join our new commenting forum
Join thought-provoking conversations, follow other Independent readers and see their replies