Ukraine pro-EU protests: 'It's not a rally, it's a revolution'
Yesterday 350,000 protesters took to the streets of Ukraine, angry that their President has distanced the country  from the EU. Max Tucker reports from Kiev on how a peaceful demonstration became a battle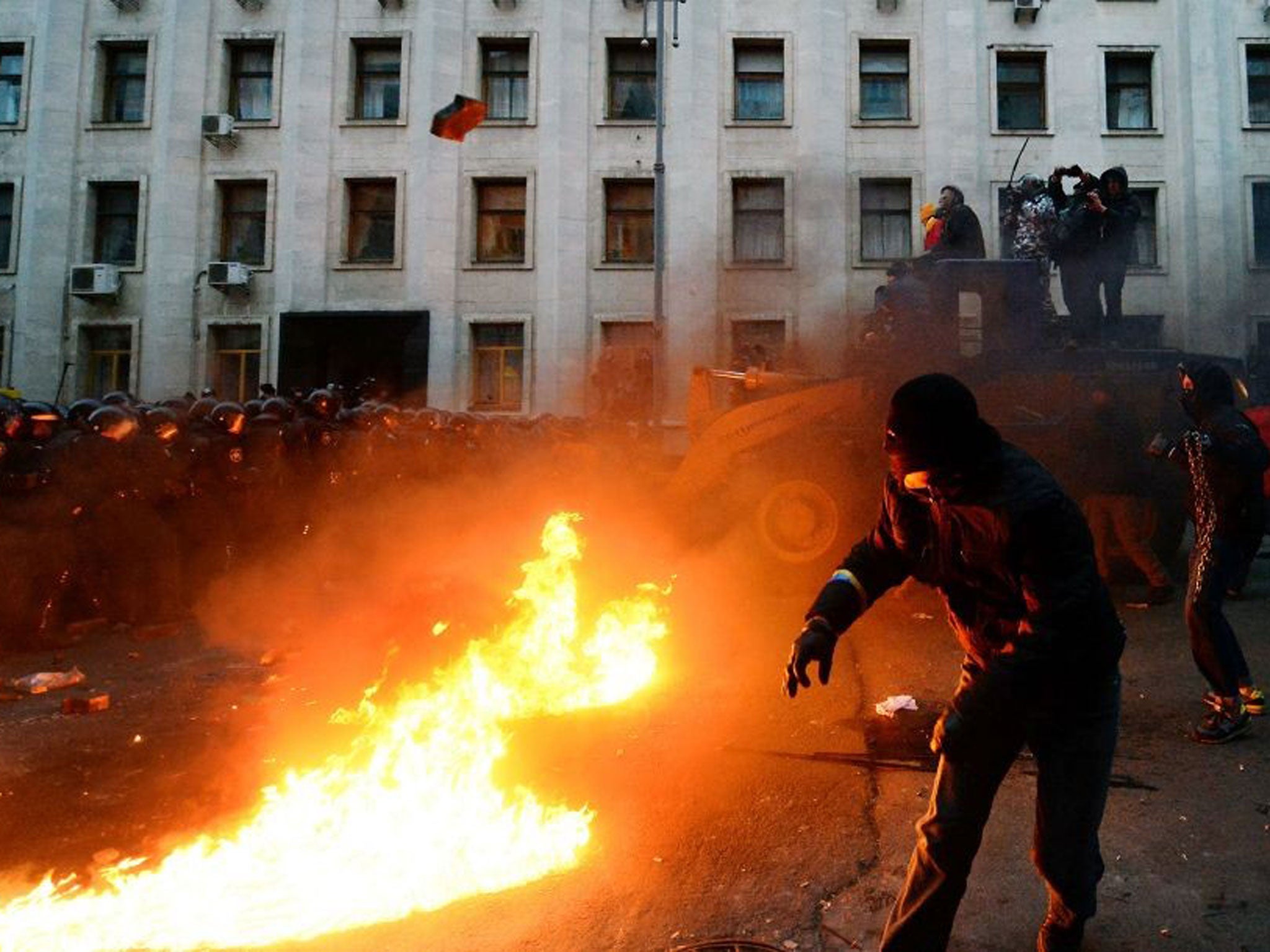 Hundreds of thousands of protesters took to the streets of Kiev on Sunday, calling for the resignation of Ukrainian President Viktor Yanukovych and his government in the biggest demonstrations in the capital since the "Orange Revolution" of nine years ago.
An estimated 350,000 people from all over Ukraine had come to Kiev for what was supposed to be a peaceful opposition rally calling on President Yanukovych's government to stand down and for new elections to be held. Dozens were injured when riot police used tear gas and truncheons to repel several hundred protesters who tried to storm the presidential administration building with a bulldozer.
Tensions had been building in the capital all week following his refusal to sign a free trade and political integration agreement with the EU. The Association Agreement would have seen Ukraine take a historic step closer to the West and away from Russia. It was due to be signed at a crucial summit in Vilnius on Friday, but the Ukraine backed out at the last minute after what EU leaders described as "Russian pressure". Mr Yanukovych's U-turn has highlighted an old East-West tug-of-war over Ukraine, which shares borders and ethnic ties with Russia and four EU countries.
Mr Yanukovych, a native Russian speaker, represents a constituency in the industrial east with close cultural and linguistic kinship with Russia. In Ukrainian-speaking areas, particularly the west, people have a more Western view.
Authorities had already cleared peaceful pro-European protesters from Kiev's central Independence Square, also known as Maidan, in the early hours of Saturday morning. Riot police sealed off Maidan with metal barricades, but hastily abandoned them on Sunday in the face of overwhelming odds. As protesters reclaimed the square, others stormed the mayor's office. Chants of "revolution" resounded across a sea of yellow and blue Ukrainian and EU flags on the square. The crowd was by far the largest since the protests began more than a week ago. Many of the demonstrators had travelled to Kiev from western Ukraine, where pro-EU sentiment is particularly strong.
Speaking at the demonstration from the roof of a bus, opposition leaders called for a nationwide strike to begin today in a bid to advance a "peaceful revolution".
"Our plan is clear: It's not a demonstration, it's not a reaction. It's a revolution," said Yuri Lutsenko, one of the leaders of Ukraine's 2004 Orange Revolution, former Minister of Internal Affairs and political prisoner.
By default player size is set to 420 x 315px. But you can resize player width and height once you get the player code using player params.
Vitalii Klitschko, heavyweight boxing champion of the world and candidate for Ukraine's 2015 Presidential elections, told the crowd: "We want a normal Ukraine without corruption, with a police force that protects rather than beats people, and good salaries. If the authorities are not ready to provide us with rules, we will change the authorities."
Opposition leaders are seeking to exploit the cracks that have appeared in the Yanukovych regime following the resignation of his chief of staff and leading party spokesperson, hoping that ruling party MPs will defect to the opposition. "If we keep this up for one week, we will have a majority in parliament, and call for new elections," said Mr Lutsenko. "Here we are trying to fix the shortcomings from 2004" he said.
Although opposition leaders stressed that the demonstration should remain peaceful, images of Saturday's savage crackdown had emotions running high. An angry crowd of several hundred youths wielding rocks, steel pipes and pepper spray diverted from the main crowd at Maidan and headed for the Presidential buildings. Stun grenade explosions were audible, prompting peaceful but curious demonstrators to go and find out what was going on. Many became caught up in the violence.
Alexander, 25, said he joined the rally "to peacefully protest against the police violence that took place on Maidan, and to support a European choice for Ukraine".
He went with some friends to the presidential administration to see what was happening: "It was horrible, a lot of blood, gas and stun grenades. Then the Berkut [riot police] charged, beating people indiscriminately. We fled, but others stayed, throwing rocks and stones."
Anxious that their peaceful revolution would not descend into a violent one, opposition leaders formed a human chain to separate police and provocateurs, to the relief of peaceful demonstrators. Tanya, 32, told The Independent:  "I don't support the violence. I'm sure we can achieve our goals peacefully, and only if we remain peaceful."
Trying to defuse tensions before Sunday's rally, Yanukovych said he would do everything in his power to speed up moves toward the EU. But he repeated the need to balance European integration with national interests.
The EU agreement had been eagerly anticipated by Ukrainians who want their country of 45 million people to break out of Moscow's orbit.
Opinion surveys in recent months showed about 45 per cent of Ukrainians supporting closer integration with the EU and a third or less favouring closer ties with Russia.
Moscow tried to block the deal with the EU by banning some Ukrainian imports and threatening more trade sanctions. A 2009 dispute between Kiev and Moscow on gas prices resulted in a three-week cut-off of gas to Ukraine.
Sunday's demonstration was the largest since the mass protests of the 2004 Orange Revolution, when tens of thousands came to the square nightly for weeks and set up a vast tent camp on the main street leading to the square.
Those protests forced the annulment of a fraud-tainted presidential election in which Yanukovych was shown with the most votes. A rerun of the election was ordered, and Yanukovych lost to Western-leaning reformist Viktor Yushchenko.
Mr Yanukovych was elected president five years later, narrowly defeating then-Prime Minister Yulia Tymoshenko, the leading figure of the Orange Revolution.
Ms Tymoshenko was sentenced to seven years imprisonment in 2011 for abuse of office, a case that the West has widely criticised as political revenge. The EU had set Ms Tymoshenko's release, or at least her freedom to go to Germany for treatment of a severe back problem, as a key criterion for signing the association pact with Ukraine.
In a statement released from her hospital cell on Sunday, Ms Tymoshenko called on Ukrainians to carry on protesting: "I appeal to all Ukrainian people to resist and rise up against Yanukovych and his dictatorship," she wrote.
Join our commenting forum
Join thought-provoking conversations, follow other Independent readers and see their replies