Ukraine's Yulia Tymoshenko voices hope that 'authoritarian' enemies will fail
Speaking for the first time since being sent back to prison, Ukraine's ex-PM tells Shaun Walker that the regime will collapse
Shaun Walker
Monday 15 August 2011 00:00 Comments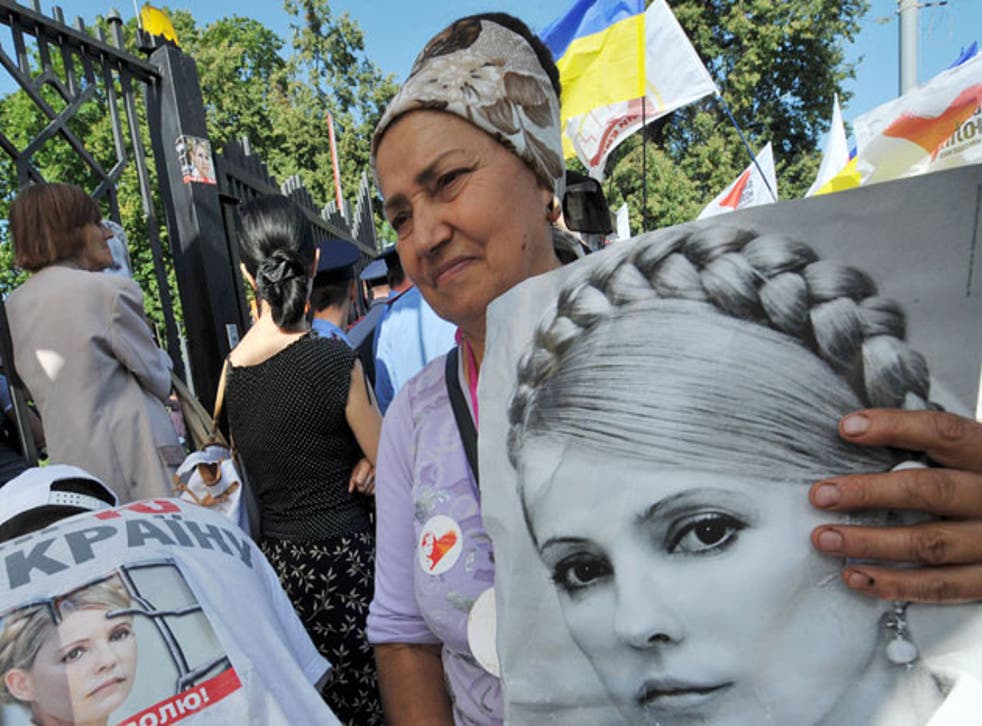 Yulia Tymoshenko, the former Ukrainian prime minister who is now on trial for abusing high office, has sent a stark warning to current President Viktor Yanukovych, saying it is "just a matter of time" before the country is hit by another revolution.
The heroine of Ukraine's Orange Revolution, told The Independent the regime is destined to collapse.
"History has shown us that authoritarian regimes do not endure and I believe that the values of the Orange Revolution are as relevant today as they were in December 2004," wrote Ms Tymoshenko, who was handed questions through her lawyers, and answered in writing from her prison cell. "Sooner or later the oppressed people of this nation will arise."
Ms Tymoshenko is charged with abusing her authority as prime minister when negotiating a deal on gas prices with Russia in January 2009. She is also accused of misspending state funds. Prior to the trial she was on bail, but earlier this month the judge jailed her for repeated contempt of court.
She says she refuses to stand up when the judge enters as she does not recognise the court's legitimacy. The judge has "repeatedly broken Ukrainian law and international law", she says, and has refused to give her lawyers adequate time to study the paperwork related to the case.
She says the hardest part of being locked up is that she is no longer able to write to followers using Twitter. She had live tweeted from court via an iPad.
"Conditions are spartan and it is never pleasant to have your liberty taken from you but I will not complain about my lot," Ms Tymoshenko wrote.
She shares a cell with two other female inmates. The cell is reported to be relatively luxurious and has a TV and a fridge. She was initially told she must hand in her hairpins as they were a security risk, but they were returned, as evidenced by the fact she arrives at court with her trademark hairstyle – a plait pulled around her head.
"The judge has created chaos, and within that chaos we don't know what he's going to do next," said Serhiy Vlasenko, Ms Tymoshenko's head counsel. "One thing that seems certain is that the verdict has been pre-decided from above."
Mr Vlasenko is banned from the trial for disrespecting the judge. He complained that of 30 witnesses the defence asked to call, the judge approved just two. Mr Vlasenko said that prior to her arrest, Ms Tymoshenko gave him a note in which she said she would not commit suicide. "I will never end my life with suicide," the note said, referencing two cases of Ukrainian figures who died in suspicious circumstances but were ruled as suicides.
Together with Viktor Yushchenko, Ms Tymoshenko led the Orange Revolution, when popular protests overturned a fraudulent triumph for Mr Yanukovych and propelled them to power. The team fell out and amid bickering and allegations of corruption, Mr Yanukovych won the presidency last year.
Ms Tymoshenko says the trial, which could see her jailed for 10 years, is a bid to bar her from future elections.
"It must seem strange to everyone that if I am convicted on trumped-up charges, I will be banned for standing for election, but Viktor Yanukovych, a twice-convicted violent felon, was and remains able to run for election," Ms Tymoshenko wrote.
Rights groups say there has been a rolling back of political and media freedoms since Mr Yanukovych took office.
But he has not proved the Kremlin puppet many in Europe feared, instead seeking closer ties with the EU and irking Moscow. In a tense meeting with Russian President Dmitry Medvedev last week, no new agreement was made on the ongoing saga of gas transit. The Kremlin has made a statement in support of Ms Tymoshenko, saying she should not be on trial.
Mr Yanukovych last week refused to intervene in the case, saying it would be improper. He denied that any of the cases against Ms Tymoshenko and her former ministers were politically motivated. Ms Tymoshenko urged the international community to pressure the Ukrainian authorities over the trial.
"My arrest sends a message that Yanukovych's authoritarian regime recognises no limits and... is intent on crushing all opposition," she wrote.
"It has trampled on European values and standards of behaviour. This sort of behaviour should not be tolerated."
The Orange revolutionary
* Born in Dnipropetrovsk, Ukraine, 1960. Married to businessman Oleksandr Tymoshenko. Their daughter is married to a heavy metal musician from Leeds.
* Worked as an economist, in the 1990s became involved in the oil business, during which time she is believed to have amassed a significant fortune.
* Deputy prime minister in 1999. Led Orange Revolution with Viktor Yushchenko in 2004. Prime Minister in 2005 and from 2007-10, when she had stormy relations with Yushchenko.
* "Honestly, I don't think about where I'll be a few years from now, I think about where my country will be," she told The Independent earlier this year. However, she has a reputation for ambition and a desire to be president.
* She wears her hair in a fairy-tale plait, and often wears specially made dresses, usually with high necklines, puffy shoulders and a liberal use of bows, buttons and lace, in a style that has been described as "sexualised Victorianism".
Register for free to continue reading
Registration is a free and easy way to support our truly independent journalism
By registering, you will also enjoy limited access to Premium articles, exclusive newsletters, commenting, and virtual events with our leading journalists
Already have an account? sign in
Join our new commenting forum
Join thought-provoking conversations, follow other Independent readers and see their replies