Ukraine uprising: EU aims to woo new leadership with aid deal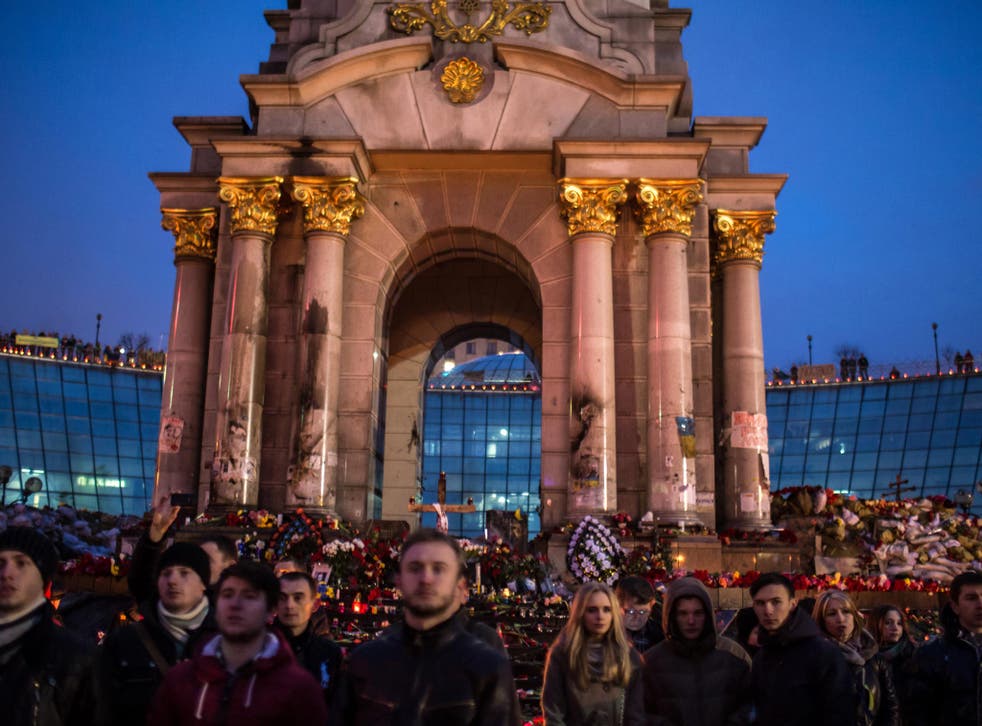 The European Union moved swiftly Sunday with offers of financial support to shore up its ties with the emerging government in Ukraine, but diplomats were keeping a wary eye on Moscow, which has fought hard to maintain its hold over the former Soviet state.
In the months since President Viktor Yanukovych abruptly abandoned a trade and political pact with the EU in favour of closer ties with Russia, Brussels has appeared to lag behind more aggressive moves by the Kremlin. But a rapid transition of power after the bloodshed in Independence Square, known as the Maidan, last week could put Ukraine back on the path to European integration.
While Mr Yanukovych insists he is still in power and has retreated to his eastern stronghold, the EU has already reached out to an interim administration which is forming in Kiev. William Hague, the Foreign Secretary, called it "a moment of opportunity" for Ukraine, and warned Russia against any "external duress".
"If there is an economic package, it will be important that Russia does not do anything to undermine that economic package," he told the BBC. Asked about fears of Russian military intervention in eastern Ukraine, he said: "We don't know what Russia's next reaction will be."
The tug-of-war over Ukraine's future has pushed EU-Russia relations to lows not seen since the invasion of Georgia in 2008. It was association agreements that the EU hoped to sign with Georgia, Moldova, Armenia and Ukraine which set the two powers on another collision course last year. Ahead of a signing summit in November, Russia blind-sided the EU by issuing a cocktail of threats and incentives to convince the former Soviet states to form a trade deal with Moscow instead.
In pictures: Ukraine uprising

Show all 100
Even after Armenia pulled out in September, EU officials remained convinced that Ukraine – a greater prize of 46 million people – was still on board, and took few steps to counter Russia's diplomatic offensive. But Mr Yanukovych was eventually swayed by the offer of $15 billion (£9.12 billion) in financial aid from Russia, which unlike the EU financial package came with very few strings attached.
"The EU mismanaged it pretty badly," said Kadri Liik, a senior policy fellow at the European Council on Foreign Relations (ECFR), an independent think tank. "It didn't set realistic strategic goals, it wasn't informed enough, its policies were misguided in so so many ways."
Read more:



The bloc went some way toward making up for past mistakes with a beefed up diplomatic approach last week. They approved sanctions and a delegation of three EU foreign ministers helped negotiate a peace deal in Kiev. Now the question is whether the EU can learn from its mistakes and forge a more solid relationship with any new administration.
Russian President Vladimir Putin and German Chancellor Angela Merkel discussed the situation in Ukraine during a phone call initiated by Berlin, the Kremlin's press service said on Sunday, according to the Reuters news agency." The latest development of the situation in Ukraine was discussed," the press service said in a statement without disclosing any further details.
The most pressing issue is the desperate state of the Ukrainian economy, and Olli Rehn – the bloc's top economics official – made clear on Sunday that the EU was ready to work with the International Monetary Fund (IMF) to provide aid which could run into billions of euros.
Mr Rehn also said Ukraine should be given a more definitive path towards EU membership, as the Ukrainian people "have shown their commitment to European values". No such a promise was included in the initial association agreement, and the 28 EU member states remain divided over whether they are ready to accept Ukraine as an eventual member.
In a list of recommendations for the EU, the ECFR also advises the bloc to keep active in the formation of the new government and make clear it will not tolerate vestiges of the old regime.
But it is this sort of approach which has in the past enraged Russia and sparked accusations of meddling, and Moscow's reaction remains the big unknown in the last frantic days of diplomacy. With many Russian-speaking Ukrainians in the east still backing Mr Yanukovych, there are fears that some regions may try and break away, with potential Russian support.
So far there has been little sabre-rattling from Moscow, with Russia's finance minister Sunday encouraging Ukraine to seek IMF assistance. President Vladimir Putin also has good ties with Yulia Tymoshenko, who is a leading candidate for the presidency.
If Russia does decide to play hard-ball and resurrects threats to Ukraine's energy supplies, Jacek Saryusz-Wolski, a Polish MEP who is currently in Kiev, says the EU and United States should hit back with similar threats. "A systematic retaliation or tit-for-tat policy could be put on the table in case Russia did engage in undermining and disrespecting this agreement," he told The Independent.
Join our new commenting forum
Join thought-provoking conversations, follow other Independent readers and see their replies