UN refugee agency calls on European countries to rescue migrants stranded in Mediterranean
UNHCR 'deeply concerned' about 'continued absence' of dedicated EU-led search and rescue, as more than 400 rescued migrants refugees trapped on board two vessels after being rescued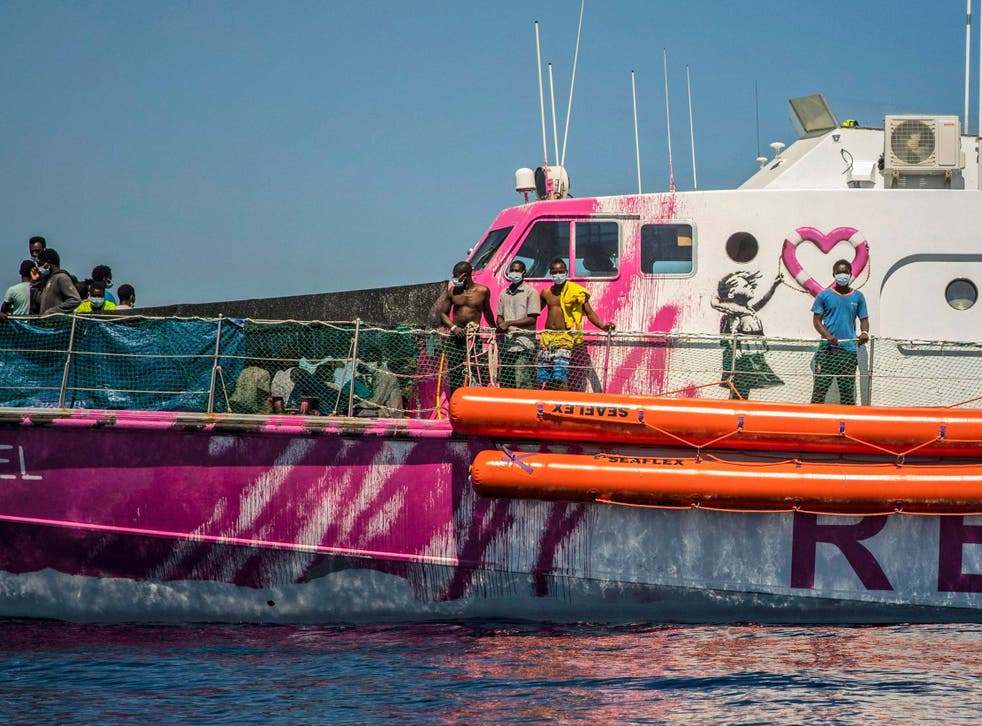 The UN refugee agency has called on European countries to rescue migrants stranded on rescue vessels in the Mediterranean, saying it is "deeply concerned" about the "continued absence" of dedicated EU-led search and rescue capacity.
More than 400 rescued migrants and refugees are currently trapped on board two vessels after being rescued, because there is nowhere for them to safely harbour.
The UNHCR and the International Organisation of Migration (IOM) are calling for the immediate disembarkation of the vessels, saying the lack of agreement on a regional disembarkation mechanism was "not an excuse to deny vulnerable people a port of safety and the assistance they need, as required under international law".
More than 200 people were evacuated from the Louise Michel, a Banksy-funded refugee rescue boat, on Saturday, around 12 hours after the ship's leaders issued an emergency appeal for help.
But while the Italian coastguard took 49 of the "most vulnerable survivors" from the vessel, the remaining people on board were then transferred to another humanitarian ship, Sea-Watch 4 – a joint project between United4Rescue, Sea-Watch, and Doctors without Borders – leaving it with around 350 people on board.
The Louise Michel – a former French navy vessel which features a Banksy painting depicting a young girl holding on to a heart-shaped safety float – was left stranded off the coast of Malta on Saturday morning after its deck became overcrowded.
By that stage it was carrying a total of 219 people, including 33 in a life raft deployed by its side and the body of a man who died trying to cross the ocean in a rubber dinghy. The ship's leaders said requests for help from European authorities were initially been ignored.
Separately, a group of some 27 migrants and refugees, including pregnant woman and children who departed from Libya have been on board the commercial vessel Maersk Etienne for three weeks since their rescue on 5 August, which the UNHCR and IOM said was "unacceptable".
They said a solution "must be found", and the vessel provided with a safe port for disembarkation, arguing that a commercial tanker could not be considered a suitable place to keep people in need of humanitarian assistance or those who may need international protection.
"The humanitarian imperative of saving lives should not be penalised or stigmatised, especially in the absence of dedicated state-led efforts," the groups said in a statement.
In pictures: A day of refugee rescues in the Mediterranean Sea

Show all 7
"It is crucial that other EU member states provide more support to countries at the forefront of receiving sea arrivals in the Mediterranean."
They called on EU nations to pledge relocation places as well and support accelerated processing, in line with international standards, to identify people in need of international protection and those in need of other forms of protection such as unaccompanied children and victims of trafficking.
"It is also important to enable swift returns for those who wish to go back to their countries of origin and for those who are found not in need of international or other forms of protection," they added.
Register for free to continue reading
Registration is a free and easy way to support our truly independent journalism
By registering, you will also enjoy limited access to Premium articles, exclusive newsletters, commenting, and virtual events with our leading journalists
Already have an account? sign in
Register for free to continue reading
Registration is a free and easy way to support our truly independent journalism
By registering, you will also enjoy limited access to Premium articles, exclusive newsletters, commenting, and virtual events with our leading journalists
Already have an account? sign in
Join our new commenting forum
Join thought-provoking conversations, follow other Independent readers and see their replies