Underground WWI graffiti shows nearly 2,000 soldiers' names inside former quarry in France
The names of 339 British soldiers were also discovered
Greg Keller
Tuesday 07 April 2015 09:19 Comments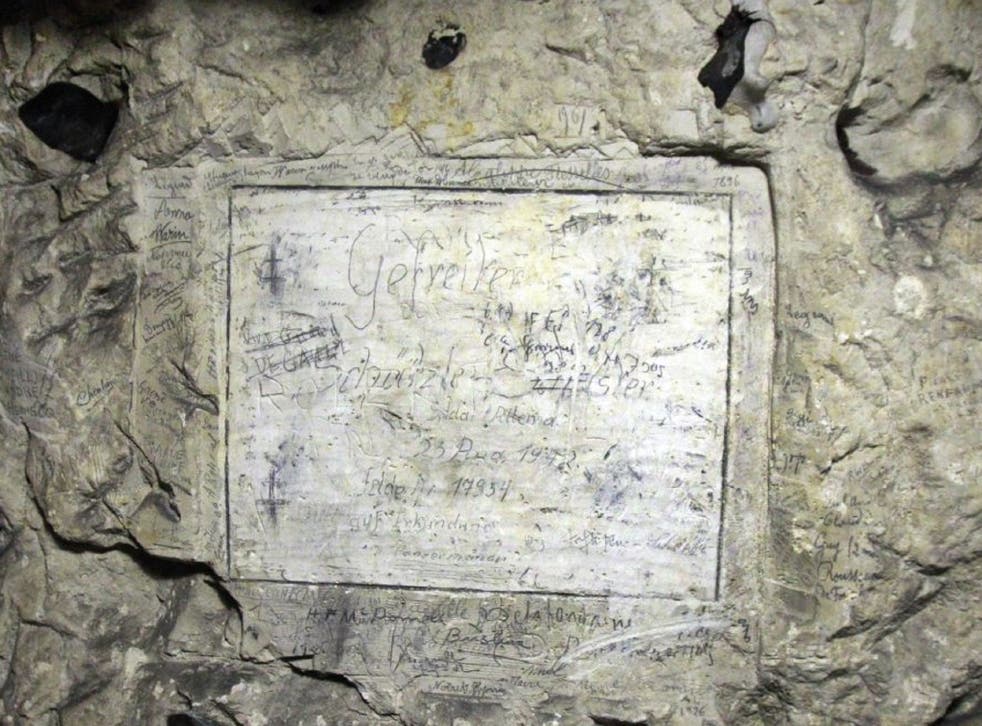 Graffiti made up of nearly 2,000 First World War soldiers' names – believed to be the biggest collection in the whole of Western Europe – has been found in the depths of a former chalk quarry in France.
The writing on the walls date back from around 1917 and are located in Naours, around 96 miles (156km) north of Paris, where millions of men lost their lives or were wounded on the nearby Somme battlefields.
Experts believe that the well-preserved graffiti shows how soldiers understood that leaving inscriptions around 100 feet underground, away from weather and footfall, would be beneficial for future generations to find.
"It shows how soldiers form a sense of place and an understanding of their role in a harsh and hostile environment," said historian Ross Wilson of Chichester University in Britain.
George Hackney's previously unseen World War One photographs

Show all 7
There are 1,821 individual names of 731 Australians, 339 British, 55 Americans, a handful of French and Canadians and 662 others whose nationalities have yet to be traced. The names were tallied by photographer Jeff Gusky.
"All these guys wanted was to be remembered," Gusky said.
One of the most moving inscriptions was made by Herbert John Leach, a 25-year-old from Adelaide. His inscription reads: "HJ Leach. Merely a private. 13/7/16. SA Australia."
Less than a month after Leach added his name to the wall he was killed during the Battle of Pozieres on 23 August 1916.
Another writing simply says: "James Cockburn 8th Durham L.I."
The long two mile (three kilometre) network of tunnels and hundreds of chambers were dug out over centuries in the chalky Picardy plateau.
Villagers took shelter there during the Middle Ages from armies crisscrossing northern France. By the 18th century the entrance of the quarry was blocked off and forgotten.
A local priest rediscovered the site in 1887 and it then became a tourist attraction – which would have drew the soliders to it during the war, according to French archaeologist Gilles Prilaux who found the graffiti.
"It was a big surprise," Prilaux said.
Register for free to continue reading
Registration is a free and easy way to support our truly independent journalism
By registering, you will also enjoy limited access to Premium articles, exclusive newsletters, commenting, and virtual events with our leading journalists
Already have an account? sign in
Join our new commenting forum
Join thought-provoking conversations, follow other Independent readers and see their replies