Donald Trump 'actively reviewing' sending weapons to Ukraine after Kiev reports 3,000 Russian troops in country
Russia 'seeking to redraw international borders by force,' defence secretary James Mattis says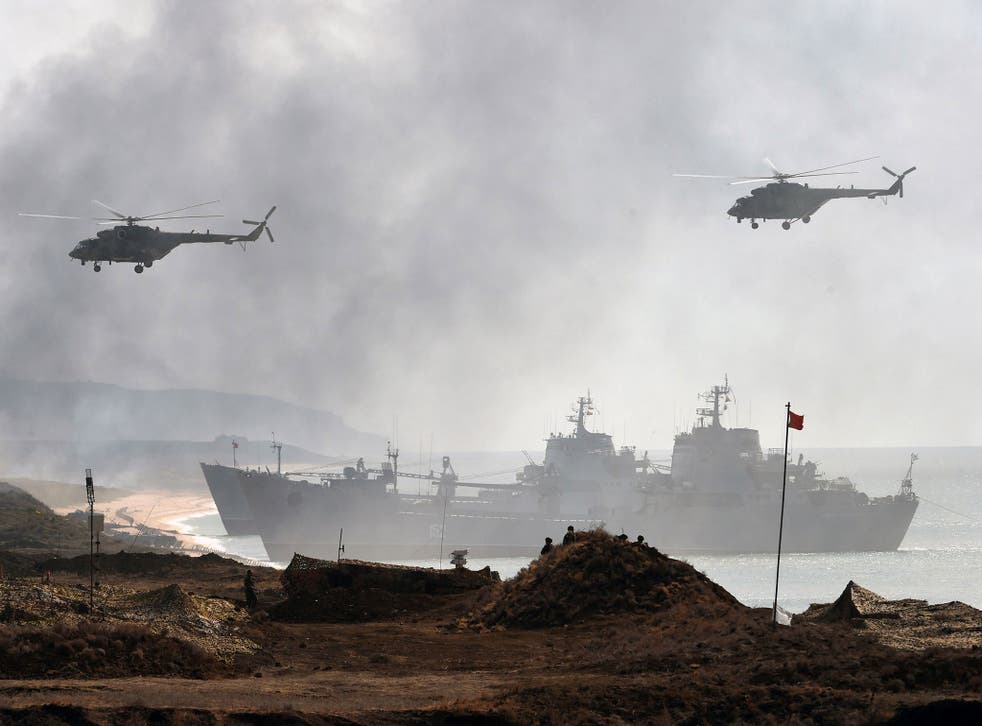 Donald Trump is "actively reviewing" the possibility of sending lethal defensive weapons to Ukraine after the country's president said at least 3,000 Russian troops were now on its soil, America's defence secretary has said.
James Mattis said the US "stands with Ukraine" at a joint press conference with Ukranian President Petro Poroshenko.
Mr Mattis said Washington would continue to put pressure on Russia over what he called its aggressive behaviour, but stopped short of promising to provide lethal weapons to Kiev.
He said Russia has not abided by the Minsk ceasefire agreement meant to end separatist violence in eastern Ukraine.
"Despite Russia's denials, we know they are seeking to redraw international borders by force, undermining the sovereign and free nations of Europe," he told reporters.
Mr Mattis's visit, timed to coincide with Ukrainian Independence Day, is the second high-profile show of US support in as many months, after US Secretary of State Rex Tillerson came to Kiev in July.
Ukraine has counted on US support against Russia since a pro-Western government took power following street protests in 2014 when the Kremlin-backed president fled the country.
Russia annexed Crimea that year and since then some 10,000 people have been killed amid a Moscow-backed separatist insurgency.
World news in pictures

Show all 50
But some of Mr Trump's comments during the election campaign last year, such as appearing to recognise Crimea as part of Russia, stoked fears in Kiev he might mend ties with Moscow at Ukraine's expense.
Kiev wants the US to supply lethal defensive weapons to Ukraine – a move the previous administration under Barack Obama shied away from.
"On the defensive lethal weapons, we are actively reviewing it, I will go back now having seen the current situation and be able to inform the secretary of state and the president in very specific terms what I recommend for the direction ahead," Mr Mattis, a former Marine Corps general, said. "Defensive weapons are not provocative unless you are an aggressor, and clearly Ukraine is not an aggressor, since it is their own territory where the fighting is happening."
Mr Poroshenko said the pair had discussed whether an armed force could be posted in eastern Ukraine with the backing of the UN.
Earlier this year scores of tanks and other US fighting vehicles landed in Germany on their way to take part in Operation Atlantic Resolve, which foresees the continuous presence of an American armoured brigade combat team in Europe on a nine-month rotational basis.
The mission, which saw the biggest transfer of American armour to the region since the fall of the Soviet Union, was meant to help allay concerns held by Estonia, Latvia, Lithuania, Poland and other Nato allies about Russia.
Russia has dismissed as "buffoonery" concerns about its own wargames, which are planned for next month.
It will hold joint exercises with Belarus that Nato believes could be the biggest since 2013 involving up to 100,000 troops.
Additional reporting by agencies
Join our new commenting forum
Join thought-provoking conversations, follow other Independent readers and see their replies